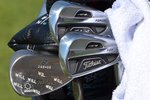 Our David Dusek talks with Chris Tuten, Titleist's director of player promotions, about the golf equipment Zach Johnson used to win the 2013 BMW Championship.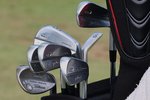 David Dusek chats with Chris Tuten, the director of player promotions for Titleist, about Adam Scott and the golf equipment he used to win the 2013 Barclays Championship.
Our David Dusek takes you inside the bag of Jason Dufner, who used Titleist equipment to win his first major title.