The Aldila Tour Green and Tour Blue golf shafts are modern versions of Aldila's highly successful NV shaft, containing the same taper profile as the original NV with a balance point that is slightly higher.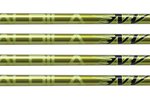 John Merrick's win at the Northern Trust Open validates the enduring legacy of Aldila's NV shaft. But the company hardly is content and is planning a major push with graphite iron shafts.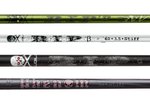 Aldila's RIP collection includes some of the most recognizable graphite shafts on the PGA Tour, and its family of five gives plenty of options for every golfer.