A look at Luke Donald's year in golf.
A look at images from Alvaro Quiros' tournament win and Luke Donald's clinching of the money title.
Take a look back at the men who have held the title of the world's No. 1 golfer since 1986.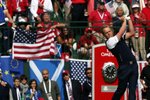 Luke Donald scored the first European point on Sunday.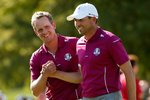 Luke Donald talks about his dramatic comeback on Saturday afternoon.