A look at the Birdies for Breast Cancer event, founded by Cristie Kerr in 2003.
Morgan Pressel uses her hobby of photography to provide travel books for family and friends, as well as Solheim Cup books for teammates. <a href="http://golfweek.com/photos/galleries/beyond-course-morgan-pressel/">Gallery.</a> </br> <a href="http://golfweek.com/videos/2012/dec/30/1385/"><strong>• Video: Pressel talks photography.</strong></a>
Take a look at personal photos from her trip to Israel, as well as images of Pressel, Lexi Thompson, Cristie Kerr, Brittany Lincicome and Paula Creamer from a charity outing in Florida.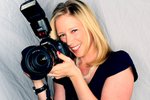 If Morgan Pressel doesn't have a club in her hand, chances are she's reaching for a camera. Pressel's love of photography started early, and her gear rivals that of some professionals. Pressel is currently ranked No. 38 in the Rolex Women's Golf Rankings and has made more than $4.6 million in her career, which started in 2006. Her best finish in 2012 was third place at the Sybase Match Play Championship.