Stacy Lewis, along with LPGA friends Alison Walshe and Cindy LaCrosse, have taken up paddleboarding as an off-the-course hobby in south Florida.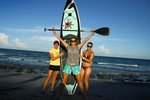 Stacy Lewis spends her downtime in South Florida on a paddle board, often rising early to watch the sun rise over the water. It's a perfect time to reflect on her rise to the top. Or think about nothing at all. Lewis is the reigning Rolex Player of the Year, the first American to win the award since Beth Daniel in 1994. Lewis had four victories in 2012 and 16 top-10s.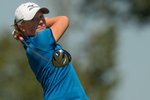 LPGA Tour star Stacy Lewis shows off her swing from multiple angles.