Despite penalty, Jackson medals at U.S. Am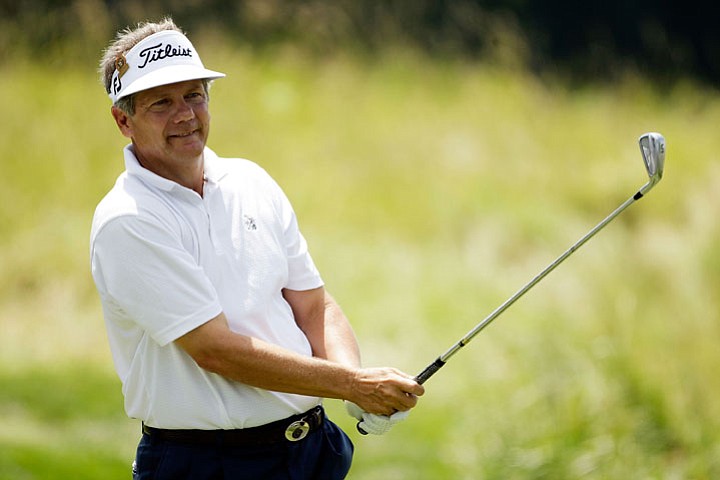 Tuesday, August 25, 2009
SCORES
TULSA, Okla. – Fifty-year-old Tim Jackson shot 72 Tuesday to become the oldest medalist in U.S. Amateur history, despite a one-stroke penalty for slow play.
Jackson finished at even-par 140 after two rounds at Cedar Ridge and Southern Hills. This performance comes four weeks after the U.S. Senior Open, where he was the 36-hole leader and earned low amateur honors by tying for 11th.
"I'm not really a record book reader, or anything like that, but today, ... I went out there and I just went for it," Jackson said. "I said, 'I'm going to try to win this thing and be the medalist.' I hit shots today that, in years past, I might have just laid up or played 40 feet away from the hole. I just went for it."
Jackson broke a record that was over 100 years old. He ousted Walter Travis, who medaled in 1908 at 46.
The only thing that upset Jackson was a slow-play penalty that he received after the round. "I'm not real happy about it, let's put it that way," Jackson said. His group was warned at three of the four timing checkpoints (the fourth, ninth and 13th holes).
When it was confirmed that Jackson, who'd finished earlier in the day, was the medalist, he replied: "Well that's wonderful, I beat everybody by two shots."
Jackson is a veteran of U.S. Golf Association events. He has won two U.S. Mid-Amateurs (1994, 2001) and played in 15 U.S. Amateurs. He's also played on two U.S. Walker Cup teams, and helped his chances of making a third.
Finishing one stroke back were a U.S. Amateur rookie (Will Strickler), a player competing with Jackson for one of those final two spots on the U.S. Walker Cup team (Mark Anderson) and Clemson senior Ben Martin, who played in this year's U.S. Open. Martin shot 68 Tuesday to tie for the low round at Southern Hills this week.
Strickler is making his first and final U.S. Amateur appearance after failing to qualify in seven previous tries; he graduated from the University of Florida this spring with a double major in economics and anthropology. He will turn pro in early September for Canadian Tour Q-School, then try his hand at the PGA Tour qualifying tournament.
Strickler shot 69 Monday at Cedar Ridge and followed that with a 2-over 72 at Southern Hills.
"I putted really well," Strickler said. "I'm not really ecstatic about my ballstriking, but match play is all about putting."
Anderson, who won the South Carolina Amateur earlier this month, is one of several Walker Cup hopefuls that made the cut. Cameron Tringale (143), Dan Woltman (144), Mike Van Sickle (145), Bronson Burgoon (146), Peter Uihlein (147) and Wesley Bryan (147) all advanced to match play. Bryan had six birdies in his second-round 70.
---
Video
The Walker Cup's final sprint
---
Of course, every American to make match play has a chance to make the team if they win this week.
The cut to make match play fell at 8 over par. A 27-for-4 playoff will begin at 7:30 a.m. Wednesday on Southern Hills' 14th hole. (UPDATE: Playoff results) U.S. Walker Cup captain Buddy Marruci, playing in Tuesday's final group, posted a 2-over 72 at Southern Hills to make the playoff; Marucci also won last year's USGA Senior Amateur.
Other notables who will take part in the playoff are NCAA champ Matt Hill, former U.S. Amateur Public Links champ Tim Hogarth and U.S. Junior champ Jordan Spieth. University of Illinois sophomore Luke Guthrie shot 69 Tuesday at Cedar Ridge, a 10-shot improvement from his first round, to also finish at 8 over.
Notables to miss the cut include 2008 U.S. Amateur runner-up Drew Kittleson (149); 2008 U.S. Junior champ Cameron Peck (149, including a second-round 69 at Southern Hills); Southern Amateur champ Gregor Main (152); and Nick Taylor (153), the No. 2 player in the Golfweek/amateurgolf.com Amateur Rankings.
Walker Cup team members Drew Weaver (149), Adam Mitchell (151) and Brendan Gielow (154) also missed the cut.
---
Photo Gallery
U. S. Amateur (Round 2)
The stroke-play portion of the U.S. Amateur has finished leaving a 7:30 a.m. playoff of 27 players for four spots.
---
Illinois junior Scott Langley finished in the top 10 in stroke play for the second consecutive year after posting a 2-over 142 (70-72). Langley was paired with Illinois teammate Clayton Parkhill. There are five Illini in this year's Amateur, tied with Oklahoma State and Stanford for the most in the field.
Langley tied for fifth with Walker Cup team member Bud Cauley, Oklahoma State's Trent Whitekiller and former TCU player James Sacheck.
Chile's Nico Geyger, who graduated from the University of Tulsa earlier this year, was among those at 3 over par. He shot 71-72. Kevin Tway also shot 3 over par.
Golfweek.com readers: We value your input and welcome your comments, but please be respectful in this forum.
---
---
---
---
---
---
---
---
---
---
---
---
---
---
---
---
---
---
---
---
---