Out of Am, Jackson hopes for Walker spot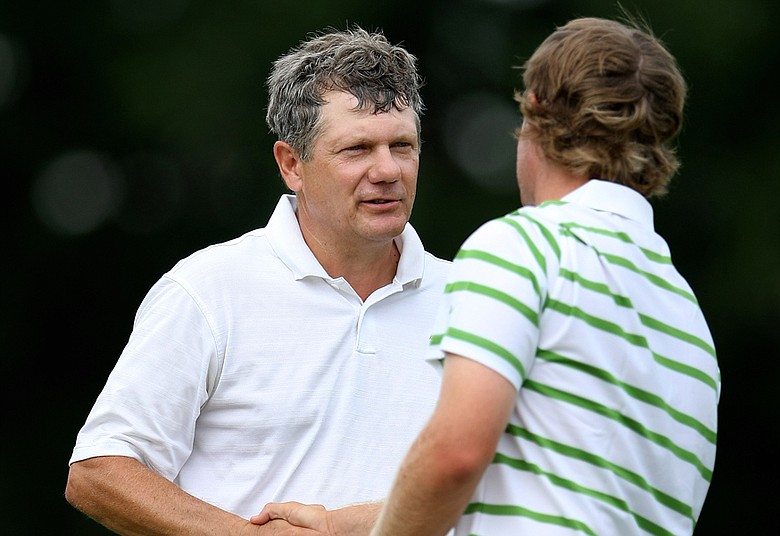 Thursday, August 27, 2009
TULSA, Okla. – Tim Jackson knows he'll be at Merion Golf Club in Ardmore, Pa., in a couple of weeks for this year's Walker Cup Match.
What he doesn't know is what his role will be Sept. 12-13 when the 10-man American squad takes on Great Britain and Ireland: spectator or U.S. team member.
"I'm going to the Walker Cup," said Jackson, of Germantown, Tenn. "I just don't know in what capacity. But I'll be at Merion one way or another, either with my pom-poms or in uniform."
Jackson's storybook run at this year's U.S. Amateur Championship at Southern Hills Country Club – and possibly his hopes of being selected to the Walker Cup team – came to an end Thursday morning. Charlie Holland, a senior at Texas, defeated the 50-year-old life-long amateur, 1-up. Jackson represented the U.S. at the 1995 and '99 Walker Cups, compiling a 3-2-1 record.
"I would expect that I probably needed to win both my matches today and then I think I could be in the discussion (for one of the final two Walker Cup spots)," said Jackson, who last month was low amateur at the U.S. Senior Open, where he led after 36 holes. Jackson wound up tying for 11th at Crooked Stick.
---
Video
U.S. Amateur: Did you know?
---
"I have no idea what weight a performance like I had in the Senior Open would play," Jackson said.
"If they want to put me on the team, I'd be honored. I would love to do it. Either way, I'll be there (at Merion)."
Regardless of his role next month in Ardmore, Jackson will be in the USGA record books after his recent performances.
At the Senior Open, Jackson set tournament records for lowest round by an amateur (first-round 66), lowest 72-hole score by an amateur (288) and most strokes under par after 36 holes (11 under). He also tied the Senior Open record for lowest 36-hole score (133).
But that was just a warm-up for Southern Hills. This week at his 15th U.S. Amateur, Jackson shot even-par 140 in the 36 holes of stroke-play qualifying to become the oldest medalist in the event's 109-year history of this championship. The previous record holder? Walter Travis, who was 46 when he accomplished the feat in – are you ready for this? – 1908.
"This is a really big deal to me at this point in my career. . . . I don't think I've ever been medalist in anything, so to do that, and especially at the U.S. Amateur, well, it's pretty neat."
From the time he opened with a 2-under 68 at Southern Hills on Monday, I was pulling for "the old guy."
I've known Jackson, a four-time Tennessee State Amateur champion and five-time Tennessee State Mid-Am winner for 15 or so years and have a lot of respect for his game and accomplishments. More important, I respect him as a person. He's a class act in every sense of the word. Not to mention, it makes for a good storyline.
After his loss to Holland, Jackson said, "I guess all good things must come to an end.
"I'm disappointed. I hit a lot of good shots and putts and came away with nothing. But that's what can happen (at Southern Hills). That's what makes it such a great test of golf. Overall, though, I'm happy with the way I competed this week."
When Jackson arrives at Merion Golf Club in a couple of weeks, I'm guessing he will be carrying those pom-poms rather than clubs. Right now, I think he's a real long shot to land one of those last two U.S. spots.
I also think that Tim Jackson and the Walker Cup will some day reunite. I'm thinking that a U.S. captaincy is in his future. At least let me put it this way: It should be.
Golfweek.com readers: We value your input and welcome your comments, but please be respectful in this forum.
---
---
---
---
---
---
---
---
---
---
---
---
---
---
---
---
---
---
---
---
---