Final Four set at U.S. Amateur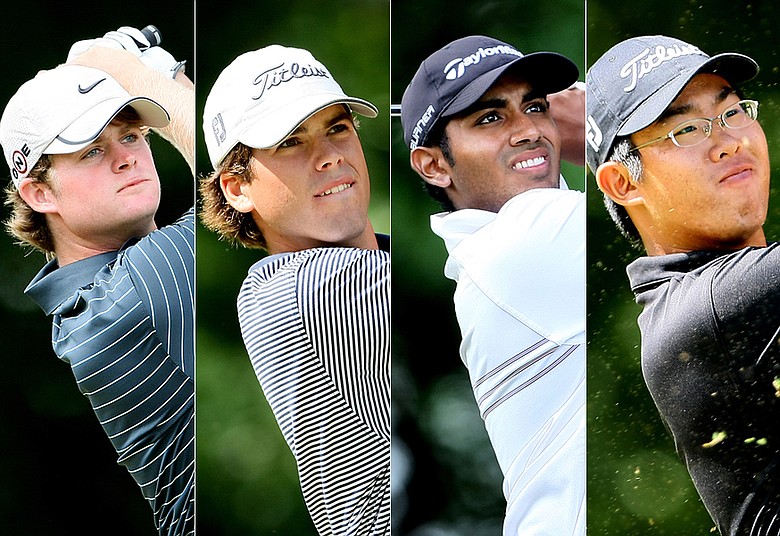 Friday, August 28, 2009
TULSA, Okla. – Of the 6,948 players who entered qualifying, just 312 of made their way to the Sooner State for the 109th U.S. Amateur Championship at the start of the week.
Now, after quarterfinal matches Friday at Southern Hills Country Club, only a four remain.
Advancing to Saturday's semifinal round were Charlie Holland, a senior at Texas, Ben Martin, a senior at Clemson, Bhavik "Bobby" Patel, a sophomore at Fresno State, and Byeong-Hun "Ben" An, a Korean who is a senior at Bradenton (Fla.) Prep.
Holland had to go to the 19th hole for the second time this week in edging Peter Uihlein, a sophomore at Oklahoma State, while Martin turned back Sweden's David Lingmerth, a senior at Arkansas, 2 and 1.
Patel slipped past Phillip Mollica, also a senior at Clemson and the 2007 North and South Amateur winner, 1-up, while An made par on the 21st hole to edge Steve Ziegler, a junior at Stanford.
In the semifinals, Holland will take on Martin and Patel will face off with An.
An, 17, can become the youngest player to win the U.S. Amateur. Last year's champion, Danny Lee – 18 years, one month old at the time – broke Tiger Woods' record to become the youngest champion. An turns 18 on Sept. 17.
---
Video
U.S. Am: Meet the semifinalists
---
All four quarterfinal matches were nail biters from start to finish with the Holland-Uihlein confrontation resembling a classic heavyweight bout.
Holland, a quarterfinalist in this championship last year, went 2 up after two holes when Uihlein started with a pair of bogeys. On paper it looked good, but Holland thought it might be a bad omen. In all of his previous matches, Holland had trailed early and came back to win. Last year, the only match he was in front early on, he lost.
"Yes, having the lead early crossed my mind," Holland said with a smile. "But I quickly was back down so I was OK."
Uihlein won No. 4 with a par, No. 5 with a birdie and No. 6 with a par to go 1 up. Then the slugfest really kicked in.
Both players birdied No. 7, bogeyed 8 and birdied 9. Holland squared things with a birdie at the 10th and went 1 up with a birdie at the 11th. Uihlein won 12 with a birdie and Holland No. 13 with a birdie. Uihlein birdied 14 the square things, but Holland went back on top with a par at 15. It was all square once again when Uihlein birdied 17.
At the closing hole it appeared Uihlein would end it. After Holland missed his 15-foot par putt, he stood off the side of the green, hat in hand, ready to congratulate Uihlein as he felt his opponent would make his 8-foot par putt.
Uihlein missed and the duo went back to the par-4 opening role where Holland clinched the victory with his best shot of the week. From 172 yards out and with a 7-iron, Holland hit his approach shot to 2 inches for a conceded birdie. It came to an end when Uihlein missed his 30-foot birdie try.
"It was a battle out there all day," Holland said. "It went back and forth. We both made a lot of birdies. It was a great match.
"At 18, I was ready to shake his hand and congratulate him, so when he missed I was surprised," Holland said. "And on that shot at the 19th hole, I really felt comfortable with that shot. I just felt really good standing over it. That turned out to be one heck of a shot."
Martin had to overcome a loss-of-hole penalty at No. 5 to win his match. His father/caddie Jim inadvertently raked a spot in a bunker where Martin's ball lay.
"He felt terrible about it," Martin said. "It was just a mistake. He knows the rules. He just slipped up. It would have been a lot worse on him if I would have lost."
For Martin, it wasn't looking good early on. He bogeyed the first three holes and was 2 down. He won the fourth with a par before the rules violation at No. 5.
Martin, who qualified for the U.S. Open, won Nos. 6 and 8 with pars to square the match, then took his first lead with a par at No. 9. He was 2 up after 16 and both players made birdie at 17 to end the match.
"My goal coming in was to win, you know, six matches," Martin said. "I got four down and two to go. I'm just trying to stay focussed and keep it going.
The Patel-Mollica match also was a back-and-forth affair with Mollica building a 2-up lead after 10 holes. Patel won No. 11 with a birdie and squared things with a birdie at 14. He went 2 up with pars on 15 and 16, but gave one back with a bogey at 17. Both made par at 18.
The turning point of the match came at the par-3 14th where Patel hit a 7-iron shot to an inch of the cup and was conceded the birdie.
---
Photo Gallery
U.S. Amateur (Quarters)
Two matches went extra holes Friday at Southern Hills, setting up an exciting semifinal at the U.S. Amateur.
---
"That was huge because it got me back even," he said. "That's where everything changed."
Patel said advancing to the semifinals was a surprise.
"It really hasn't sunk in, it hasn't hit me yet," he said. "I really haven't played many big events this summer, so playing here and getting this far is awesome."
An, who was a quarterfinalist earlier this month at the Western Amateur, continually said making par is his goal on every hole.
It seems par didn't matter much in his match with Ziegler, as An made on six pars in 21 holes, and only four through the first 18.
"I had some holes where the shots weren't just bad, they were horrible," he said. "So it was tough to make pars. But the main thing is it all worked out in the end."
Along with his six pars, An had six birdies, eight bogeys and a double bogey. He was 3 up after 11 holes and 2 up with two holes to play. But Ziegler, the 2009 Colorado Match Play State champion, won the final two holes with pars.
Both went par-bogey on the first two extra holes. At the 21st, An was on the green, 25 feet from the hole, while Ziegler missed the green and chipped to about 15 feet. An two-putted for par and Ziegler missed his try to end the match.
"I didn't know if I could make it this far, but I've been driving the ball well and putting well this week," An said. "I hope it goes on."
Results from the quarterfinals at the U.S. Amateur, played Aug. 28 at the par-70 Southern Hills CC in Tulsa, Okla.:
QUARTERFINALS
Charlie Holland def. Peter Uihlein, 19 holes
Ben Martin def. David Lingmerth, 2 and 1
Bhavik Patel def. Phillip Mollica, 1 up
Byeong-Hun An def. Steve Ziegler, 21 holes
ROUND OF 16
Charlie Holland def. Christopher Ross, 2 and 1
Peter Uihlein def. Connor Arendell, 2 and 1
Ben Martin def. Nico Geyger, 2 and 1
David Lingmerth def. Cameron Tringale, 4 and 2
Phillip Mollica def. Mark Anderson, 1 up
Bhavik Patel def. Marcel Puyat, 1 up
Steve Ziegler def. Dan Woltman, 22 holes
Byeong-Hun An def. Mike Van Sickle, 20 holes
ROUND OF 32
Charlie Holland def. Tim Jackson, 1 up
Christopher Ross def. Travis Woolf, 2 and 1
Peter Uihlein def. Connor Driscoll, 2 and 1
Connor Arendell def. Dodge Kemmer, 3 and 2
Ben Martin def. Chris Ward, 19 holes
Nico Geyger def. Matt Smith, 3 and 2
David Lingmerth def. Bud Cauley, 2 and 1
Cameron Tringale def. Bronson Burgoon, 1 up
Mark Anderson def. Zach Barlow, 1 up
Phillip Mollica def. Cameron Wilson, 1 up
Marcel Puyat def. Scott Langley, 4 and 3
Bhavik Patel def. Brad Revell, 2 up
Steve Ziegler def. Will Strickler, 1 up
Dan Woltman def. Glenn Northcutt, 7 and 5
Mike Van Sickle def. Trent Whitekiller, 6 and 5
Byeong-Hun An def. Brett Kanda, 4 and 3
ROUND OF 64
Tim Jackson def. John Kostis, 5 and 4
Charlie Holland def. Morgan Hoffmann, 19 holes
Christopher Ross def. Corey Nagy, 5 and 4
Travis Woolf def. Brady Johnson, 4 and 3
Peter Uihlein def. James Sacheck, 19 holes
Connor Driscoll def. Jonathan Randolph, 3 and 1
Dodge Kemmer def. Eric Steger, 6 and 5
Connor Arendell def. David Chung, 2 and 1
Ben Martin def. Tyson Alexander, 21 holes
Chris Ward def. Brian Harman, 19 holes
Nico Geyger def. Derek Ernst, 1 up
Matt Smith def. Andrew Funk, 4 and 3
Bud Cauley def. Rickie Fowler, 3 and 1
David Lingmerth def. Scott Strohmeyer, 3 and 2
Cameron Tringale def. John Peterson, 2 up
Bronson Burgoon def. Joe Juszczyk, 5 and 4
Mark Anderson def. Justin Bardgett, 2 up
Zach Barlow def. Nathan Smith, 2 up
Phillip Mollica def. Travis Ross, 2 up
Cameron Wilson def. Matt Thompson, 19 holes
Scott Langley def. David Sheman, 2 and 1
Marcel Puyat def. Fielding Brewbaker, 3 and 1
Brad Revell def. Matthew Broome, 19 holes
Bhavik Patel def. Patrick Rada, 3 and 2
Will Strickler def. Brenton Flynn, 2 and 1
Steve Ziegler def. Jackson Beindorf, 5 and 3
Dan Woltman def. Talor Gooch, 3 and 2
Glenn Northcutt def. Jonathan Fly, 2 and 1
Trent Whitekiller def. Wesley Bryan, 19 holes
Mike Van Sickle def. John Murphy, 6 and 4
Brett Kanda def. Kevin Tway, 1 up
Byeong-Hun An def. Alex Moon, 2 and 1
---
---
---
---
---
---
---
---
---
---
---
---
---
---
---
---
---
---
---
---
---