Martin, An advance to U.S. Am finals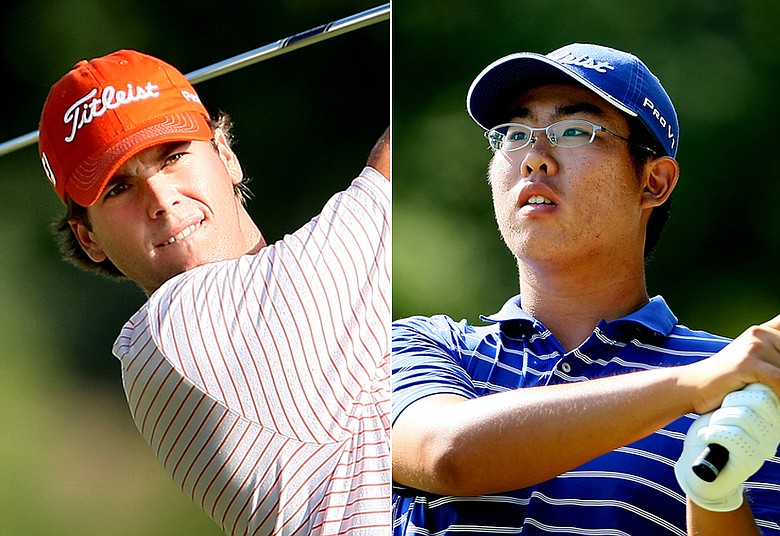 Saturday, August 29, 2009
TULSA, Okla. – It will be a Sunday showdown between the veteran college player and a high school senior. And the stakes couldn't be higher.
Ben Martin, 21, of Greenwood, S.C., and fifth-year senior at Clemson, will take on Byeong-Hun "Ben" An, a 17-year-old Korea native and high school senior at Bradenton (Fla.) Prep who has verbally committed to California, in the finals of the U.S. Amateur at Southern Hills.
The scheduled 36-hole final will start Sunday at 9 a.m. EDT.
An, 17, can become the youngest player to win the U.S. Amateur. Last year's champion, Danny Lee – 18 years, one month old at the time – broke Tiger Woods' record to become the youngest champion. An turns 18 on Sept. 17.
Both players made an impressive showing in winning their semifinal matches Saturday. Martin advanced by defeating Charlie Holland, 23, of Dallas and a senior at Texas, 5 and 4, while An downed Bhavik "Bobby" Patel, 18, of Bakersfield, Calif., and a sophomore at Fresno State, 3 and 2.
---
Video
U.S. Amateur: Finalists feature
---
While the top prize will be decided on Sunday, both finalists gained the biggest of U.S. Amateur perks – the traditional invitation to play in next year's Masters at Augusta National and a spot in the starting field at the 2010 U.S. Open at Pebble Beach.
"This feels great. I could get used to it," said Martin, who earlier this summer qualified for the U.S. Open where he missed the cut. "I came in here at the start of the week to win and now I have one more match to go. Hopefully I can get it done tomorrow."
An also wore an ear-to-ear smile after his semifinal victory.
"It feels awesome," said An, who came to the U.S. 3 1/2 years ago to work on his golf game and go to school. "Every match, I mean, doesn't matter if it's the semifinals, it feels awesome to win."
From the start, Martin was in complete control in his match against Holland, who earlier in the week defeated Oklahoma State All-American and 2009 U.S. Walker Cup team member Morgan Hoffmann and this year's U.S. Am medalist and two-time U.S. Mid-Amateur champion Tim Jackson.
Holland opened with three bogeys and Martin quickly was 2 up. A birdie at No. 5 and a par a No. 6 put him 4 up, his largest lead in any match. He went 5 up with a par at the ninth, but Holland cut it back down with a birdie at the 10th.
After Martin answered with a birdie at No. 11, Holland made the second of his two birdies in the round to win the 13th. Martin then closed the match out with a par at the par-3 14th.
"It was like night and day," Martin said. "Yesterday I couldn't seem to find much, kind of struggled. "Today I settled in probably at (Nos.) 2 or 3 and kept hitting greens and hitting quality shots. It just got easier as the day went on."
For Holland, a U.S. Amateur quarterfinalist last year, it never got going.
"My ball striking just wasn't there," he said. "It was not my day and wasn't much fun. Ben played great and he deserves it. It's frustrating, but I just flat out got beat."
Holland had two birdies against seven bogeys, while Martin scored a pair of birdies to offset his two bogeys.
---
Photo Gallery
U.S. Amateur (Semis)
Ben Martin and Byeong-Hun An will meet in the finals of the U.S. Amateur.
---
The An-Patel match was much tighter. Neither led by more than one hole through the first 14.
An won No. 3 with a par to go 1 up, but Patel came right back with a birdie at the fourth to square the match. An won No. 5 (par), Patel No. 7 (par) and An No. 8 (par) to keep the 1-up edge.
Patel won holes 10 and 11 with par for his first lead of the match, but An came back and won four consecutive holes starting with a birdie at the par-5 13th. He closed the match with a bogey on the par-4 16th.
"I really needed that one," An said of his hole-winning birdie at No. 13, where he hit a lob wedge from 96 yards to within 2 feet. "That gave me the boost I needed."
Still, An said it was hardly his best playing day on the golf course.
"I didn't think I played all that well," he said. "I mean, we both made a lot of mistakes. And, I shanked it on (par-3) 11 in the trees on the right. My irons weren't that good, but my up-and-downs were pretty good."
An said his biggest – and only – tournament victory of his young career came five years ago at an AJGA event in California, "unless you count winning my (sectional) qualifier to get here," he said.
Prior to this week, his biggest success in competition came earlier this month when he was a quarterfinalist at the Western Amateur.
"So today, this was the biggest match of my career so far," An said. ". . . Until tomorrow."
Results from the semifinals at the U.S. Amateur, played Aug. 29 at the par-70 Southern Hills CC in Tulsa, Okla.:
SEMIFINALS
Ben Martin def. Charlie Holland, 5 and 4
Byeong-Hun An def. Bhavik Patel, 3 and 2
QUARTERFINALS
Charlie Holland def. Peter Uihlein, 19 holes
Ben Martin def. David Lingmerth, 2 and 1
Bhavik Patel def. Phillip Mollica, 1 up
Byeong-Hun An def. Steve Ziegler, 21 holes
ROUND OF 16
Charlie Holland def. Christopher Ross, 2 and 1
Peter Uihlein def. Conor Arendell, 2 and 1
Ben Martin def. Nico Geyger, 2 and 1
David Lingmerth def. Cameron Tringale, 4 and 2
Phillip Mollica def. Mark Anderson, 1 up
Bhavik Patel def. Marcel Puyat, 1 up
Steve Ziegler def. Dan Woltman, 22 holes
Byeong-Hun An def. Mike Van Sickle, 20 holes
ROUND OF 32
Charlie Holland def. Tim Jackson, 1 up
Christopher Ross def. Travis Woolf, 2 and 1
Peter Uihlein def. Connor Driscoll, 2 and 1
Connor Arendell def. Dodge Kemmer, 3 and 2
Ben Martin def. Chris Ward, 19 holes
Nico Geyger def. Matt Smith, 3 and 2
David Lingmerth def. Bud Cauley, 2 and 1
Cameron Tringale def. Bronson Burgoon, 1 up
Mark Anderson def. Zach Barlow, 1 up
Phillip Mollica def. Cameron Wilson, 1 up
Marcel Puyat def. Scott Langley, 4 and 3
Bhavik Patel def. Brad Revell, 2 up
Steve Ziegler def. Will Strickler, 1 up
Dan Woltman def. Glenn Northcutt, 7 and 5
Mike Van Sickle def. Trent Whitekiller, 6 and 5
Byeong-Hun An def. Brett Kanda, 4 and 3
ROUND OF 64
Tim Jackson def. John Kostis, 5 and 4
Charlie Holland def. Morgan Hoffmann, 19 holes
Christopher Ross def. Corey Nagy, 5 and 4
Travis Woolf def. Brady Johnson, 4 and 3
Peter Uihlein def. James Sacheck, 19 holes
Connor Driscoll def. Jonathan Randolph, 3 and 1
Dodge Kemmer def. Eric Steger, 6 and 5
Connor Arendell def. David Chung, 2 and 1
Ben Martin def. Tyson Alexander, 21 holes
Chris Ward def. Brian Harman, 19 holes
Nico Geyger def. Derek Ernst, 1 up
Matt Smith def. Andrew Funk, 4 and 3
Bud Cauley def. Rickie Fowler, 3 and 1
David Lingmerth def. Scott Strohmeyer, 3 and 2
Cameron Tringale def. John Peterson, 2 up
Bronson Burgoon def. Joe Juszczyk, 5 and 4
Mark Anderson def. Justin Bardgett, 2 up
Zach Barlow def. Nathan Smith, 2 up
Phillip Mollica def. Travis Ross, 2 up
Cameron Wilson def. Matt Thompson, 19 holes
Scott Langley def. David Sheman, 2 and 1
Marcel Puyat def. Fielding Brewbaker, 3 and 1
Brad Revell def. Matthew Broome, 19 holes
Bhavik Patel def. Patrick Rada, 3 and 2
Will Strickler def. Brenton Flynn, 2 and 1
Steve Ziegler def. Jackson Beindorf, 5 and 3
Dan Woltman def. Talor Gooch, 3 and 2
Glenn Northcutt def. Jonathan Fly, 2 and 1
Trent Whitekiller def. Wesley Bryan, 19 holes
Mike Van Sickle def. John Murphy, 6 and 4
Brett Kanda def. Kevin Tway, 1 up
Byeong-Hun An def. Alex Moon, 2 and 1
---
---
---
---
---
---
---
---
---
---
---
---
---
---
---
---
---
---
---
---
---