Duval shoots himself out of Q-School – and then back in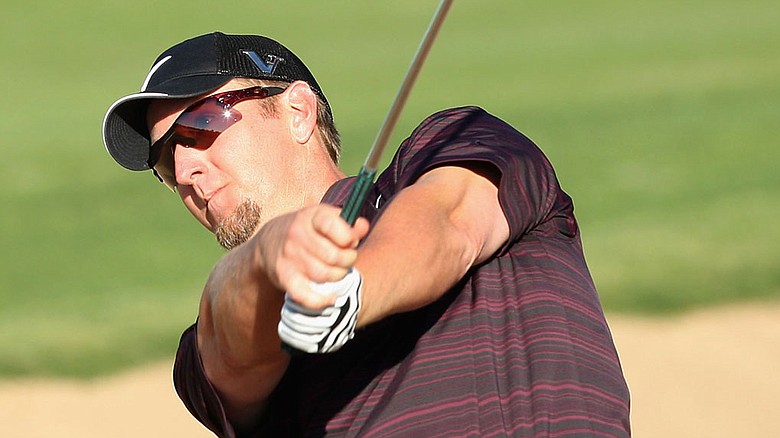 Wednesday, December 2, 2009
WEST PALM BEACH, Fla. – David Duval had the kind of start to PGA Tour Q-School that can leave a veteran lamenting his fate and booking an early flight home.
But instead of sulking, Duval grinded in windy conditions at Bear Lakes Country Club's Links Course. Duval posted a first-round 71 Wednesday after playing his first six holes in 4 over, and will likely end the day in the top 15. He made five birdies in his final 12 holes despite wind gusts up to 30 mph.
"It's a bit easier to (make a comeback), knowing that it's playing really hard," he said. "If it was beautiful and calm and you start out rough like that, it'd be a little bit harder to stay patient."
Duval hooked his tee shot on the par-5 second into the water, then made a double on the par-5 sixth hole after missing a 1 1/2-foot bogey putt. Duval made birdies on Nos. 7, 9, 13, 17 and a 6-footer on No. 18.
Duval is making his second Q-School appearance (the other was in 1993) despite finishing second at this year's U.S. Open. He made less than $100,000 in his other 21 starts this year. He had a chance to keep his card at the season-ending Children's Miracle Network Classic, but missed the cut badly to finish 130th on the money list. Duval was leaning toward not playing Q-School after he missed the cut.
"I'm doing what everybody else here is doing, trying to gain access to an arena in which I want to participate," Duval said. "In this game, we have to earn what we get."
The former British Open champ will have conditional status on next year's Tour and should have no trouble getting sponsor exemptions. He estimates earning a Tour card this week would earn him only an additional four or five starts.
"I feel comfortable that I'll get some (sponsor) exemptions, but I don't want to count on (them)," Duval said.
After signing his card, Duval was asked to comment on Tiger Woods' statement earlier Wednesday in which he apologized for "transgressions." Duval was unaware of the statement, but when asked what it will take for Woods' image to be repaired, he said:
"Time. ... After he lets himself get ambushed three or four times is when people might move on. ... He's going to get it somewhere. When he shows up, they're going to be on him. It's a sad thing that family affairs are having to be played out that way."
Golfweek.com readers: We value your input and welcome your comments, but please be respectful in this forum.
---
---
---
---
---
---
---
---
---
---
---
---
---
---
---
---
---
---
---
---
---