Tiger emerges as most dominant '09 story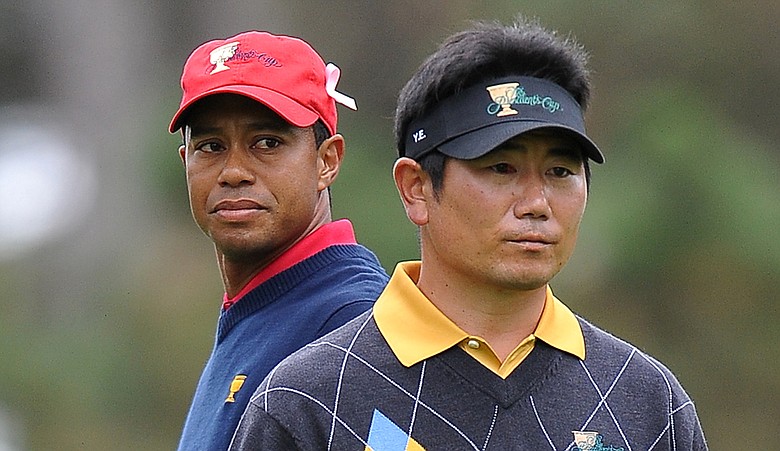 Wednesday, December 23, 2009
For some golf fans, Feb. 19 effectively marked the start of the season.
It wasn't because Phil Mickelson finally got his game on track with a 63 at Riviera, rather it was the day Tiger Woods posted a statement on his Web site that filled golf with optimism it had been missing for eight months.
"I'm now ready to play again," Woods said, announcing his return from knee surgery.
What followed were plenty of memories in 2009. The fairy tale that turned into a heartbreaker at Turnberry when 59-year-old Tom Watson failed to make par from the middle of the 18th fairway and lost the British Open in a playoff. Henrik Stenson making more news for stripping down to his skivvies than for winning The Players Championship. Michelle Wie winning more tournaments than Vijay Singh.
Too bad so few people will remember.
Because the year effectively ended Dec. 11 with another statement Woods posted on his Web site.
"After much soul searching, I have decided to take an indefinite break from professional golf," he said.
Mark those two dates as the alpha and omega of the 2009 season, and allow yourself to soak up some of the moments in between.
It wasn't the best year in golf – it can't be, not with as much focus on the runner-up as the winner.
Angel Cabrera won the Masters at the expense of Kenny Perry, at 48 trying to become the oldest major champion. Lucas Glover's magnificent 8-iron to the 16th at Bethpage Black was overshadowed by Mickelson missing two short par putts. Stewart Cink denied the golf world one of its greatest stories by beating Watson in the playoff. And Y.E. Yang made more news for whom he beat (Woods) than what he won (the PGA Championship).
With a putt here and a chip there, the major champions could have just as easily been Chad Campbell, Ricky Barnes and Chris Wood.
Watson might have been the most celebrated runner-up in history, trumping Greg Norman's collapse in the 1996 Masters. Even five months later, it all seems so impossible that a player past his prime even by Champions Tour standards could crouch over an 8-foot putt with a chance to put his name on the claret jug again, 34 years after it first was engraved.
A devastating loss? It apparently was for reporters, but not for the man.
"This ain't a funeral, you know," Watson said with that gap-tooth grin as he walked into the media center.
Mickelson also found perspective in defeat after another amazing tale that lacked only the happy ending. His world rocked by his wife being diagnosed with breast cancer, Mickelson again found himself on the cusp of an elusive U.S. Open title. The long birdie at the 12th. The eagle on the 13th. Bethpage already was flooded by a week of rain, and the tear ducts were starting to leak.
Then, he missed par putts from 3 feet and 8 feet over the final four holes, and made history as a runner-up for the fifth time.
"Now that's over, I've got more important things going on. And ... oh, well," Mickelson said.
Perry showed golf is a game for the ages by winning twice and finishing No. 5 on the money list. The teenage infusion came from Rory McIlroy of Northern Ireland, who cracked the top 10 in the world ranking by the end of the year, and from 18-year-old Ryo Ishikawa, the youngest player to win the money title on a recognized tour (Japan).
Woods showed again why he is measured by a different standard. Despite seven victories worldwide, the FedEx Cup, another PGA Tour money title, Vardon Trophy for lowest scoring average and every award for player of the year, he had to explain why it was a great year without a major championship.
Instead, he won a different kind of Grand Slam – a victory in his final start before every major.
For all the grousing about the FedEx cup, it delivered the ultimate Cinderella in Heath Slocum, who qualified for the playoffs by the slimmest of margins, then won the opening event over Woods, Steve Stricker, Padraig Harrington and Ernie Els. The last three playoff events were won by the top three players in the world ranking – Woods, Mickelson and Stricker. So something is working.
Wie, meanwhile, might have the best of two worlds. She appears to be loving everything about college life at Stanford – something hardly any of her peers ever experienced – and she had a blast on the course, too, winning for the first time and playing a key role in the Americans' victory in Solheim Cup.
Arnold Palmer turned 80, and while this doesn't count as a present, it was announced a few weeks before his birthday that Jack Nicklaus would be joining him for the ceremonial tee shot at the Masters next year.
Golf was not without a scandal. The tour announced Doug Barron became the first player to test positive for a performance-enhancing substance. This didn't make a lot of news because so many fans didn't know who Doug Barron was.
And by the end of the year, there was only one scandal.
The way the last month has gone, there was really only one story.
It was Tiger Woods.
And it had nothing to do with his golf.
Golfweek.com readers: We value your input and welcome your comments, but please be respectful in this forum.
---
---
---
---
---
---
---
---
---
---
---
---
---
---
---
---
---
---
---
---
---