Notes: Tiger says he'll fix faulty swing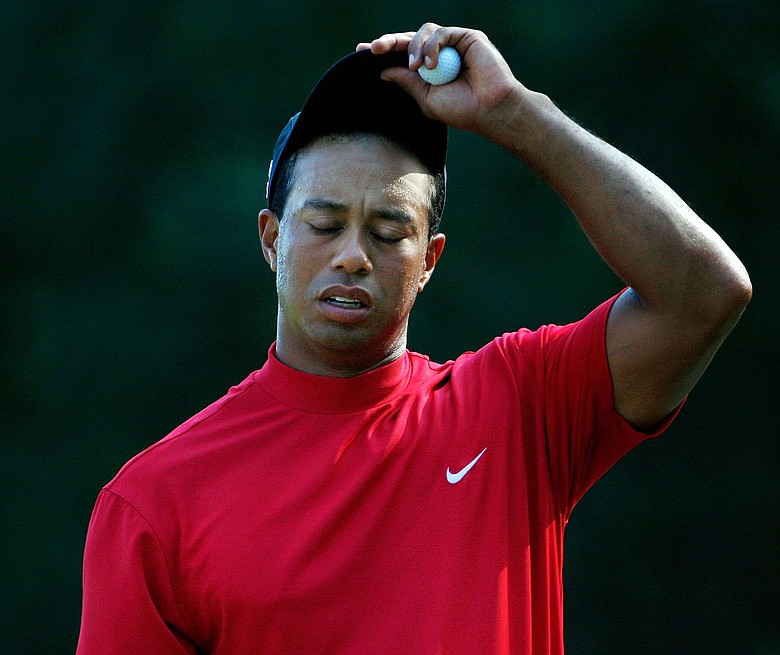 Sunday, May 10, 2009
PONTE VEDRA BEACH, Fla. — After playing consecutive tournaments for the first time in more than a year, Tiger Woods' left knee felt just fine.
His swing, though, wasn't quite right.
Woods, playing in the final pairing with third-round leader Alex Cejka, shot a 1-over 73 in the final round Sunday and finished eighth at The Players Championship.
"I just kept hitting those spinners up to the right," said Woods, who failed to win while in the final pairing for the first time since the 2007 U.S. Open at Oakmont. "It was frustrating. If I aimed it down the right side, I would still spin it off to the right. And if I aimed it down the left side, I would still spin it off to the right."
It started early, too. Woods bogeyed two of the first four holes while fading shots right on each of them. He pushed his approach shot well right of the pin on No. 1, found the water right with his second shot at the par-5 second, was off the green right at the par-3 third and then found the right rough off the tee at the fourth.
It was more of the same over his next six holes.
"I'll fix it, no problem," the world's No. 1 golfer said. "It's just that when you're playing a golf course like this and you don't have it quite right and the greens are this fast, this hard, you can shoot some pretty high numbers. As you can see out there, some guys probably went pretty high."
Only 20 of 70 players broke par Sunday, so Woods thought he still had a shot to get back in the mix until he failed to make birdie at Nos. 11 and 12, which played as two of the easiest holes during the final round.
Although he managed to birdie two of the final five holes, he didn't have a shot at winning the Players since he claimed victory in 2001.
Now, he'll take three weeks off before returning to action at the Memorial.
As for his swing, he's not really that concerned.
"We know what it is," he said. "It's just a matter of me doing it. Sometimes, as we all know playing the game, it's hard to do out on the golf course. I just need to do a little better job of it."
• • •
FANTASY ISLAND: The infamous island green, No. 17 at TPC Sawgrass, wasn't nearly as menacing as it's been in recent years.
Only 30 balls were hit into the murky water during the four rounds, 34 fewer than in 2008 and 63 fewer than in 2007. The four-day total was the tournament's lowest since 29 got wet in 2003. Only six balls missed the 4,000-square-foot putting surface Sunday.
Not coincidentally, the hole played to an average of 3.025. That's the lowest average since it played under par (2.952) in 1997.
• • •
TRANSLATION PLEASE: As eventual winner Henrik Stenson and his caddie, Fanny Sunesson, discussed club selection in Swedish on Sunday in the middle of the 18th fairway, NBC analyst Johnny Miller delivered one of the best lines of the telecast.
"It's probably the only part of the telecast Elin Woods is enjoying," Miller said, referring to Tiger Woods' wife, a former Swedish model.
• • •
DIVOTS: Jeff Klauk, the son of longtime course superintendent Fred Klauk, led the field in driving accuracy. It might have not been much of a surprise because Klauk figures he has played the famed Stadium Course more than a thousand times. ... NBC's coverage of the third round drew a 2.8 overnight rating and 7 share, up 33 percent from last year. ... Playing by himself and with the first tee time Sunday morning, Aaron Baddeley shot a 6-under 66 in the calm conditions. He probably didn't know how good it would be. Baddeley ended up tying for ninth, eight shots behind winner Henrik Stenson.
Golfweek.com readers: We value your input and welcome your comments, but please be respectful in this forum.
---
---