U.S. takes slim lead at Presidents Cup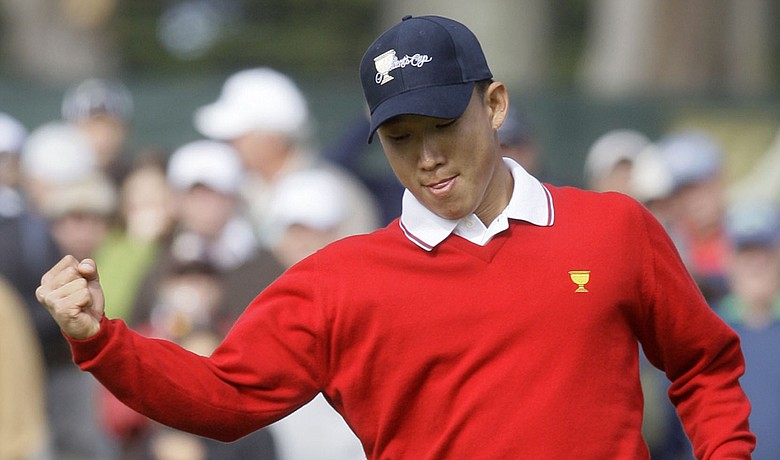 Thursday, October 8, 2009
SAN FRANCISCO – One putt changed everything except the lead Thursday in the Presidents Cup.
The Americans were poised to seize control in the opening session of foursomes at Harding Park, already assured of the lead and on the verge of winning the final match for a two-point advantage.
Justin Leonard had a 3-foot birdie putt to win – a putt he first thought had been conceded – and was stunned when the putt caught the right edge of the cup and spun away.
The match was halved, and the Americans had to settle for a 3 1/2 - 2 1/2 advantage.
"We wanted to get out of the day with pretty close to a push, and I'm very, very happy," International captain Greg Norman said.
He was fortunate for that.
Tiger Woods and Steve Stricker were dominant from the start, playing bogey-free in the difficult alternate-shot format and teaming up for six birdies in a 6-and-4 victory over Geoff Ogilvy and 18-year-old Ryo Ishikawa.
---
Photo Gallery
Presidents Cup: Day 1
After Day 1 of the Presidents Cup at Harding Park, the U.S. leads the International team 3 1/2 - 2 1/2. Play continues Friday with four-ball matches.
---
Phil Mickelson and Anthony Kim came to life late, closing with four straight birdies to give the Americans the first point of the matches with a 3-and-2 victory over Mike Weir and Tim Clark.
The momentum switched to American red on the scoreboard late on the cloudy, cool afternoon on this public course south of San Francisco. The final push figured to come from Leonard and Jim Furyk, who made a furious rally in the middle of the match and surged ahead of Retief Goosen and Y.E. Yang, 2 up with two holes to play.
Goosen holed a birdie putt on the 17th to send the match to the par-5 18th, and the South African missed the green to the right. Leonard hit a splendid fairway metal to the middle of the green, setting up what appeared to be a two-putt birdie.
Furyk lagged to 3 feet, the International team got up-and-down for birdie, and Goosen looked over at Furyk as if wondering why Leonard even needed to putt. Eventually, the South African realized the putt meant something.
Did it ever.
The Americans were ready to celebrate another point. The International team was prepared for another big deficit.
"I just hit a bad putt," Leonard said. "I knew I was going to need to make that little putt. Unfortunately, I missed it."
Norman said there was no gamesmanship on Goosen's part.
"He thought the match was over," Norman said. "He didn't concede the putt, he just thought the match was over. It was a legitimate mistake, and no intent or malice. It was just the intensity of the game."
Next up are six more matches Friday, this time fourballs.
Two years ago, the International team failed to win a match in the opening session and fell five points behind. This is one time a tie – the halve in the final match – felt far better. It goes into the second round with a fighting chance.
Both teams and captains were around for the finish, and Norman couldn't help but notice how Leonard went from hitting a clutch shot from the middle of the fairway to missing a short putt for the victory.
"It's a cruel game," Norman said.
In the seven previous Presidents Cup, only once has a team trailing after the first session gone on to win – the U.S. team in 2005. The Americans also trailed by one point in 2003 in South Africa, where the cup ended in a tie.
Ishikawa had said he and Ogilvy would be facing the Americans' best team, and he was right. Woods and Stricker proved to be a tough combination of Woods' pure iron shots and Stricker's sure putting.
Woods got them going with an 18-foot birdie putt on the opening hole, while Stricker closed out a flawless front nine with a 30-foot birdie putt on the par-3 ninth.
Weir and Clark, the only partnership that failed to make a single birdie, still managed a 1-up lead through 12 holes because of the wild play of Kim, who is missing some of his swagger from the Ryder Cup last year.
He relied heavily on Mickelson to dig them out of trouble, including a remarkable shot from the edge of a bunker, under a tree. Kim delivered at the right time, however, hitting a wedge to 3 feet for birdie and the lead, then a 7-iron to 18 feet that Mickelson converted into a birdie to seize control.
"We needed something to ignite us and that wedge shot did the trick," Mickelson said.
Perhaps the most significant U.S. victory came from Kenny Perry and Zach Johnson, who were in the tightest match of the session. Neither team led by one hole, and the match was all square with three remaining. The Americans birdied two straight holes to take the lead, then secured a point when Angel Cabrera's tee shot trickled into a bunker and left Camilo Villegas an impossible shot.
The International picked up some hope from the final match ending in a halve, and a load of confidence from Adam Scott. He was a surprise captain's pick coming off his worst year on tour, yet Scott was solid with Ernie Els against mistake-prone Hunter Mahan and Sean O'Hair for a 2-and-1 victory.
"Any victory is important, but personally for me, it feels great," Scott said. "But more importantly, we need it for the team."
---
Results from Day 1 of the Presidents Cup, played Oct. 8 at Harding Park Golf Course in San Francisco:
Day 1: U.S. 3 1/2, International 2 1/2
Foursomes:
Anthony Kim-Phil Mickelson (U.S.) def. Mike Weir-Tim Clark, 3 and 2
Adam Scott-Ernie Els (Int.) def. Hunter Mahan-Sean O'Hair, 2 and 1
Vijay Singh-Robert Allenby (Int.) def. Lucas Glover-Stewart Cink, 1 up
Kenny Perry-Zach Johnson (U.S.) def. Angel Cabrera-Camilo Villegas, 2 up
Tiger Woods-Steve Stricker (U.S.) def. Geoff Ogilvy-Ryo Ishikawa, 6 and 4
Retief Goosen-Y.E. Yang (Int.) vs. Jim Furyk-Justin Leonard, halved
Golfweek.com readers: We value your input and welcome your comments, but please be respectful in this forum.
---
---
---
---
---
---
---
---
---
---
---
---
---
---
---
---
---
---
---
---
---