U.S. clings to 1-point lead at Presidents Cup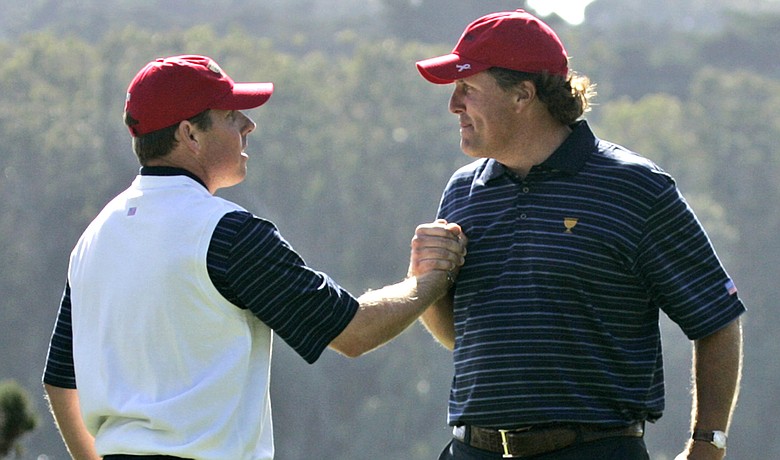 Friday, October 9, 2009
SAN FRANCISCO – Tiger Woods and Steve Stricker dominate no matter what the format. Phil Mickelson wins no matter whom he has for a partner. It still isn't enough for the Americans to shake the pesky International team in the Presidents Cup.
For the second straight day, the Americans were poised to take a comfortable lead.
The International team just won't go away.
It rallied to win two late matches to split the fourballs session and keep the Americans' lead at one point, 6 1/2 - 5 1/2.
Ernie Els and Mike Weir won the final three holes to turn defeat into a 2-up victory, thanks to the Canadian hitting 3-wood from the base of the bleachers and onto the green for an eagle that was conceded.
In the final match on the course, Tim Clark ripped a 3-wood to 15 feet and dropped to his knees when the eagle putt curled into the cup. He and Vijay Singh won the last two holes for a 1-up victory over Stewart Cink and Lucas Glover, America's two major champions who remain without a point heading into the weekend.
---
Photo Gallery
Presidents Cup: Day 2
The U.S. carried over its lead from Thursday's foursomes at the Presidents Cup, and remain one point ahead of the International Team.
---
"We watched the board a little bit and we knew all the of matches were within or two, except for a couple of them, so we knew if we could turn it around ... there's still a lot of golf to play," Weir said.
The International team still doesn't have an answer for the Americans' best three players.
Woods and Stricker remains the only players at Harding Park who have not trailed at any point over the last two days, and they have yet to play the 16th hole in competition.
Stricker chipped in for birdie on the first hole, hit a wedge to 2 feet to take the lead for good on the par-5 fifth, and Woods made sure Geoff Ogilvy and Angel Cabrera never got close on the back nine. Woods hit a towering approach to 5 feet on the 15th hole for a birdie that was conceded in a 5-and-3 victory.
Mickelson teamed with Anthony Kim in foursomes, and had Justin Leonard at his side in fourballs.
Leonard, who missed a 3-foot putt on the final hole Thursday event that cost the Americans a point, steadied himself quickly with a birdie on the first hole, and key birdie on the 14th for a 2-up lead, and an 8-foot birdie to close out the match, 3 and 2, over Retief Goosen and Adam Scott.
"We had a great partnership," Mickelson said. "He came back after finishing last night not the way he wanted to, and on the very first hole making a critical putt, getting us off to a good start."
Mickelson has done nothing but give credit to his partners, when he has carried the load. Lefty had six birdies in the fourballs format, and often had a birdie opportunity if Leonard happened to miss.
Woods and Stricker, who played only 14 holes in the opening session, might have had a shorter match until stalling on the back nine. The idea of fourballs is for both players to have a look at birdie. On several holes, it was either Stricker or Woods in play, yet they still managed to build a 3-up lead at the turn.
"You want two on each hole – two balls in the fairway and two balls on the green, always putting a lot of pressure on your opponent," Woods said. "We didn't do that, it seemed like, on the front nine especially. It was one ball in, and that one ball was making birdies. So we did well."
It was the first time Woods has won his opening two matches in his 12 years playing the Presidents Cup and Ryder Cup.
In the first all-Asian pairing since 1998 at Royal Melbourne, PGA champion Y.E. Yang and 18-year-old Ryo Ishikawa built a 4-up lead through six holes and, after hitting bump around the turn, poured in on for a 4-and-3 victory over Kenny Perry and Sean O'Hair.
In the other match, Zach Johnson made sure the International team couldn't turn in one last rally. He holed an 8-foot birdie putt on the 17th hole to give him and Hunter Mahan a 2-and-1 victory over Robert Allenby and Camilo Villegas.
The Americans have never lost on home soil and have a 5-1-1 lead in the series. Saturday could prove pivotal if they want to continue those trends, with five foursomes matches in the morning and five fourballs matches in the afternoon.
---
Results from Day 2 of the Presidents Cup, played Oct. 8 at Harding Park Golf Course in San Francisco:
Day 2: U.S. 6 1/2, International 5 1/2
Four-Balls
Phil Mickelson-Justin Leonard (U.S.) def. Retief Goosen-Adam Scott, 3 and 2
Ernie Els-Mike Weir (Int.) def. Jim Furyk-Anthony Kim, 2 up
Ryo Ishikawa-Y.E. Yang (Int.) def. Kenny Perry-Sean O'Hair, 4 and 3
Vijay Singh-Tim Clark (Int.) def. Lucas Glover-Stewart Cink, 1 up
Zach Johnson-Hunter Mahan (U.S.) def. Robert Allenby-Camilo Villegas, 2 and 1
Steve Stricker-Tiger Woods (U.S.) def. Geoff Ogilvy-Angel Cabrera, 5 and 3
• • •
Day 1: U.S. 3 1/2, International 2 1/2
Foursomes
Anthony Kim-Phil Mickelson (U.S.) def. Mike Weir-Tim Clark, 3 and 2
Adam Scott-Ernie Els (Int.) def. Hunter Mahan-Sean O'Hair, 2 and 1
Vijay Singh-Robert Allenby (Int.) def. Lucas Glover-Stewart Cink, 1 up
Kenny Perry-Zach Johnson (U.S.) def. Angel Cabrera-Camilo Villegas, 2 up
Tiger Woods-Steve Stricker (U.S.) def. Geoff Ogilvy-Ryo Ishikawa, 6 and 4
Retief Goosen-Y.E. Yang (Int.) vs. Jim Furyk-Justin Leonard, halved
Golfweek.com readers: We value your input and welcome your comments, but please be respectful in this forum.
---
---
---
---
---
---
---
---
---
---
---
---
---
---
---
---
---
---
---
---
---