U.S. leads 10-7 at Presidents Cup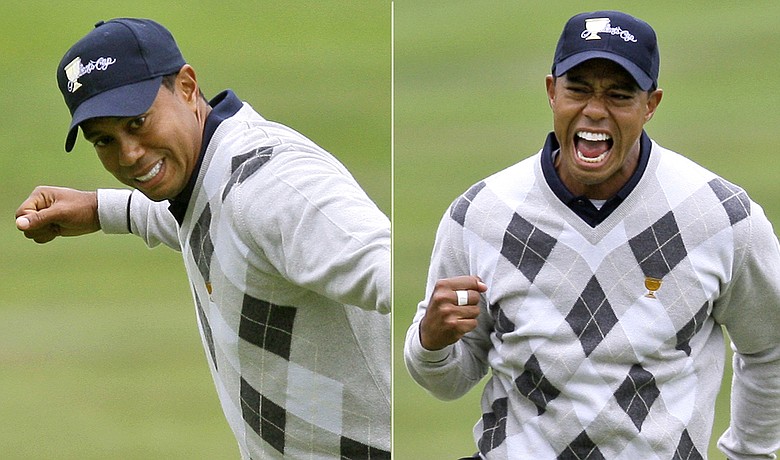 Saturday, October 10, 2009
SAN FRANCISCO – This rally belonged to the Americans, the biggest by Tiger Woods.
Woods and Steve Stricker were on the verge of defeat for the first time at the Presidents Cup, trailing by one hole on the 17th green facing a 25-foot birdie putt as the International team was 5 feet away from what appeared to be the winning putt.
It all changed so suddenly Saturday at Harding Park, from a probable tie to a 10-7 lead for the Americans.
Woods rolled in the long birdie, pumping his fists as it dropped in the side of the cup. Mike Weir's miss was equally surprising, and it squared their foursomes match. The world's No. 1 player then drilled a 3-iron to 8 feet for an eagle putt that was conceded for a 1-up victory over Weir and Tim Clark.
Ahead of them, Stewart Cink and Hunter Mahan trailed the entire back nine until they birdied the par-5 18th to earn a halve against Vijay Singh and Robert Allenby.
Those two matches provided a three-point swing. For the longest time, it looked as though the teams would go into Saturday afternoon fourballs tied at 8. The rally gave the U.S. its largest lead of the Presidents Cup.
The International team picked up only one victory in alternate shot, with PGA champion Y.E. Yang and 18-year-old Ryo Ishikawa winning again, this time 3 and 2 over Zach Johnson and Kenny Perry.
It needed to stay close in fourballs in the afternoon to keep this contest close.
Phil Mickelson improved to 3-0 with a third partner when he and Sean O'Hair won three holes in a four-hole stretch and won, 5 and 3, over Retief Goosen and Camilo Villegas, the Colombian rookie who has yet to earn a point this week.
Justin Leonard and Jim Furyk had a relatively easy time in beating Adam Scott and Ernie Els.
The drama belonged to Woods and Stricker, who now have won all three of their matches.
They had played only 29 holes in winning their first two matches, losing only one hole, not making a single bogey and never trailing. That changed quickly against Clark and Weir, who told International captain Greg Norman they wanted America's best team.
Then, they showed why.
The American duo made their first bogey when Woods hit a poor bunker shot at No. 2 that didn't reach the green. They fell behind for the first time all week when Weir hit a high draw with his wedge to 2 feet for a conceded birdie at No. 5.
And it started to get away from them.
Stricker missed from 6 feet for par to lose the hole at No. 7, Woods missed a 4-foot par putt to lose the eighth hole, and Stricker missed from 8 feet for birdie with a chance to win the ninth hole.
Weir and Clark twice had a good chance to go 3 up on the back nine until Weir hit into a bunker and missed a 10-foot par putt, and Woods holed an 8-foot par on the 14th.
Stricker kept them in the game with a wedge to 3 feet for birdie on the 13th to cut the lead to one, then with a 6-foot par on the next hole to stay one hole down.
That set up the theatrics at the end.
Woods tried to drive 307-yard 17th hole, and just missed, the ball staying up on the slope in the bunker. Stricker blasted out to only 25 feet, slamming his club into the sand.
"It wasn't looking too good up to that point," Stricker said. "The stage is set and he comes through again. It's pretty impressive."
---
Results from Day 3 of the Presidents Cup, played Oct. 10 at Harding Park Golf Course in San Francisco:
Day 3: U.S. 10, International 7
Foursomes
Phil Mickelson-Sean O'Hair (U.S.) def. Retief Goosen-Camilo Villegas, 5 and 3
Justin Leonard-Jim Furyk (U.S.) def. Ernie Els-Adam Scott, 4 and 2
Robert Allenby-Vijay Singh (Int.) vs. Stewart Cink-Hunter Mahan, halved
Tiger Woods-Steve Stricker (U.S.) def. Mike Weir-Tim Clark, 1 up
Y.E. Yang-Ryo Ishikawa (Int.) vs. Kenny Perry-Zach Johnson, 3 and 2
• • •
Day 2: U.S. 6 1/2, International 5 1/2
Four-Balls
Phil Mickelson-Justin Leonard (U.S.) def. Retief Goosen-Adam Scott, 3 and 2
Ernie Els-Mike Weir (Int.) def. Jim Furyk-Anthony Kim, 2 up
Ryo Ishikawa-Y.E. Yang (Int.) def. Kenny Perry-Sean O'Hair, 4 and 3
Vijay Singh-Tim Clark (Int.) def. Lucas Glover-Stewart Cink, 1 up
Zach Johnson-Hunter Mahan (U.S.) def. Robert Allenby-Camilo Villegas, 2 and 1
Steve Stricker-Tiger Woods (U.S.) def. Geoff Ogilvy-Angel Cabrera, 5 and 3
• • •
Day 1: U.S. 3 1/2, International 2 1/2
Foursomes
Anthony Kim-Phil Mickelson (U.S.) def. Mike Weir-Tim Clark, 3 and 2
Adam Scott-Ernie Els (Int.) def. Hunter Mahan-Sean O'Hair, 2 and 1
Vijay Singh-Robert Allenby (Int.) def. Lucas Glover-Stewart Cink, 1 up
Kenny Perry-Zach Johnson (U.S.) def. Angel Cabrera-Camilo Villegas, 2 up
Tiger Woods-Steve Stricker (U.S.) def. Geoff Ogilvy-Ryo Ishikawa, 6 and 4
Retief Goosen-Y.E. Yang (Int.) vs. Jim Furyk-Justin Leonard, halved
Golfweek.com readers: We value your input and welcome your comments, but please be respectful in this forum.
---
---
---
---
---
---
---
---
---
---
---
---
---
---
---
---
---
---
---
---
---