U.S. takes 3-point lead at Presidents Cup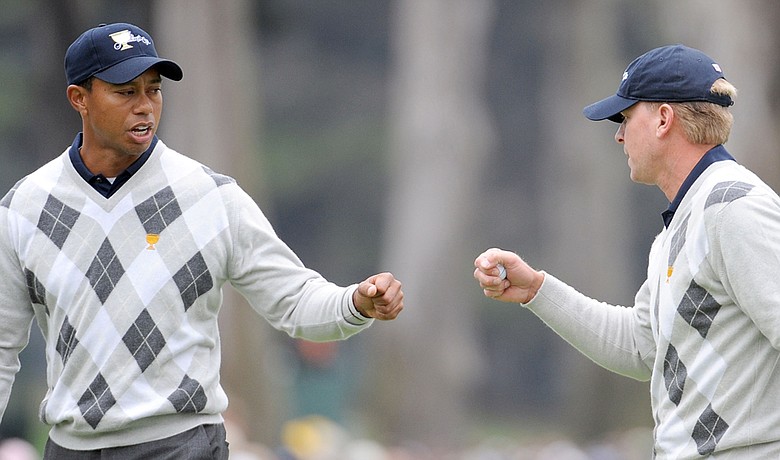 Saturday, October 10, 2009
SAN FRANCISCO – Tiger Woods and Steve Stricker were perfect as Presidents Cup partners, and they got enough help from everyone else Saturday to put the Americans in position to stay perfect on home soil.
With an improbable rally by Woods in the morning and pure putting by Stricker in the afternoon, they became the first partnership in the Presidents Cup – and the first in 30 years of any team competition – to go 4-0.
Phil Mickelson had a chance to join them with an undefeated record using different partners. Mickelson and Sean O'Hair, who won their match handily in the morning, each had a birdie putt inside 15 feet on the final hole for the win, but had to settle for a halve.
The International team walked away from Harding Park the last two days with momentum from keeping close. But as darkness fell across from Lake Merced, the deficit looked daunting with only 12 singles matches remaining Sunday.
---
Photo Gallery
Presidents Cup: Day 3
Team USA had a 12 1/2 - 9 1/2 lead after Day 3 at Harding Park.
---
The Americans had a 12 1/2 - 9 1/2 lead.
No team has rallied from three points behind on the final day to win the cup outright, and the Americans have lost only one singles session in the seven previous Presidents Cup matches.
"Last time we had a five-point mountain to climb in Montreal, and it looks like we will have something to climb," Geoff Ogilvy said after collecting his first point of the week in teaming with fellow Australian Robert Allenby.
Woods and Stricker are the first partners to go 4-0 in any team competition since Larry Nelson and Lanny Wadkins won all their matches in the 1979 Ryder Cup at The Greenbrier.
The perfect mark looked unlikely in the morning foursomes, when the International team was poised to catch the Americans by leading the final three matches on the course.
Woods and Stricker, who had missed four putts inside 8 feet during a six-hole stretch in the middle of the match, were on the verge of being closed out on the 17th hole. The International team was 1 up, with Mike Weir facing 5 feet for birdie. Woods tried to drive the green and found the bunker, and Stricker hit a poor shot to 25 feet.
Miss it, and Weir could win the match by making his short birdie putt.
Woods watched his birdie putt tumble into the cup on the final roll, then showed more emotion than he had all week. He repeatedly pumped his fist as Stricker broke into a wide grin.
"The stage is set, and he comes through again today," Stricker said. "It's pretty impressive."
Weir pushed his birdie putt, and the match was all square heading to the 18th. From the fairway, Woods drilled a 3-iron and twirled the club in his hand, the sign of a good shot, and this one was even better. It landed softly onto the green and stopped 8 feet away. Tim Clark blasted his bunker shot long, and the International team conceded the birdie and an unlikely 1-up victory.
"It was fun to watch," Stricker said. "I had a front-row seat for that. That was pretty cool."
Ahead of them, Stewart Cink and Hunter Mahan cobbled together a birdie on the final hole to earn a halve against Allenby and Vijay Singh after trailing the previous 13 holes.
Those two matches – a three-point swing – gave the Americans a 10-7 lead after the morning.
In afternoon fourballs, Woods only had to watch Stricker make one long birdie putt after another in a 4-and-2 victory over Y.E. Yang and 18-year-old Ryo Ishikawa, the first loss for the Asian duo.
"What he did in this morning's round made me want to do something and step up a little bit," said Stricker, who had seven consecutive 3s on his card. "Fortunately, I was rolling it pretty well."
Jim Furyk and Anthony Kim held on for a 2-up victory over Adam Scott and Angel Cabrera, while the International team picked up easy victories in fourballs from Ogilvy and Allenby, and Weir and Ernie Els, who had a 5-and-3 win over Zach Johnson and Justin Leonard.
Mickelson might have to settle for being the best player in red, white and blue this week. He brought O'Hair to life in their 5-and-3 victory in foursomes, then came up with the biggest shots in a late fourballs rally against Singh and Clark.
The International side was 2 up with seven holes to play until Mickelson birdied the 12th and O'Hair birdied the next hole. Clark stuffed it so close on the 14th that the birdie was conceded, and Mickelson then matched the birdie with a 40-foot putt.
The only thing Lefty didn't do was make the final putt.
Singh and Clark missed their birdies, and O'Hair missed his birdie putt from just inside 15 feet. The final stroke belonged to Mickelson, but the birdie putt stayed just to the right of the hole.
No matter. The lead is still three points, and the Americans need to win only five of the 12 singles matches to hoist the gold cup. They have never lost the Presidents Cup on American soil, and they have an overall lead of 47 1/2 - 36 1/2 in singles.
---
Results from Day 3 of the Presidents Cup, played Oct. 10 at Harding Park Golf Course in San Francisco:
Day 3: U.S. 12 1/2, International 9 1/2
Afternoon Four-Balls
Anthony Kim-Jim Furyk (U.S.) def. Angel Cabrera-Adam Scott, 2 up
Geoff Ogilvy-Robert Allenby (Int.) def. Stewart Cink-Lucas Glover, 2 and 1
Ernie Els-Mike Weir (Int.) def. Zach Johnson-Justin Leonard, 5 and 3
Tiger Woods-Steve Stricker (U.S.) def. Ryo Ishikawa-Y.E. Yang, 4 and 2
Vijay Singh-Tim Clark (Int.) vs. Phil Mickelson-Sean O'Hair, halved
Morning Foursomes
Phil Mickelson-Sean O'Hair (U.S.) def. Retief Goosen-Camilo Villegas, 5 and 3
Justin Leonard-Jim Furyk (U.S.) def. Ernie Els-Adam Scott, 4 and 2
Robert Allenby-Vijay Singh (Int.) vs. Stewart Cink-Hunter Mahan, halved
Tiger Woods-Steve Stricker (U.S.) def. Mike Weir-Tim Clark, 1 up
Y.E. Yang-Ryo Ishikawa (Int.) vs. Kenny Perry-Zach Johnson, 3 and 2
• • •
Day 2: U.S. 6 1/2, International 5 1/2
Four-Balls
Phil Mickelson-Justin Leonard (U.S.) def. Retief Goosen-Adam Scott, 3 and 2
Ernie Els-Mike Weir (Int.) def. Jim Furyk-Anthony Kim, 2 up
Ryo Ishikawa-Y.E. Yang (Int.) def. Kenny Perry-Sean O'Hair, 4 and 3
Vijay Singh-Tim Clark (Int.) def. Lucas Glover-Stewart Cink, 1 up
Zach Johnson-Hunter Mahan (U.S.) def. Robert Allenby-Camilo Villegas, 2 and 1
Steve Stricker-Tiger Woods (U.S.) def. Geoff Ogilvy-Angel Cabrera, 5 and 3
• • •
Day 1: U.S. 3 1/2, International 2 1/2
Foursomes
Anthony Kim-Phil Mickelson (U.S.) def. Mike Weir-Tim Clark, 3 and 2
Adam Scott-Ernie Els (Int.) def. Hunter Mahan-Sean O'Hair, 2 and 1
Vijay Singh-Robert Allenby (Int.) def. Lucas Glover-Stewart Cink, 1 up
Kenny Perry-Zach Johnson (U.S.) def. Angel Cabrera-Camilo Villegas, 2 up
Tiger Woods-Steve Stricker (U.S.) def. Geoff Ogilvy-Ryo Ishikawa, 6 and 4
Retief Goosen-Y.E. Yang (Int.) vs. Jim Furyk-Justin Leonard, halved
Golfweek.com readers: We value your input and welcome your comments, but please be respectful in this forum.
---
---
---
---
---
---
---
---
---
---
---
---
---
---
---
---
---
---
---
---
---