College Women
Freshman stars for LSU in Match Play win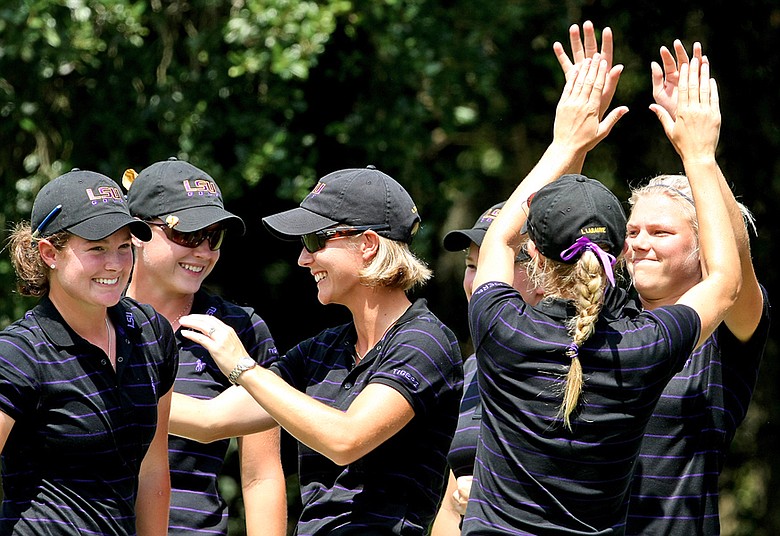 Tuesday, September 8, 2009
DAYTONA BEACH, Fla. – Mary Michael Maggio stalked the greens of LPGA International like a prize fighter. The fearless freshman from Conway, Ark., birdied the last two holes to defeat Auburn stalwart Candace Schepperle, 1 up, and give LSU the victory Tuesday at the Hooters Collegiate Match Play Championship.
"That was my freshman!" LSU head coach Karen Bahnsen said with excitement after Maggio poured in a 4-foot birdie putt on No. 18 of the Legends Course, a hole that has cost many players LPGA cards over the years at tour Q-School.
Sophomore Tessa Teachman posted LSU's first point with a commanding 6-and-5 win over Haley Wilson. Patricia Sanz then tied it up for Auburn when she downed Jaqueline Hedwall on the 17th hole. At that point, Auburn held a 1-up advantage in its last two matches with two holes to play, and Auburn freshman Carlie Yadloczky looked poised to pull out a half point after draining a 40-foot birdie putt on the 18th. LSU's Amalie Valle, however, poured a 10 -foot birdie putt of her own on top of Yadloczky to win, 1 up.
---
Photo Gallery
Hooters Collegiate Match Play
LSU won the Hooters Collegiate Match Play Championship in Daytona Beach, Fla.
---
"They just refused to lose," Bahnsen said.
Meanwhile, back on the 17th, LSU's Megan McChrystal stuffed her approach to gimme range, and Maggio dropped a 20-footer for birdie. Suddenly, those last two matches came to the 18th all square, with LSU ahead 2-1 in the overall standings. Teams need three out of five points to win each round.
The 18th at the Legends Course doglegs left and has an ominous hazard protecting the green. Maggio had hooked her tee shot Monday afternoon in Round 1 and was forced to chip out. This time, she belted a drive down the fairway and rifled an 8-iron from 158 yards to 4 feet.
Schepperle left her birdie attempt from the back fringe well short, setting up Maggio for the game-winning point. Maggio unleashed a huge fist-pump when the birdie putt rolled in and later, at the urging of her teammates, gave a short dance. McChrystal two-putted to halve with Clanton, giving LSU a 3-1-1 victory.
"I like to break it down a little bit," said Maggio, who pumped classic tunes through her iPod from artists Jimmy Buffett, Lil Wayne and Natalie Grant before the round.
Bahnsen noticed a big improvement in Maggio's short game after shoulder surgery this summer kept her from hitting full shots for nearly two months. Maggio, a former basketball player who answers every question with a very polite "ma'am", could be a big factor in LSU's bid for a conference title in a very stacked SEC. She was undefeated in three matches.
The Hooters Match Play event moved from its usual November slot to the beginning of the season to accommodate the Fall Preview, which will be held in October. Coaches and players raved about the camaraderie the tournament builds, with teammates riding together in carts for 36-hole holes.
"I've never felt more like a team than we have this week," said McChrystal.
The Hooters event is the only match play tournament in Division I. While Maggio and McChrystal, not surprisingly, see positives for moving the NCAA Championship to match play like the men – "It brings every team member into it," McChrystal says – coaches aren't in any hurry to change.
"I haven't heard one word about it," said Auburn coach Kim Evans. "I think we'd want to see it one more year (for the men)."
LSU beat Georgia and Florida to advance to the final round. Florida won the stroke-play portion of the event, edging South Carolina by one stroke. Auburn's Clanton was individual champion with a 2-under 142.
Result from the Hooters Match Play Championship, played Sept. 6-8 at LPGA International (Legends Course) in Daytona Beach, Fla.:
FINALS:Lousiana State 3, Auburn 2
Cydney Clanton (Auburn) halved Megan McChrystal
Mary Michael Maggio (LSU) def. Candace Schepperle, 1 up
Patricia Sanz (Auburn) def. Jaqueline Hedwall, 2 and 1
Amalie Valle (LSU) def. Carlie Yadloczky, 1 up
Tessa Teachman (LSU) def. Haley Wilson, 6 and 5
THIRD-PLACE MATCH: Virginia 4, Florida 1
Evan Jensen (Florida) def. Brittan Altomare, 4 and 3
Whitney Neuhauser (Virginia) def. Marika Lendl, 2 and 1
Calle Nielson (Virginia) def. Amelia Lewis, 7 and 6
Nicole Agnello (Virginia) def. Andrea Watts, 1 up
Eleana Collins (Virginia) def. Mia Piccio, 2 up
SEMIFINALS: LSU 4, Florida 1
Jaqueline Hedwall (LSU) def. Evan Jensen, 2 and 1
Megan McChrystal (LSU) def. Marika Lendl, 1 up
Mary Michael Maggio (LSU) def. Amelia Lewis, 1 up
Andrea Watts (Florida) def. Amalie Valle, 1 up
Mia Piccio def. Tessa Teachman, 3 and 2
SEMIFINALS: Auburn 2 1/2, Virginia 2 1/2
Brittany Altomare (Virginia) halved Cydney Clanton
Candace Schepperle (Auburn) def. Whitney Neuhauser, 2 and 1
Nicole Agnello (Virginia) def. Patricia Sanz, 1 up
Calle Nielson (Virginia) def. Carlie Yadloczky, 2 up
Haley Wilson (Auburn) def. Joy Kim, 3 and 1
Note: Tie went to team that won most holes
Golfweek.com readers: We value your input and welcome your comments, but please be respectful in this forum.
---
---
---
---
---
---
---
---
---
---
---
---
---
---
---
---
---
---
---
---
---