College Women
College preview: Women's teams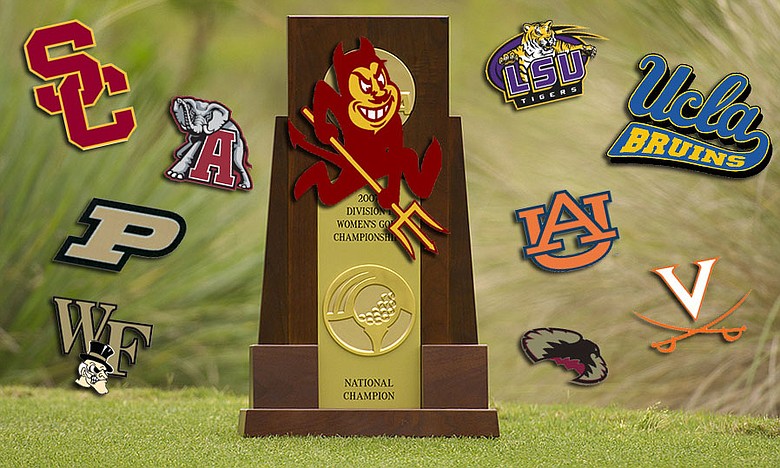 Tuesday, September 8, 2009
1. Arizona State
2008-09 Golfweek rank: 1
Go-to girl: Carlota Ciganda
Can win national title if . . . the new faces easily adjust. What made Arizona State, a perennial national-championship contender, finally capitalize on its talent last year?
"They didn't panic," head coach Melissa Luellen said.
The Sun Devils lost two seniors from their starting lineup – Azahara Munoz and Jennifer Osborn – but gained three talented freshmen. Jennifer Johnson, runner-up at this year's U.S. Women's Amateur, will be a solid addition to the lineup, and the fifth position should be a battle between Italy's Alessia Knight and New Zealand's Larissa Eruera.
"The goal to win a national championship definitely has to come from the players," Luellen said. "In the past, I think maybe I've put it out there."
Three players in the Arizona State lineup have tasted a title. No doubt they'll want a second serving.
• • •
2. USC
2008-09 Golfweek rank: 3
Go-to girl: Jennifer Song
Can win national title if . . . Stefanie Endstrasser returns to form. The Trojans are as solid as it comes Nos. 1-3 (Song, Lizette Salas and Belen Mozo), but they need Endstrasser to contribute like she did when they won in 2008. Freshman Cyna Marie Rodriguez of the Philippines could add much-needed depth.
• • •
3. UCLA
2008-09 Golfweek rank: 2
Go-to girl: Stephanie Kono
Can win national title if . . . Tiffany Lua helps fill the rowdy shoes of Tiffany Joh, one of two All-Americans lost from UCLA's lineup. Sydnee Michaels needs to become more consistent as Kono emerges as the Bruins' quiet leader.
• • •
4. Auburn
2008-09 Golfweek rank: 8
Go-to girl: Candace Schepperle
Can win national title if . . . junior Cydney Clanton plays like she did as a freshman. The Tigers need a strong 1-2 punch from Schepperle and Clanton to have a chance in the postseason. Freshmen Casey Kennedy and Carlie Yadloczky also should help the cause.
• • •
5. Wake Forest
2008-09 Golfweek rank: 5
Go-to girl: Natalie Sheary
Can win national title if . . . the freshmen come up big. Wake lost only one player from its starting lineup but gained freshmen Michelle Shin and Stephanie Kim. The Demon Deacons don't have a superstar on their team (unless you count Cheyenne Woods, Tiger's niece) but still are worth watching.
• • •
6. Denver
2008-09 Golfweek rank: 12
Go-to girl: Kimberly Kim
Can win national title if . . . the freshmen come ready to work. There's enough raw talent on this team to make noise. The Pioneers' lineup will be young – with freshmen Kimberly Kim and Sue Kim playing key roles – and it's up to senior Stephanie Sherlock to set the tone.
7. Purdue
2008-09 Golfweek rank: 9
Go-to girl: Maude-Aimee LeBlanc
Can win national title if . . . Laura Gonzalez Escallon rivals LeBlanc for the top position. Purdue needs the talented freshman from Belgium to help replace graduated NCAA champion Maria Hernandez. Gonzalez Escallon won the 2008 British Girls and
'09 German Ladies Amateur.
• • •
8. Virginia
2008-09 Golfweek rank: 6
Go-to girl: Calle Nielson
Can win national title if . . . Nielson and Whitney Neuhauser take their games to another level. Freshman Brittany Altomare should make an immediate impact, and it's a good thing: The Cavs graduated four seniors.
• • •
9. LSU
2008-09 Golfweek rank: 11
Go-to girl: Megan McChrystal
Can win national title if . . . everyone steps it up. Tigers lost only one starter and have a strong leader in McChrystal. Freshman Mary Michael Maggio (the team's second Mary Michael) should make an impact, and Lindy LaBauve also will battle for starting position.
• • •
10. Alabama
2008-09 Golfweek rank: 7
Go-to girl: Camilla Lennarth
Can win national title if . . . freshman Jennifer Kirby battles Lennarth for the No. 1 spot. In the absence of Kathleen Ekey, who graduated, head coach Mic Potter said the biggest issue for the Tide will be establishing a new sense of leadership.
• • •
Preseason rankings: Nos. 11-30 (With final '08-09 Golfweek rank):
11. Florida (32)
12. Pepperdine (14)
13. Stanford (26)
14. Georgia (15)
15. Duke (10)
16. Ohio State (27)
17. Arizona (17)
18. UNLV (33)
19. Kent State (21)
20. Michigan State (20)
21. New Mexico (22)
22. Texas Christian (31)
23. Arkansas (16)
24. North Carolina (13)
25. Vanderbilt (23)
26. Tennessee (24)
27. Tulane (28)
28. California (25)
29. Texas A&M (36)
30. Washington (41)
Golfweek.com readers: We value your input and welcome your comments, but please be respectful in this forum.
---
---
---
---
---
---
---
---
---
---
---
---
---
---
---
---
---
---
---
---
---