College Men
College preview: Men's individuals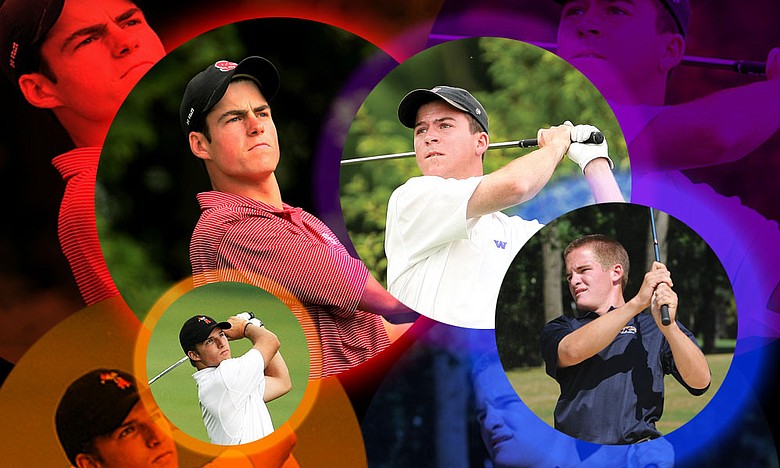 Wednesday, September 9, 2009
1. Matt Hill (N.C. State, junior)
2008-09 Golfweek rank: 1
Notable: How can you not pick a guy who had eight victories in 2008-09 and became the first player since Tiger Woods to win conference, regional and NCAA championships in a season? The Canadian continued his strong play this summer by winning the Ontario Amateur, finishing T-3 at the Canadian Amateur and making the cut at Tiger's tournament, the AT&T National.
"Obviously, to try to live up to the year he had last year will be an impossible thing," Wolfpack head coach Richard Sykes said. "Everything has to fall into place to win that many times.
"I feel like at times he feels a lot of pressure because everybody is expecting so much out of him . . . but I don't think he'll have any problem with it."
• • •
2. Morgan Hoffmann (Oklahoma State, sophomore)
2008-09 Golfweek rank: 2
Notable: But for Matt Hill's season-ending streak, Hoffmann might have followed in Rickie Fowler's 2008 footsteps by being named national freshman and player of the year. Hoffmann still was named the nation's top freshman and Big 12 Player of the Year; now he'll have to fill Fowler's shoes as Oklahoma State's No. 1 player. This summer, Hoffmann tied for eighth at the Nationwide Children's Hospital Invitational.
• • •
3. Nick Taylor (Washington, senior)
2008-09 Golfweek rank: 8
Notable: Taylor had a scorching summer, ascending to the top spot in the Golfweek/ amateurgolf.com Amateur Rankings. He tied a U.S. Open record with his second-round 65 at Bethpage, then was runner-up at the U.S. Amateur Public Links. "Nobody can control their golf ball like him," Washington coach Matt Thurmond said.
• • •
4. Bud Cauley (Alabama, sophomore)
2008-09 Golfweek rank: 10
Notable: Cauley won this summer's Players Amateur and was named to the U.S. Walker Cup team, experience that should help him as he shoulders the load for the Tide. "He is a fabulous ballstriker, a great iron player," head coach Jay Seawell said. "I think that's one of the main reasons he was picked for the Walker Cup team."
• • •
5. Russell Henley (Georgia, junior)
2008-09 Golfweek rank: 15
Notable: Henley played the past two years behind Brian Harman and Adam Mitchell. Now this is his team. He plays well in the big events, as evidenced by his Isleworth victory and top-10 individual finish at NCAAs, where he was 36-hole co-leader.
• • •
6. Peter Uihlein (Oklahoma State, sophomore)
2008-09 Golfweek rank: 16
Notable: Uihlein had trouble cracking OSU's lineup in the first half of his freshman year, but he played well down the stretch (ninth at the Big 12, second at regionals, 18th at NCAAs) then made the U.S. Walker Cup team after a strong summer. His early struggles might make this season even sweeter.
• • •
7. Steve Ziegler (Stanford, junior)
2008-09 Golfweek rank: 17
Notable: Ziegler, who represented the U.S. at the Palmer Cup, had a breakout spring, winning the USC/Ashworth Collegiate and posting top 10s in five consecutive starts. "He just continues to get more consistent," Stanford head coach Conrad Ray said. "He was definitely our guy we leaned on most of last year." Ziegler swept the Colorado Match Play and Stroke Play titles over the summer and made Sweet 16 at U.S. Am.
• • •
8. John Peterson (LSU, junior)
2008-09 Golfweek rank: 20
Notable: Peterson improved more than 250 spots in the Golfweek/Sagarin College Rankings from his freshman year. He won the John Hayt Invitational, then posted four consecutive third-place finishes.
• • •
9. Scott Langley (Illinois, junior)
2008-09 Golfweek rank: 23
Notable: The Illinois lefty is one of the most underrated players in college golf. He finished in the top 20 in all 10 college starts last season, including two victories and seven top 10s. Won the St. Louis Metropolitan Open this summer, then finished in the top 10 in U.S. Amateur stroke play for the second year in a row.
• • •
10. Cameron Peck (Texas A&M, freshman)
2008-09 Golfweek rank: N/A
Notable: Peck, the 2008 U.S. Junior champ, closed out his summer with a 69 in U.S. Amateur stroke play, one of only four sub-par scores at Southern Hills among the 312 players. Not a bad way to enter your freshman year.
• • •
Second team
Wesley Bryan, South Carolina, sophomore
Harris English, Georgia, junior
Kevin Foley, Penn State, senior
Matt Giles, USC, junior
John Hahn, Kent State, junior
Bo Hoag, Ohio State, junior
Richard Lee, Washington, senior
Gregor Main, UCLA, sophomore
Andrew Putnam, Pepperdine, junior
Andrew Yun, Stanford, freshman
• • •
Third team
David Chung, Stanford, junior
Brendan Gielow, Wake Forest, senior
Cody Gribble, Texas, freshman
David Lingmerth, Arkansas, senior
Chan Kim, Arizona State, sophomore
Tarquin MacManus, Arizona, senior
Eddie Olson, UNLV, senior
Hudson Swafford, Georgia, senior
Kevin Tway, Oklahoma State, junior
Pontus Widegren, UCLA, freshman
• • •
Top 10 freshmen
1. Cameron Peck, Texas A&M
2. Andrew Yun, Stanford
3. Cody Gribble, Texas
4. Pontus Widegren, UCLA
5. T.J. Vogel, USC
6. Brinson Paolini, Duke
7. Evan Beck, Wake Forest
8. Julian Suri, Duke
9. Mitch Sutton, N.C. State
10. Michael Weaver, California
Other frosh to watch: Dominic Bozzelli, Central Florida; Phillip Choi, Florida; Tommy Chung Hao Mou, Florida; Mario Clemens, UCLA; Kevin Dougherty, Oklahoma State; Pedro Figueiredo, UCLA; Ross Frankenberg, Illinois; Zeyu He, UC Irvine; Michael Hebert, Florida State; Nicholas Losole III, Northwestern; Tyler McCumber, Florida; Michael McGowan, North Carolina; Kevin Phelan, North Florida; Crawford Reeves, Clemson; Johnathan Schnitzer, Texas; Michael Sorenson, Wisconsin; Jay Vandeventer, Tennessee
Golfweek.com readers: We value your input and welcome your comments, but please be respectful in this forum.
---
---
---
---
---
---
---
---
---
---
---
---
---
---
---
---
---
---
---
---
---