Last ride for Walker Cuppers Fowler, Harman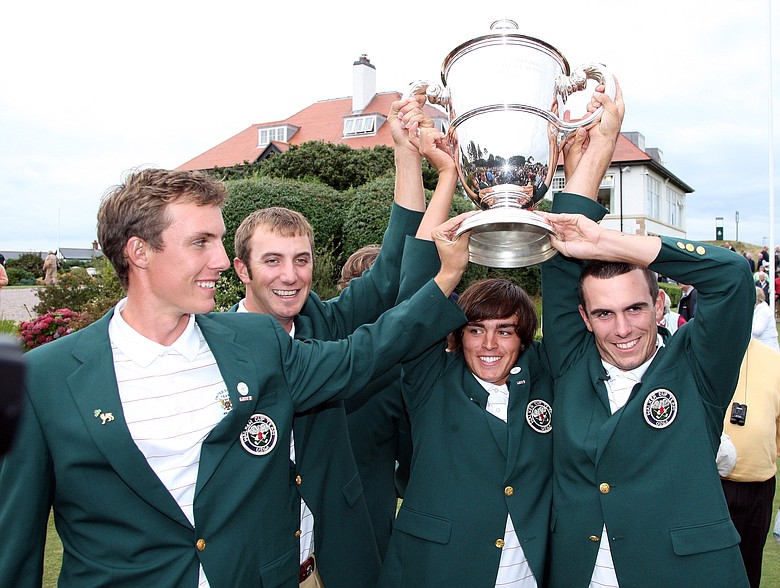 Friday, September 11, 2009
ARDMORE, Pa. – During a Walker Cup year, you sometimes see players who are done with college golf remain as amateurs with hopes of landing one of the 10 precious spots on the American team.
For most, it's a once-in-a-lifetime opportunity to represent their country, not to mention how good it looks on their resume once they turn professional.
At the start of last season, Rickie Fowler pretty much knew his college career would end at Oklahoma State following his sophomore year. He already had made his mark as a collegian and an amateur and he was ready for a run at the pros.
Brian Harman completed his four years of eligibility at Georgia in May, and he, too, was ready to hit the pay-for-play ranks.
And no one would have blamed either if he had done just that in June. After all, both had already enjoyed the honor and prestige of representing their country in a Walker Cup match – Harman as a member of the winning 2005 American squad and Fowler in the 2007 competition, also won by the U.S.
Yet both elected to take option No. 2 and try to get one more Walker Cup victory under their belt.
They begin that quest Saturday when the 42nd Walker Cup match against Great Britain and Ireland takes place at Merion Golf Club, just outside of Philadelphia.
"I just want to win again," Fowler said. "This is what I waited around for (as an amateur). I don't think there was ever a question that I would turn pro and not try to play in another Walker Cup. This event is just too special."
At one point last spring, Harman said he had planned to turn pro right after the NCAA Championship. He had a change of heart.
"After I thought about it, I decided I wanted to play one more (Walker Cup)," Harman said. "It was so great in '05. I wanted to do it again. To me, I can't imagine a better way to end my amateur career, especially at such a great place like Merion."
No one could be happier about their decisions than U.S. captain Buddy Marucci, who guided the Americans to victory in Ireland two years ago.
"Obviously I'm thrilled. I know the United States Golf Association is thrilled," Marucci said. "The position has always been that you really want players who want to be here. These two gentlemen want to be here. That means the world to me.
Marucci, a two-time Walker Cupper himself and the 2008 U.S. Senior Amateur champion, knows Fowler and Harman have set a good example for potential Walker Cuppers to come in holding on to their amateur status.
"They've chosen to stay (amateur), and we're indebted to them for doing that," he said.
While rain dampened the day Friday and cut the U.S. practice round to fewer than nine holes, it hardly dampened the spirits of the American squad or Marucci, who is a member at Merion.
---
Video
Take 5: Walker Cup Friday
---
"The thing is, we've played a lot of golf together this past week," Marucci said. "The guys are ready to go. They are just biting at the bit to get started."
With the day-long rain, when play does start Saturday, the course will play a little differently than it did the first four practice days. A course that was firm and fast at the beginning of the week will become an entirely different animal by the time the first shot is hit at 7:30 a.m.
"We practiced on a golf course one way all week and now we're going to end up with a different golf course the next two days," Marucci said. "But that's the way it goes. We'll just deal with it. The GB&I team will just deal with it."
There will be four foursomes (alternate shot) matches to get things rolling Saturday followed by eight singles matches starting at 1 p.m.
Sunday's final will again feature four foursome matches in the morning followed by – for the first time in Walker Cup history – 10 singles matches to finish the match.
"I love having the 10 singles matches on Sunday afternoon," Marucci said. "I think it's great for the players. It's wonderful as a captain. My feeling has always been that you want to try to give everybody an equal opportunity to be on the golf course. With 10 singles on Sunday afternoon, they're all out there."
With the two additional matches, Marucci said he plans to have all of his players play a minimum of three matches.
"In the old format, two players played four and the other eight played three," he said. "In this format, four players can play four (matches) and six will play three. Unless somebody gets hurt, we're going to play it that way."
The U.S. will try to make it three Walker Cup wins in a row, something it hasn't done since winning eight straight from 1973 to '87. Before the last two American victories, GB&I had won three in a row.
Golfweek.com readers: We value your input and welcome your comments, but please be respectful in this forum.
---
---
---
---
---
---
---
---
---
---
---
---
---
---
---
---
---
---
---
---
---