Walker Cup recap: U.S. cruises to lead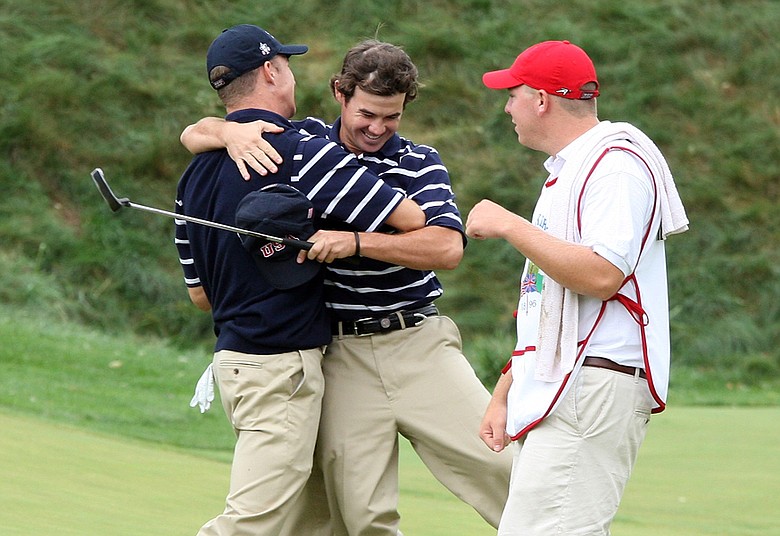 Saturday, September 12, 2009
Recaps from the Saturday morning foursomes matches at the 42nd Walker Cup.
The U.S. leads 3-1.
• • •
MATCH 1: Brian Harman-Morgan Hoffmann def. Wallace Booth-Sam Hutsby, 2 and 1.
Nerves might have played a big part in the opening foursomes match of the 42nd Walker Cup.
Great Britain & Ireland suffered from the jitters. The U.S. didn't.
---
Video
Walker Cup: Saturday morning highlights
---
The opening tee shots said it all about the reflective moods of both teams. Scotland's Wallace Booth had the honor of opening the 42nd Walker Cup. He hit the first tee shot, but the 24-year-old Crieff native didn't rise to the occasion. Booth missed the first fairway, even though he was only hitting a long iron on the 350-yard, par-4 hole.
Unfortunately, that set the tone. Booth and England's Sam Hutsby lost the hole to a par from the American duo of Brian Harman and Morgan Hoffmann. Harmon had no trouble finding the short grass off the tee.
Somehow the GB&I pairing managed to stay with the Americans through the next eight holes, making the turn just 1 down. However, they lost the short 10th when the Americans made birdie and it looked like the match would end quickly.
The GB&I Pair clawed a hole back at the 14th when the Americans three putted. However, the turning point came at the 15th.
Booth's nerves showed up on the 15th when he left a 25-foot approach putt four feet short. Hutsby missed and that was basically the match. A halve with fours at the tough par-3, 17th gave the Americans the point and meant the U.S. had gained the all-important momentum factor.
"We made it a lot more difficult than we should have," Harman said. "We had so much fun together and we just tried to hang on. We gave them a lot today. We three-putted three times, so we should have won easier."
– Alistair Tait
• • •
MATCH 2: Peter Uihlein-Nathan Smith def. Gavin Dear-Matt Haines, 1 up.
Peter Uihlein turned perhaps one of the ugliest Walker Cup foursomes matches on record into one gigantic burst of momentum for the U.S. Saturday morning at Merion, drilling an 18-footer for par on No. 18 to send him and Nathan Smith to a 1-up victory over Gavin Dear and Matt Haines.
"We got it done, that's all that matters," said Uihlein, swarmed by several members of the media after walking off the 18th green to raucous U.S. cheers.
Uihlein's putter frustrated him all morning, especially after short lipouts to lose Nos. 4 and 5 and fall to 2 down. He also watched a 12-footer that would have won the hole at No. 16 hit the left lip and slide by.
"So it was nice to finally get one," said Uihlein.
Both sides struggled to find fairways throughout the match, which was made even more difficult by Friday's consistent rain that made Merion's long rough at time seem impossible. More than a few holes were either halved or won with bogeys; on the 14th hole, Dear hit his tee shot so far right that they had to pull down the television crane truck before Haines could hit.
Uihlein hit his tee ball on the par-3 16th so far right that it was fortunate, his ball landing on one of the 18th tees. From there, Smith hit a great pitch to 4 feet; Dear decelerated on a flop shot from the left rough to hand the hole over to the Americans and send the match to the 505-yard 18th all square.
Smith again came to the rescue on 18, hitting a pitch from about 50 yards that rolled just past the hole. As soon as the ball landed on the green, Uihlein watched intently at the ball rolled on its line.
"I knew he was a smart player and would leave me an uphill putt," Uihlein said.
Uihlein said he only worried about getting the ball to the hole. As the ball fell into the hole, he pumped his fist and screamed toward his teammates on the left side of the green, showing raw emotion for the first time on this overcast Merion day. He started to wave his arms up and down at the crowd, but captain Buddy Marucci stepped in to calm him down for a second.
Fittingly, Haines lipped out a 6 footer that would have halved the match and kept the U.S. faithful at bay.
"That was probably the coolest moment of my life," said Uihlein. "I'm still shaking."
– Eric Soderstrom
• • •
Rickie Fowler-Bud Cauley def. Luke Goddard-Dale Whitnell, 6 and 5.
The U.S. sent its strongest duo out third, and Rickie Fowler and Bud Cauley did not disappoint, rolling to a 6-and-5 triumph over Luke Goddard and Dale Whitnell. It was the most lopsided of the four morning foursomes matches.
GB&I did not help itself by getting off to such a slow start. Goddard and Whitnell made bogeys at Nos. 3-5 and suddenly found themselves 4 down through five holes.
"We just didn't hole any putts," said Whitnell. "That doesn't help when you're facing the toughest players in their side. You want to keep the pressure on in match play, and we didn't do that."
The U.S. built its advantage to 5 up through eight holes when Fowler ran in a downhill 12-footer and Whitnell missed from 10 feet at the par-4 eighth. The only U.S. miscue was a three-putt bogey at the 206-yard ninth. By then, though, the result of this match was not in any doubt.
The U.S. closed things out at the short 13th, which runs in front of the storied Merion clubhouse. From 123 yards to a postage stamp of a green, Cauley stuffed his tee shot with a pitching wedge to 2 feet. GB&I's Goddard found a difficult greenside bunker and Whitnell needed to hole the improbable shot just to extend the match. He nearly did, too, his ball striking the flagstick before stopping next to the hole. Fowler then sank the clinching birdie, the fourth for the U.S. side, which was 3 under par through 13.
"Any time they looked like they were going to make bogey, they'd somehow make a par," said Whitnell. "We didn't play great, and so it was tough. But the course, the atmosphere ... it was awesome out there."
– Jeff Babineau
• • •
MATCH 4: Stiggy Hodgson-Niall Kearney def. Cameron Tringale-Adam Mitchell, 3 and 1.
Eamonn "Stiggy" Hodgson played bombs away on Merion Golf Club's greens -- and found his target most of the time -- as he and Great Britain & Ireland teammate Niall Kearney defeated Americans Cameron Tringale and Adam Mitchell, 3 and 1, in the final foursomes match of the morning session.
Hodgson prides himself on his putting and says "anything within 10 feet I'm very comfortable."
He extended that comfort zone Saturday morning. The 19-year old from England sank a 25-foot birdie putt at No. 8 to square the match and then made another 25-footer at No. 13 to give GB&I a 1-up edge.
After GB&I went 2-up with a par at the 14th, Hodgson capped things off by draining a match-winning 35-footer for birdie at the par-3 17th.
"We hit a lot of fairways and greens and when we had to scramble we did," Hodgson said. "Both sides played well. We knew from the start if we were going to beat those guys we were going to have to play really well. And we did."
Tringale and Mitchell never could get on track and go on a run. GB&I, which had five birdies in the 17 holes, used one of them to go 1-up at No. 2. The U.S. squared the match with a bogey at No. 5 and then took its only lead with a birdie at No. 7.
It was short-lived as Hodgson quickly answered with one of his birdie bombs at No. 8.
– Ron Balicki
Golfweek.com readers: We value your input and welcome your comments, but please be respectful in this forum.
---
---
---
---
---
---
---
---
---
---
---
---
---
---
---
---
---
---
---
---
---