If you had a question, what would you ask Tiger?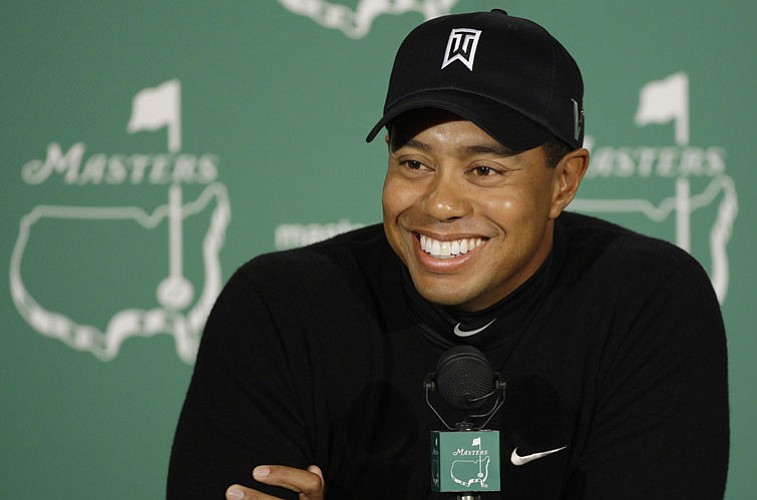 Sunday, April 4, 2010
Tiger Woods faces the golf media Monday before his long-awaited 2010 debut at the Masters. The public inquisition will be one of his tallest hurdles since revelations of his marital infidelity sparked a stunning downfall in recent months. If you had a seat at the news conference at Augusta National, what would you want to know? Well, Woods' peers on the PGA Tour have some questions of their own. Some simply are eager to have the world's No. 1 golfer back inside the ropes. Others were a bit more curious:
• Brad Faxon: "Which putter are you going to use? I know that all the other questions that you would want to ask, he's not going to answer anyway, so that's what I would ask. Sorry to ruin your bubble."
• Hunter Mahan: "There are quite a few questions. I would try to go factual. I wouldn't ask him about the family or anything. I would ask him why were you taking Vicodin. I mean, why wouldn't they let Elin in the room? I think that he has to answer those questions. I mean, it's public kind of knowledge. So it's not like you can run from that stuff. So it should be, you know, I think that that's what I would ask, somewhat artfully."
• Jay Williamson: "Are you remorseful?"
• Davis Love III: "If he wants to go to the PGA Tour bible study with us on Wednesday. Because that's the first question I'm going to ask him. I've been trying to talk to him, and I haven't talked to him in forever. There's so many people, all they care about is when is he going to play and how well is he going to play. And will this affect his game. I'm more concerned with, here's a friend that I didn't do well by. We didn't know he was having a problem. It doesn't matter if the guy's got cancer or has a drinking problem or whatever it is. We didn't know, and we couldn't help him. That's the part that hurts me. Some of my other friends are like, what we've got to try is to bring him into a group that he can hang out with and have some support. I know the best therapy for him is to hang out with Zach Johnson and Ben Crane and guys out here that care about him as a person and not really looking to get anything out of Tiger Woods."
• Luke Donald: "Well, he's not going to answer anything personal, by the sounds of it, so I don't know what I would ask. Is he worried about not being able to compete, having taken such a long layoff? It would be interesting just to know what kind of therapy that he had, what kind of things he's learned from it. It's a tough one. You just hope he's learned from the whole experience and how can he become a better person. Or maybe I would ask him how's he going to react around fans now. Is he going to sign more autographs? Is he going to be more touchable?"
• Martin Kaymer: "Well, why did he decide to come back at the Masters? What was the reason why the Masters and not before or later? That would probably be my question."
• Shaun Micheel: "I played with Tiger a few times. He has incredible pressure on his shoulders each and every week. I feel for him a little bit because of how he's going to be received out there. I think all of us worry about that. From a fan's perspective, I think people would like to see him be a little bit more human, a little bit more approachable. But Phil (Mickelson) does a great job of signing; he'll sign an hour. Tiger has maybe twice as many fans as Phil, and Phil's got a lot. I think this is going to humanize him a little bit and humble him a little bit. I just would be interested to seeing the question, How are you going to handle some of the pressures that come from outside the ropes? Because that's what we all know, and he doesn't see any of that."
• Adam Scott: "How many more tournaments he thinks he'll play this year. That's what I would like to know."
• Michael Allen: "The only thing I look forward to seeing is if he's going to still stay with his wife. Is that what's going to happen? How is that going? I'm not worried about his golf. He's always beaten me. I would love to beat him one day. I'm not the guy to ask, I guess, because I don't really have any questions like that. I'm so tired of listening to it, to be honest with you. And it's just, it's all about his privacyand he screwed up."
• Justin Rose: "How did you manage it?"
• Lee Westwood: "How did you ever get to stay World No. 1?"
• Y.E. Yang: "How did you manage to find time to do any practice?"
• Padraig Harrington: "What is the state of your game?"
• Stuart Appleby: "Do you think you can win this week, Tiger? And if I was Tiger and I got asked that question, I'd get up and walk out of the room."
• Martin Laird: "I wouldn't ask him any question. Rather, I would say to him 'welcome back.' "
• Rory McIlroy: "I don't think I would ask any question, because whatever question you ask, I don't think you will get a straight answer out of him. It's just like the last 10 years in that he says a lot without saying anything. So I don't think I wouldn't bother, as everything seems to have come out. But then if I had the chance, I would ask him a straight golf question, and that is, How many events is he planning to play this year?"
---
Video
Major Moments 2010: What makes the Masters so special?
---
Golfweek.com readers: We value your input and welcome your comments, but please be respectful in this forum.
---
---
---
---
---
---
---
---
---
---
---
---
---
---
---
---
---
---
---
---
---