Excerpts: Woods' Masters press conference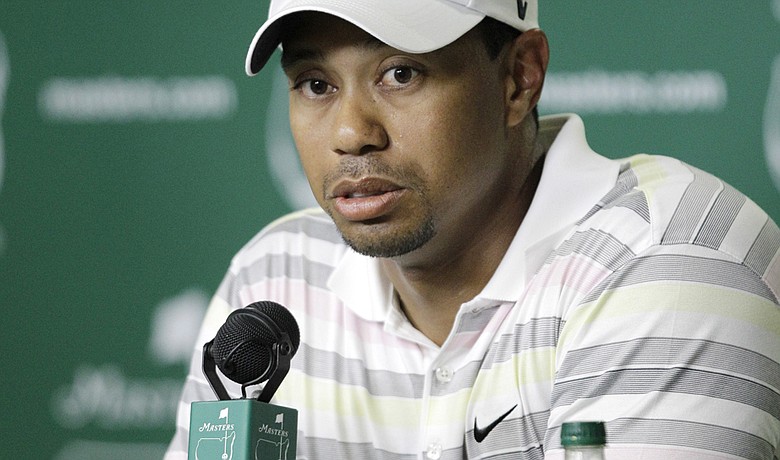 Monday, April 5, 2010
Reader poll
Yes

25%

No

73%

Undecided

2%
975 total votes.
Tiger Woods has just finished answering questions from the golf media at Augusta National.
The press conference lasted 34 minutes.
---
Podcast
Jeff Babineau reacts to Tiger Woods' Monday press conference at the Masters and says he expects Woods to be in the mix on Sunday.
---
Here are the highlights:
• "Just what a great day today," Woods said in his opening statement.
"Coming in today I didn't know what to expect. The galleries couldn't be nicer. It was just incredible, and the encourgament I got, it blew me away to be honest with you. It really did.
"Today was something that just really touched my heart pretty good."
• "I've made a conscious decision to try to tone down my negative outbursts, but as a result I think my positive outbursts will be toned down as well."
• "I have underappreciated the fans in the game of golf."
• "(Dr. Anthony Galea) never gave me HGH (Human Growth Hormone) or any PEDs (Peformance Enhancing Drugs). I've never taken that my entire life. I've never taken any illegal drug ever, for that matter."
• "Come game time, it might be a little different. during the practice rounds, I'll be acknowledging the fans and their support for me. Just to hear them cheer for me has been incredible."
• "Of course (the media has) been critical. They should be. That's their job. But I know that (the golf media) are my friends and will always be my friends."
• "Most of the time I took Ambien was when my dad was sick, and then when he died. It was a tough time."
• "(Therapy) was to take a hard look at myself, and I did. I'm cetainly a much better person for it than I was coming on. Does that mean I'm going to stop doing that? No. ... The treatment is going to continue going forward."
• "The way I was thinking was not correct. I was rationalizing. I was in total denial at times. I lied to myself. I lied to others. Just because I was winning golf tournaments doesn't mean a thing. Just the way I was thinking was causing so much harm with the people I care most about on this planet."
• "When I gave my speech in February I had no intentions of playing golf in the neat future.... And then I started hitting more balls and more balls and I started getting the itch to play again... The reason why I didn't play earlier (than this week) is that I wasn't ready for it. I wasn't even near physically ready to play at this level. I needed more time."
• "I can't go back to where I was. I want to be a part of my son's life and my daughter's life. I missed my son's birthday... and that's something I will probably regret for the rest of my life."
• "(On whether or not his wife, Elin, will be at the Masters this week) Elin is not coming this week, no."
• "(On if he will keep his management team in tact) I will certainly have everyone around me. I've lied and decieved alot of people. Everyone around me did not know what was going on. But I'm surprised how much support I've got."
• "I fooled myself. I lied to a lot of people, deceived a lot of people, kept others in the dark. ... When you strip all of that away... the full magnitude of it, it's bretty brutal. And I take full responsibility for what I've done. And I don't take that lightly."
• "For (Stevie and I) to go back out there as a team together, it feels good."
• "It's not about championships; It's about how you live your life and I hadn't done that the right way for a while, and I needed to change that. Going forward, I need to be a better man. ... If I win a championship along the way, so be it. ... Along the way I want to help more people."
• "(On his expectations for the week) Nothing's changed. Going to go out there and try to win this thing."
• "I made a lot of mistakes in my life and I totally understand why (some sponsors would drop me). Going forward, hopefully I can prove to other companies going forward that I'm a worthy investment, that I can help their company and help them grow."
• "Would I like to play in it (the Ryder Cup)? If I qualify."
• • •
Complete coverage and reaction upcoming.
Golfweek.com readers: We value your input and welcome your comments, but please be respectful in this forum.
---
---
---
---
---
---
---
---
---
---
---
---
---
---
---
---
---
---
---
---
---