REPLAY: Golfweek.com's Masters Chat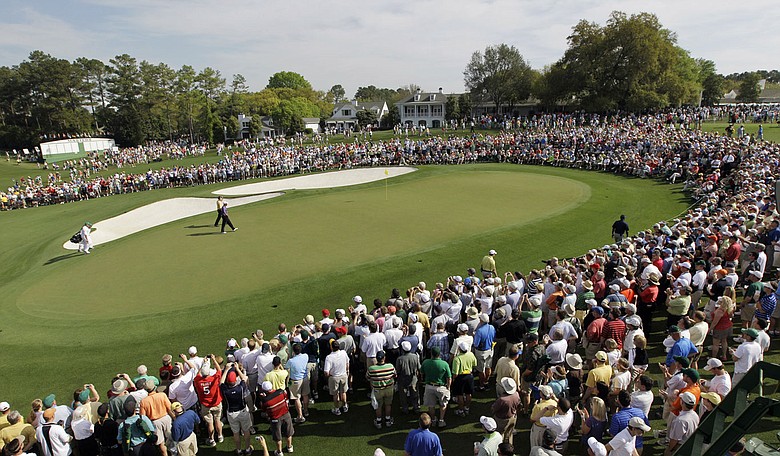 Wednesday, April 7, 2010
Golfweek's writers covering the Masters at Augusta National chatted with Golfweek.com readers Wednesday from 1-5 p.m. EST.
CLICK THE PLAY BUTTON BELOW TO REPLAY THE CHAT.
A closer look at the Wednesday chat lineup:
Jim Achenbach, Senior Writer (covering 40th Masters).
Chat time: 1-1:45 p.m.
Favorite Masters Memory: 1975 Masters: Wow ... Nicklaus, Weiskopf and Miller engaged in a titantic tug-o-war ... Nicklaus edged each of his rivals by one stroke, thanks to a 40-foot birdie putt on the 70th green (the par-3 16th) ... Weiskopf and Miller, playing in the final group, had birdie putts to tie on the 72nd green ... they missed.
Favorite Augusta National hole: I would say the 12th hole if any spectators could get close enough to the green to appreciate the setting ... alas, all spectators are 150 yards away ... so I pick the 14th as my favorite hole ... spectators ring the green, which has some crazy humps and dips ... the iron shot into the green is crucial; hit the wrong segment of the green and the ball can roll 40 feet away from the hole ... 14 is the only hole at Augusta National without a bunker, so there is no aiming away from the sand ... this is the ultimate ball-placement hole.
Favorite Masters tradition: I am tempted to say pimento cheese sandwiches ... it is virtually impossible to buy pimento cheese in the Western United States ... however, I am fond of all the goofy green jackets ... they are so dated, they are cool.
Sean Martin, Staff Writer (covering first Masters).
Chat time: 1:45-2:30.
Favorite Masters Moment: Gene Sarazen holing 4-wood for a double eagle on No. 15 in the final round 1935 Masters. Maybe the most underrated shot in major history. Too bad TV wasn't around then.
Favorite Augusta National hole: No. 13. The perfect risk-reward par 5. The green is one of the most serene settings on the property.
Favorite Masters traditions: The amateurs. They won't win, but they add a great charm to the event.
Jim McCabe, Senior Writer (covering 11th Masters).
Chat time: 2:30-3:15.
Favorite Masters Moment: Just after daybreak on Masters Sunday in 2005, and the leaders have returned to the course to finish the third round. Tiger Woods had birdied the eighth and ninth late Saturday, but still trailed Chris DiMarco by three. On the re-start, Woods birdied Nos. 10, 11, 12, and 13 – six straight birdies – while DiMarco played those four holes in 2 over. So, from three down to two ahead in a matter of minutes, and it was still the breakfast hour.
Favorite Augusta National hole: Too easy to pick 12 or 13 or 15, so give me a good seat in the grandstand behind No. 8 green, especially with Sunday's hole location.
Favorite Masters tradition: Chicken sandwich, a Coke, an apple, and Snickers bar down while you sit in the stands to watch early players take on Amen Corner on Saturday.
Jeff Babineau, Editor (covering 16th Masters).
Chat time: 3:15-4.
Favorite Masters Moment: The back-nine shootout in '04, when shots were falling everywhere, eagles were flying, and Lefty clipped Ernie Els with a 72nd-hole birdie. The opera that is Augusta was electric that day.
Favorite Augusta National hole: No. 15. Set it up to let the players take a run at it in two, and let 'em play.
Favorite Masters tradition: Watching players skip balls across the pond at 16 in practice rounds. That and the fact the Masters sells beer cheaper than any major sporting event in the world.
Jeff Rude, senior writer (covering 24th Masters).
Chat time: 4-4:30.
Favorite Masters Moment: 2004 Masters when Phil Mickelson ran down Ernie Els on the final nine and won his first major. Sunday was a thrill a minute – eagles and birdies and holeouts and 3-inch-high victory leaps, oh my!
Favorite Augusta National hole: The par-5 15th. Seems to be Augusta's train-wreck hole, where a player can make 3 or 8. Used to be better when it made more sense to go for green in two.
Favorite Masters tradition: Pimento cheese sandwiches in the green wrapper. I believe the only times I've eaten pimento cheese sandwiches have been in grade school and the Masters. Please, just don't tell Gary Player I'm eating white bread.
Dan Mirocha, Managing Editor/Golfweek.com (covering first Masters).
Chat time: 4:30-5.
Favorite Masters moment: Watching the 2004 Masters on TV while working in the clubhouse at Minneapolis golf course. I was the only worker left that evening and I think the group putting on the ninth green heard me yell when Phil Mickelson's 72nd-hole putt curled into the cup.
Favorite Augusta National hole: Par-5 13th. Tee box tucked among the magnolias. Reachable in two shots. Azaleas lining the left side of the fairway. Rae's Creek lurking. Beautifully bunkered.
Favorite Masters tradition: Par 3 Contest. Is there a cooler executive course around? Plus, holes-in-one never get old.
Golfweek.com readers: We value your input and welcome your comments, but please be respectful in this forum.
---
---
---
---
---
---
---
---
---
---
---
---
---
---
---
---
---
---
---
---
---