College Women
NCAA women's regional bids revealed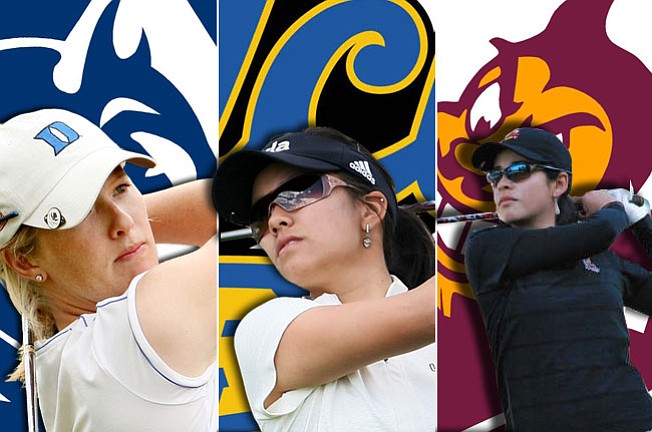 Monday, April 26, 2010
---
• Complete results | Twitter: @collegegolf | Facebook: Lance Ringler's College Golf Page
---
UCLA (West), Arizona State (Central) and Duke (East) were chosen as the No. 1 seeds Monday when the NCAA announced its 2010 regional bids.
The NCAA Women's Regionals will be played May 6-8 at three sites across the country.
---
Podcast
Special guest Vincenzo Salina, a senior at Georgetown, joins Ringler and Wildman to discuss conference championship madness.
---
Arizona State's disqualification because of two players' illness at last week's Pac-10 Championship cost the Sun Devils the top spot in the Golfweek/Sagarin College Rankings – UCLA took over as the new No. 1, with ASU dropping to No. 2 – and very likely a spot as the No. 1 seed in the West Regional in Stanford, Calif. UCLA instead will be the top West seed, and the Sun Devils will head to the Midwest as the No. 1 seed at the Central Regional in Columbus, Ind.
Duke fell five spots to No. 8 in the latest Golfweek rankings, following the Blue Devils' third-place finish April 18 at the Atlantic Coast Conference Championship, but still received the top East seed over fifth-ranked Auburn.
Pac-10 Conference teams hold the top four positions in the Golfweek rankings. Third-ranked Arizona is the No. 3 seed in the West (behind sixth-ranked Alabama), and fourth-ranked USC is the No. 2 seed in the Central.
The team with the highest Golfweek ranking not to receive a regional bid was Minnesota at No. 57.
The top eight teams and top two individuals not on an advancing team at each site will advance to the NCAA Championship on May 18-21 at the Country Club of Landfall in Wilmington, N.C.
Note: Golfweek/Sagarin College Rankings listed in parentheses
---
Video
Off Campus: Want to change college golf?
---
• • •
EAST REGIONAL
Site: Ironwood Country Club, Greenville, N.C.
Host: East Carolina
Individuals:
1. Sofia Hagsund, UNC Wilmington (200)
2. Shena Yang, USF (133)
3. Nicole Sakamoto, James Madison (153)
• • •
CENTRAL REGIONAL
Site: Otter Creek Golf Course, Columbus, Ind.
Host: Indiana
Individuals:
1. Ashley Bauer, Michigan (59)
2. Olivia Lansing, Drake (151)
3. Julia Potter, Missouri (101)
• • •
WEST REGIONAL
Site: Stanford (Calif.) Golf Course
Host: Stanford
Individuals:
1. Amy Anderson, North Dakota State (103)
2. Teresa Puga, Minnesota (147)
3. Ellen Mueller, Oklahoma (65)
Golfweek.com readers: We value your input and welcome your comments, but please be respectful in this forum.
---
---
---
---
---
---
---
---
---
---
---
---
---
---
---
---
---
---
---
---
---