College Women
Hooters Team Championship starts Tuesday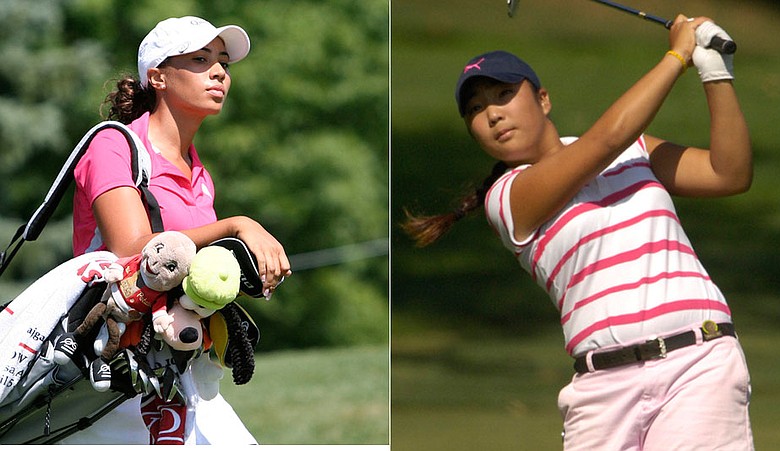 Monday, August 2, 2010
The first annual Hooters Women's Collegiate Team Championship begins Tuesday at Achasta in Dahlonega, Ga.
Fifty-three two-person teams comprised of top current women's college players will compete in a 54-hole stroke play event. Day 1 will be alternate shot, Day 2 will be best ball and Day 3 will be aggregate score.
Note: Players are not representing their university in this championship. This is not an in-season tournament.
• • •
Division I
Belmont: Kelly Maguigan and Janet Steen
Boise State: Michelle Gooding and Lori Harper
Butler: Clare Cornelius and Molly Fields
Cal State Fullerton: Kristen Aiu and Deidre Crabtree
Charleston Southern: Katelynn Bensch and Amanda D'Ostroph
Coastal Carolina: Jessica Alexander and Brittany Henderson
Duke: Courtney Ellenbogen and Stacey Kim
Furman (No. 1): Stefanie Kenoyer and Liz Wendt
Furman (No. 2): Alexa Rancourt and Laura Wearn
Indiana: Lauren Giesecke and Cecila Orevik
Iowa State: Katelynn Hogenson and Kristin Paulson
Kennesaw State: Abby Fitzgerald and Ket Preamchuen
Mercer (No. 1): Kimberly Graff and Alicia Poole
Mercer (No. 2): Jessica Arthur and Keri Lynn Carson
Michigan State: Aimee Neff and Lindsey Solberg
Northwestern: Kylie Fuller and Alexandra Lederhausen
Oregon State: Whitney French and Kristina Gargaro
Princeton: Rachel Blum and Kate Scarpetta
Stetson: Alexandria Buelow and Lauren Cate
Ohio State: Amy Meier and Rachel Rohanna
Alabama: Jennifer Kirby and Brooke Pancake
Arkansas: Megan Roberts and Victoria Vela
UC Davis: Demi Runas and Amy Beth Simanton
Central Florida: Elisa Aoki and Sonya Harris
Cincinnati: Alex Carl and Kristin Price
Florida: Evan Jensen and Jessica Yadloczky
Georgia (No. 1): Emilie Burger and Milena Savich
Georgia (No. 2): Tess Fordham and Abby Johnson
Louisville: Maria Castellanos and Candice Wiley
Mississippi (No. 1): Jillian Brodd and Haley Millsap
Mississippi (No. 2): Ashley Lance and Haley Sanders
Missouri: Marissa Cook and Kelly Osborne
UNC Greensboro: Courtney Taylor and Rachel Vremovich
Northern Colorado: Abby McNeley and Hannah McNeley
Oklahoma: Ellen Mueller and Taylor Schmidt
South Florida: Ploi Dejsubha and Shena Yang
Virginia: Brittany Altomare and Elizabeth Brightwell
Wisconsin (No. 1): Ellie Arkin and Carly Werwie
Wisconsin (No. 2): Lindsay Danielson and Alyssa Elliott
Wake Forest: Michelle Shin and Cheyenne Woods
Western Michigan: Britney Hamilton and Kaylee Imel
Wofford College: Sarah Hurt and Alex Rankin
Division II
Ashland University (No. 1): Annie Miles and Erin Misheff
Ashland University (No. 2): Melanie Fortner and Elisa Leonard
Tarleton State: Carla Cooper and Kathryn Ward
Indianapolis: Megan Kiley and Darin Pinnick
Division III
Allegheny College: Lauren Hammell and Laura Hilger
DePauw University: Taylor Beaty and Kelly Gaughan
Gustavus Adolphus: Taylor Drenttel and Katie Schenfeld
Illinois Wesleyan: Brittany Levens and Erica Woodall
Olivet College: Lauren Campbell and Amber Conrad
Wisconsin Eau Claire: Katie Maurer and Catherine Wagner
NAIA
Savannah College of Art and Design: Mary-Michael Burns and Nikki Stewart
Golfweek.com readers: We value your input and welcome your comments, but please be respectful in this forum.
---
---
---
---
---
---
---
---
---
---
---
---
---
---
---
---
---
---
---
---
---