Marshall aims to put Curaçao on tourism map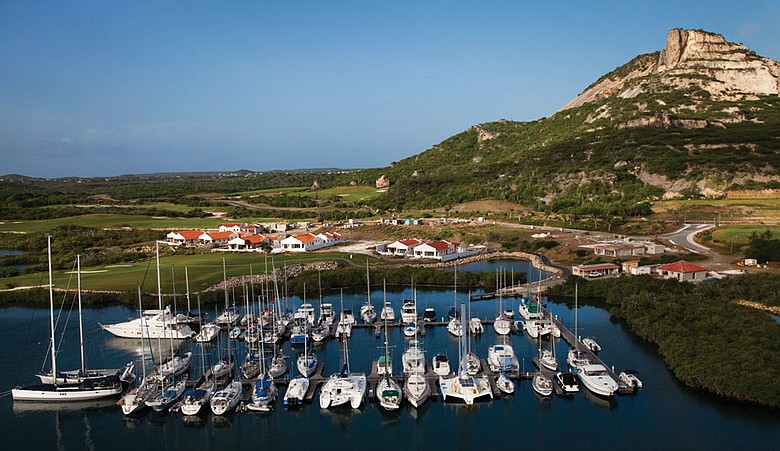 Sunday, August 8, 2010
CURACAO, Netherlands Antilles- The Web site of the Curaçao Tourist Board urges travelers to "discover the Caribbean's hidden treasure," which is another way of acknowledging that this small island nation was late to the tourism business.
Jack Marshall is determined to correct that.
Marshall, whose fingerprints are all over some of America's most iconic resorts, has spent much of the past decade conceptualizing and developing Santa Barbara Plantation, a gated 1,500-acre property on the southeastern coast of this Caribbean refuge. The resort, which is buffeted by the Caribbean Sea and a bay known as the Spanish Waters, has nearly 11 miles of waterfront. About a half-mile of the Caribbean greets guests of the new Hyatt Regency rather dauntingly as they play the first two holes of the recently opened Old Quarry Golf Course, a Pete Dye design.
For Marshall, who seemingly has seen it all in his career developing property, the site was a revelation when he first toured it 10 years ago.
"I didn't think there was anything like this left in the Caribbean," Marshall says.
Marshall, 73, has one of the gaudier résumés in the resort industry, having developed Elkhorn in Sun Valley, Idaho, before moving on to Pebble Beach, where he oversaw the expansion of the Lodge and the creation of Poppy Hills Golf Course and Spanish Bay Resort. Later, while running Vail Associates, he oversaw development of the 3,000-acre Beaver Creek resort community.
Santa Barbara Plantation appealed to Marshall not just because of the property's location and natural assets, but because it allowed him to do what he most enjoys – develop land – rather than dealing with administrative matters, which occupied much of his time while running large companies.
After finishing the master plan eight years ago, Marshall set out to find financing for the project. Santa Barbara Plantation has benefited immensely from government support. The Netherlands Antilles government pitched in $28 million to pay for construction of the Hyatt. The Curaçao government kicked in another $16 million, which covered almost the entire cost of the golf course, and a government-owned utility company spent $25 million installing underground power on the property.
(The Netherlands Antilles, a collection of Dutch islands that are part of the Kingdom of the Netherlands, is scheduled to be disbanded Oct. 10.)
Marshall says the island government also is beefing up its tourism advertising and marketing.
Curaçao is located about 35 miles off the northern coast of Venezuela and is the largest of the ABC islands – the others being Aruba and Bonaire – of the Lesser Antilles. While the effort to attract tourists is relatively new, Curaçao long has been an important international business destination.
The Dutch first occupied Curaçao in 1634 and have controlled the island since 1815. That influence is immediately evident in the colorful colonial architecture that lines the harbor of the picturesque capital of Willemstad.
When oil was discovered in Venezuela a century ago, Royal Dutch Shell built a large refinery on the island. (It remains in use, but now is leased to the Venezuelan government.) More Dutch companies sought refuge during World War II, and Curaçao's low-tax policies also made it a key offshore financial center for U.S. companies. In June 1987, however, the U.S. announced it would cancel a tax treaty with the Antilles that had made Curaçao an attractive corporate tax haven. Almost overnight, that corporate business moved to other outposts in the Caribbean or British Virgin Islands with friendlier business and tax climates. For more than two decades, Curaçao has been scrambling to recover.
Tourism was a natural choice to fill the void left by the offshore banking business. Curaçao benefits from the fact that it sits outside of the hurricane belt and averages only 22 inches of rain annually.
While it's not wet, it is windy. That's particularly evident on Old Quarry's opening ocean holes, where a strong northeast wind can push mis-hit tee shots out to sea. The terrain changes dramatically as the course turns inward toward the bay and Tafelberg – literally, "table top" – the working quarry that gave the course its name.
Tafelberg dramatically frames the tee shot on No. 4, which gives way to a marvelous stretch of holes, including the reachable, par-5 fifth, the potentially drivable sixth, the dainty, bayside par-3 seventh and another reachable par 5. Old Quarry's lone obvious weak link is its closing hole, which sits handsomely near the marina, but with a green that efficiently repels approaches. Dye might want a mulligan on that hole.
A second golf course is in the pipeline, but likely is at least two years from being developed. Marshall believes that will be necessary to create the critical mass that will attract golfers.
Marshall, who lives on the property, says he benefits from a much more favorable real estate climate than many other destinations, and that he has a pricing advantage over other Caribbean islands.
"The Caribbean is not suffering like the U.S. is, Europe is not suffering like the U.S. is, and South America certainly is not," he says.
Early on, Marshall says, real estate sales have come primarily from residents of Holland and Belgium, while resort visitors have tended to be Dutch. He'd like to intercept some of the American tourists who traditionally have gone to Aruba, just to the south of Curaçao, and draw a mix of customers from the U.S., South America and Europe.
In April, tourism from North America rose 51 percent over April 2009. But, he says, "The reports that I've read are that the growth markets for visitors would be Colombia, Venezuela, Brazil and Europe."

• • •
Santa Barbara Plantation
Size: 1,500 acres
Lodging: 350-room Hyatt Regency Curaçao Resort and Spa
Amenities: Old Quarry GC designed by Pete Dye; two marinas; Atabei Spa
Real estate: Custom homesites start at $450,000; terrace homes (3,000 square feet) start at $1.2 million; Dutch Colonial villas in Marina Village (1,700-2,100 square feet) start at $726,000
Web site: www.santabarbaraplantation.com
Golfweek.com readers: We value your input and welcome your comments, but please be respectful in this forum.
---
---