Ornthana maintains Thai dominance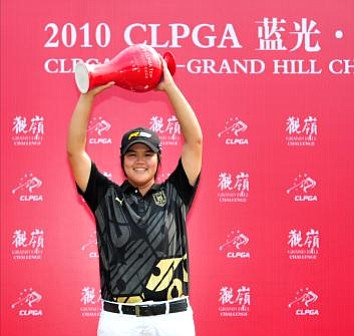 Sunday, August 8, 2010
CHENGDU, China – Thai players continue their domination of the 2010 China LPGA Tour season. Ornthana Chuenarrom won the US$50,000 Grand Hill Challenge on Sunday, beating compatriot Patcharajutar Khongkraphan by two strokes.
The 20-year-old Ornthana closed with a final-round 70 at the Grand Hill Golf Club, overtaking second-round leader Patcharajutar who stumbled with two late bogeys (73), to claim her first victory of the year and US$7,500.
LEADING FINAL-ROUND SCORES
(Mainland Chinese unless stated)
213 – Ornthana Chuenarrom (THA) 72-71-70
215 – Patcharajutar Kongkraphan (THA) 71-71-73
218 – Narisara Kerdrit (THA) 81-68-69
220 – Pan Yanhong 78-72-70, Huang Meihao 72-73-75
221 – Zhang Na 75-77-69, Praewnapa Pholuayporn (THA) 73-79-69
222 – Yan Panpan 72-75-75, Chayuda Singhsuwan (THA) 72-74-76
223 – Yang Taoli 72-78-73, Shen Yanhua 76-73-74, Huang Ping 76-74-73
224 – Li Wei 81-74-69
225 – Yang Hongmei 72-76-77, Zhong Xiaolong 73-72-80
"I'm super excited about it," Ornthana said. "It's my first win in China . . . my first win outside of Thailand," said the native of Suphanburi in central Thailand. "On the last hole, I was bit nervous when I was standing over my ball getting ready to putt."
Ornthana said she took no pleasure in beating Patcharajutar, winner of the Beijing and Shanghai events this year. The 18-year-old rookie, a former world junior champion, was so upset by her late collapse that resulted in bogeys at the 16th and 18th holes that she threw her ball into a lake after her round. She stalked off to the clubhouse, refusing to talk to the media.
"Patcharajutar is my friend, but that's how it goes," Ornthana said. "It flips and flops. One person wins, and then it's another person's time. I'm just glad it's my time. There's no feeling about beating her. It's just the game played out this way, and I happened to win it."
In the five tour events this year, Thais have won four of them, with Chinese players remaining winless on their home circuit.
Narisara Kerdrit made it a Thai top-3 sweep in Chengdu when she closed with a 3-under 69 to finish third, five shots off Ornthana's winning mark of 3-under 213.
Huang Meihao (75) and Pan Yanhong (70) were the top Chinese finishers in equal fourth, seven shots off the pace.
Playing in the final group, Ornthana, who started the day one shot back, jumped into an early lead when she birdied the second hole, while Patcharajutar bogeyed. Ornthana then moved two strokes ahead with a birdie at the fifth.
After both players birdied the par-4 sixth, Ornthana suffered a meltdown with a triple-bogey 8 at the seventh, followed by a bogey at the eighth. The four-stroke swing left Patcharajutar ahead by two strokes at the turn.
Ornthana's trouble started with her ball buried in the rough on the seventh hole. After hitting the lip of a bunker, when she finally got to the green, she three-putted. "I tried to control my emotions," she said. "After that, I got a birdie and started to feel better. I kept telling myself to stay cool and started to play better."
As both players registered birdies at the par-4 12th, Ornthana continued her roll picking up a stroke at the next, and then added another birdie at the par-4 15th to deadlock the score. While Ornthana played par golf back to the clubhouse, Patcharajutar faltered with late bogeys.
Guangdong native Huang Meihao, who had a hole-in-one on Saturday, called it "sad" to see Thai players dominating China's domestic tour this year.
"I don't know about other Chinese players' situation; I just can talk about myself," Huang said. "I need to make the efforts like the Thailand players. They are good. I don't want to say excuses. I had chances, but my putting is bad."
The second year of the China LPGA Tour features nine events, culminating in December's US$250,000 China Ladies Open in Xiamen, Fujian Province.
Golfweek.com readers: We value your input and welcome your comments, but please be respectful in this forum.
---
---