Monty's Ryder picks: Paddy, Donald, Molinari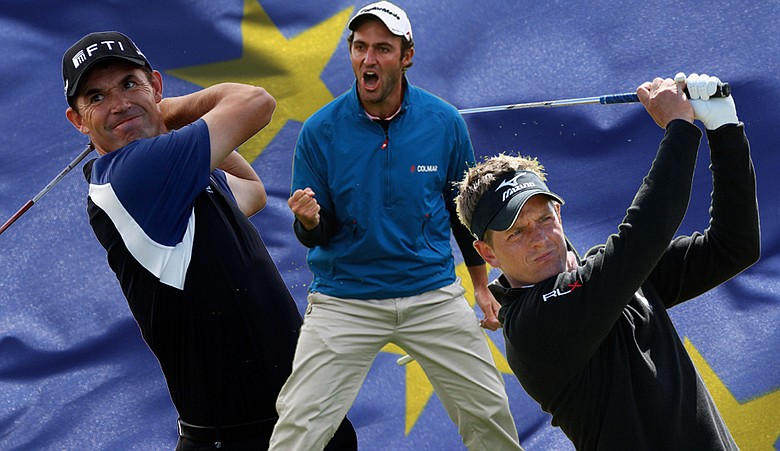 Sunday, January 23, 2011
AUCHTERARDER, Scotland – European Ryder Cup captain Colin Montgomerie opted for a mix of experience and youth by selecting Padraig Harrington, Luke Donald, and Edoardo Molinari as his three wild card picks to face the United States at Celtic Manor, Wales.
They join Lee Westwood, Rory McIlroy, Martin Kaymer, Graeme McDowell, Ian Poulter, Ross Fisher, Francesco Molinari, Peter Hanson and Miguel Angel Jimenez, the nine players who earned automatic spots on the team.
There is no place on the European team for Englishmen Paul Casey and Justin Rose.
"I feel sorry for Paul Casey and for Justin Rose," Montgomerie said. "We had an embarrassment of riches on this occasion. We had to leave out world stars, and Justin Rose and Paul Casey, I'm afraid, are those world stars that have been left out."
Casey spoke to reporters following The Barclays, where he shot 69 in the final round to finish at 7-under 277 at tie for 11th.
"I probably need time to take it in," Casey said. "Simple fact is, I'm not on the team. I think Europe (has) an unbelievable team. I wish them the best for the match. Simple as that."
Said Ian Poulter, who tied for 15th at The Barclays: "Five guys had the credentials and three got picked. There you go. We can't play 'Should he, would he, could he?' The team's the team. It's time to go forward and do the damndest to try and win the Ryder Cup."
Molinari forced his way into Montgomerie's thinking by winning the last counting event in the European Ryder Cup race. The Italian finished just outside the automatic spots on the European team, but with two victories this season, and another four top-5 finishes on the European Tour, there was no way Montgomerie could ignore him.
"Edoardo Molinari, what can you say about today's performance at the Johnnie Walker Championship here at Gleneagles?" Montgomerie said. "I've been a member here for 24 years and I don't think I've seen a finish of that quality under such pressure."
Harrington appeared the most vulnerable of those awaiting a wild card pick. The Irishman has had a poor season by his standards. Moreover, he did little to play his way onto the European team. He only played three times in Europe this year, and did not add to his schedule to try to make the team automatically.
"(Harrington) is someone that we feel that nobody in match play golf wants to play," Montgomerie said. "He's a great competitor, and someone that we know will bring everything to the team."
The Dubliner has only won two half points in his last two Ryder Cups. However, he has three majors under his belt and that ultimately swayed Montgomerie's thinking.
"It was going to be a difficult situation," said Harrington, who tied for 47th at The Barclays. "On my own side, maybe it was obviously experience as the team is a young team. I won't normally play the age card, but this time it obviously suits me."
Donald is seen as the ultimate fourball and foursomes partner. The Englishman has never lost in fourball or foursomes play, and has only lost once in seven outings in his two Ryder Cups.
"Probably one of the craziest selections for a Ryder Cup ever," Donald said after closing with 68 at The Barclays. "Guys in the top 10 (in the world rankings) didn't know if they were going to be playing. There was some relief and I'm very excited to be back on the team and to be part of the Ryder Cup again. I missed back in 2008 and I'm looking forward to being a part of it."
Donald was asked what he would say to Casey and Rose, who did not make the squad.
"Sorry it worked out this way," Donald said. "I think any other Ryder Cup they would have been on the team easily. It's just disappointing."
Molinari, meanwhile, provides the perfect partnership for his brother Francesco. They won the World Cup last year together, and compliment each other well on the golf course.
Edoardo has even promised that he and his brother won't lose a point in the Ryder Cup.
Montgomerie will be hoping for that sort of confidence not just from his wild cards, but his entire team.
– Jim McCabe contributed
---
Final 2010 Ryder Cup points
Team USA
1. x-Phil Mickelson (6,095.06300)
2. x-Hunter Mahan (4,095.62080)
3. x-Bubba Watson (3,894.31884)
4. x-Jim Furyk (3,763.64283)
5. x-Steve Stricker (3,697.97509)
6. x-Dustin Johnson (3,573.80511)
7. x-Jeff Overton (3,533.14783)
8. x-Matt Kuchar (3,415.85287)
9. Anthony Kim (3,274.68428)
10. Lucas Glover (3,052.87453)
11. Zach Johnson (3,051.89647)
12. Tiger Woods (2,902.58100)
13. Bo Van Pelt (2,662.23400)
14. Stewart Cink (2,644.83281)
15. Ben Crane (2,629.79637)
Note: Captain's picks to be selected Sept. 7
• • • 
European Team
World Points
1. x-Lee Westwood (422.01)
2. x-Rory McIlroy (316.95)
3. x-Martin Kaymer (285.42)
4. x-Graeme McDowell (249.35)
5. y-Edoardo Molinari (248.41)
6. y-Luke Donald (231.16)
7. Ian Poulter (211.24)
8. y-Padraig Harrington (204.97)
9. Justin Rose (195.74)
10. Francesco Molinari (181.91)
European Points
1. Lee Westwood (3,446,137.87)
2. Martin Kaymer (2,638,282.58)
3. Rory McIlroy (2,368,205.11)
4. Graeme McDowell (2,307,041.47)
5. x-Ian Poulter (2,238,874.06)
6. x-Ross Fisher (1,732,537.57)
7. x-Francesco Molinari (1,700,408.54)
8. x-Miguel Angel Jimenez (1,642,436.14)
9. x-Peter Hanson (1,599,952.41)
10. Edoardo Molinari (1,542,828.32)
Note: x-clinched berth; y-captain's picks
Golfweek.com readers: We value your input and welcome your comments, but please be respectful in this forum.
---
---
---
---
---
---
---
---
---
---
---
---
---
---
---
---
---
---
---
---
---