College Men
Recruiting calendar hot topic of GCAA meeting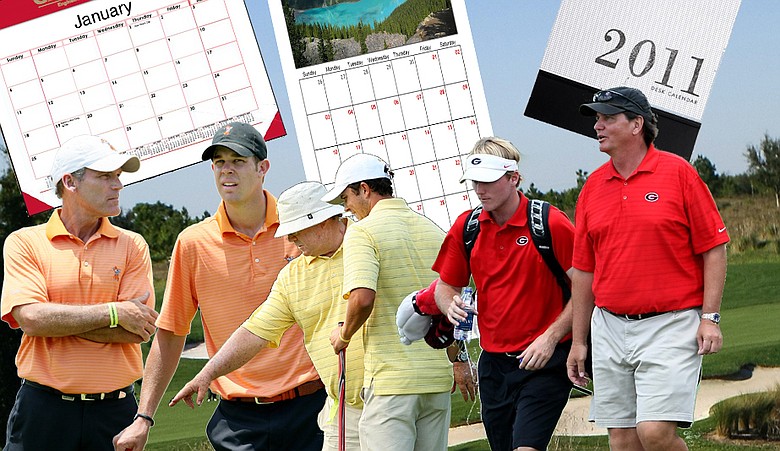 Friday, December 3, 2010
College recruiting will be the hot topic when the men's coaches gather next week in Las Vegas. The Golf Coaches Association of America's annual convention has been ground zero for how the college game operates. From those many discussions, we have seen a lot of change in the past few years – especially on the men's side.
This year the buzz leading up to the meetings is surrounding talks involving a recruiting calendar that would designate specific times of the year when coaches would be allowed to be on the road recruiting. This has been a topic that was discussed during the past couple of conventions, but never materialized much coming out of the talks.
It basically boiled down to some wanting to limit the time spent on the road and others not wanting any restrictions to be on the road. Currently college golf has no limitations on recruiting days.
Reader poll
Yes

45%

No

53%

Undecided

1%
77 total votes.
Those who wanted to see golf have a recruiting calendar will now see something put in place in the future. Earlier this fall, the NCAA's Division I Recruiting and Athletics Personnel Issues Cabinet identified several sports with an interest in bringing continuity to recruting across the board. Several of the more high profile sports use a recruiting calendar, but the NCAA would like to see guidelines in all sports. This might take some of the pressure off for coaches and prospective student-athletes during the recruting process and would certainly helped reduce team's expenses.
Any resolution is not likely to be in place until the 2012-13 season.
There have been many conversations and hundreds of e-mails sent in the past few weeks trying to sort out what might be the best fit for college golf.
"This is the first issue in Div. I that has garnered this much attention since the brief directive the NCAA took with the possibilty of eliminating the non-traditional segment (fall season) of the schedule," said Gregg Grost, who is the CEO of the Golf Coaches Association of America.
"It's an interal matter the coaches know they have to deal with. The decisions the NCAA ultimately makes on this will effect the way the sport is run and coaches coach from now on."
There have been several possibilities that have been tossed around and members have had the opportunity to give feedback and present their own ideas. The models have to do with a specific number of days that a coach can recruit off campus and certain dates that a coach would not be allowed to recruit off campus. There would also include dead periods (which his very common in other NCAA sports).
The GCAA was granted an extension to submit recommendations to the Division I Recruiting and Athletics Personnel Cabinet. They will have until Dec. 13. However, the women's coaches association - National Golf Coaches Association (NGCA) - will submit its proposal at the original requested date by the NCAA of Dec. 3.
Golfweek asked college golf coaches from around the country if they were in favor or not in favor of a recruiting calendar and if so, what their ideas would be.
---
Quote Wall
"I am against having a recruiting calendar in college golf. The recruiting calendar will force coaches to recruit more heavily in the summer. This will take away from our opportunities to compete in tournaments individually. I don't want to choose between my love of playing competitive golf and my passion for making this program the best it can be." – Scott Hardy, Saint Mary's College head coach
---
"I would like to see a calendar in college golf to give the process more structure. As it sits right now there are only 8 days out of the year that we can not go on the road and recruit. And as competitive as this business is, it has gotten out of control." – John Knauer, Texas-San Antonio head coach
---
"I would like to see a limiting of the days only.  The different regions of the country changes to much based on their local tours to have huge quiet periods.  If they are going to have quiet periods then do it in September and February and March so we are on campus with our players during quiet periods.  Not during December and January when you can 't practice because of final exams and winter break." – Scott Schroeder, North Florida head coach
---
"Collegiate golf has continued to grow by huge margins and has become a world game. It is a logical step as stewards of the game to implement limitations on recruiting travel that will enhance the current student-athletes' experience. Equally important is fiscal responsibility in combination with consistent rules that add balance to our diversified task as coaches. Limitation on Days (40) w 2 Dead Periods (Dec/Jan & June) is my choice." – John Fields, Texas head coach
---
"As an Ivy League coach whose recruiting is limited by the academic parameters of our admissions departments, this calendar is really more of an issue for larger programs. We all recruit the same 50 guys, so more or less days is a non issue." – Mike Hughes, Brown University head coach
---
"I think a recruiting calendar is a must. For one, this will finally set a parameter for recruiting, and will hopefully lead to more 'real' effective recruiting and evaluating as opposed to simply babysitting, following kids from tournament to tournament just in order to be seen. With a recruiting calendar, limited number of days, this will require you as a coach to develop a strategy in your recruiting - it will become more of a talent to recruit effectively - it will be more cost effective and promote a better quality of life for coaches. Equally as important, this will somewhat level the playing field of recruiting for small budget programs, schools in bad climates, or programs with only one coach, or even further a program whose head coach is also a PGA Golf professional. It will never ever be a level playing field but this will be a huge step in the process. With junior golf expanding, more and more tours developing all over the world, a recruiting calendar is a must for college golf." – Josh Gregory, Augusta State Director of Golf
---
"I favor a recruiting calendar and I think the Golf Coaches Association is taking a very proactive stance on the subject. That's good because we need to help devise one that makes sense to the vast majority of the coaches. Whether we make it complicated or simple, the net result will be very similar. Personally, I would make it simple and just put a limit on the number of days a coaching staff can be out recruiting. I like to hit a few tournaments around Christmas. Other people have their unique times that they like to evaluate players. We keep track of our 20 practice hours, our 24 competition days, and our 144 practice days. It will be easy to keep track of 25 recruiting days or whatever the final number is." – Mike Watney, Fresno State head coach
---
"Don't care on this one. Just tell me the rules and I'll try to win within them." – Matt Thurmond, Washington head coach
---
"I do not want a calendar, NCAA says we must. Give us 45 days of our own choosing, and if we must have non-recruiting time let be in the months of February, March and April - all of or part of. This will protect most of the junior tourneys and will allow us to spend all of our time with our teams in the spring. Also times that coaches are playing in tournaments with prospects playing, must count in recruiting days." – Richard Sykes, North Carolina State head coach
---
""It sounds as if a recruiting calendar is not only a possibility but something that is going to happen whether coaches want it or not.  If it does come to pass, I feel it is necessary to have the calendar be as flexible as possible. There are lots of unintended consequences that a recruiting calendar will cause. It is just a matter of lessening that blow. It will have an effect on junior tournaments and possibly entire junior tournament organizations. In some states high school seasons could become more relevant and in others less relevant. Recruiting restrictions throughout the year could be positive for one group of schools and prospects and negative for another as so many coaches and programs recruit so many different ways as it best fits their university. Does a program recruit primarily regionally, primarily nationally, or primarily internationally? Weather is a factor. All of these should be considered. The only way to preserve the existing fairness across all universities and for prospects (assuming a recruiting 'calendar' is going to happen) is to allow coaches to coach year-round but with a recruiting days 'cap' such as the current numbers being proposed. Quality of life would improve for coaches throughout the entire year and budgetary concerns would be answered." – Roy Edwards, Colorado head coach
---
"I'm left to wonder where this is really coming from. The kids want us there. The tournaments want us there. Surely, the NCAA isn't protecting them. This is just a few bigger name schools making it easier on themselves...yet again." – Jim Kubinski, Notre Dame head coach
---
"I think that golf is a unique in recruiting as geographics plays a part. Coaches down south, west and southwest can recruit in their areas year round. Don't limit northern coaches recruiting as we already don't have the ideal weather. Keep it as it is. Too many NCAA Rules and restrictions already." – Frank Darby, St. John's head coach
---
"I do not believe a recruiting calendar is necessary. Reason: Is the current system broken/flawed? I think not. Let each coach or program decides when and where to recruit. If a budget and staff at a particular program is sufficient, then go out and see or be seen." – Bill Spangler, Nebraska head coach
---
"A recruiting calendar is needed! The time has come! Establishing a reasonable number of days and time segments throughout the year will best serve coaches and players alike." –Mark Crabtree, Louisville head coach
---
"I am supportive of a recruiting calendar in college golf. The number of days coaches now spend recruiting in a year has become ridiculous. There are programs that spend as much money annually on recruiting as we spend on team travel. There are coaches that are recruiting all but a handful of days each summer and it never stops. The time has come to limit the number of days college golf coaches are allowed to recruit." – Paul Smolinski, UC Irvine head coach
---
"When you look at what's been presented, I personally like the way we've been doing it.  With that said, I am not in favor of having a recruiting calendar such as basketball and some other "team" sports.  I understand the reasoning behind it, and I know something has to and will be done.  I wouldn't mind limiting the number of recruiting days a coach or staff can spend recruiting off-campus.  Make it 60 or 75, whatever the number.  I don't think it should be as few as what's being talked about.  What I find most threatening to what we're trying to do, however, is the potential quiet period that last from the November signing period through much to most of the winter, depending on the date that ends up being used.  There are several good tournaments during that time frame, and, if a coach doesn't get the players he needs during the early-signing period, it's an important time for some of us heading toward the April signing period.  It won't matter much to the traditional Top 30 or 40 programs.  They're going to get commitments from players a year or more before they can sign anyway.  The rest of us try to do so, but it rarely works out that way.  I say give us a number of days we can recruit and, except for the dead-period dates around the initial NLI signing days and possibly during the GCAA Convention and NCAA Championships, let us decide when to use them." – Kevin Fillman, Longwood head coach
---
"A recruiting calendar in golf is long overdue so I do feel it is necessary to establish one before something is forced upon us by the NCAA. The GCAA is doing a very good job of gathering input from all coaches to formulate a proposal. We hope the NCAA will approve what we give them without tweaking it too much." – Jared Baszler, South Dakota State head coach
---
"The empitus behind the NCAA trying to reduce the recruiting calendar across the board in College sports has its roots in trying to eleviate the unsavory aspect of the AAU summer programs. That being said, a two or three week period at the end of summer would give the coaches a break, and a life." – Gary Nelson, University of San Francisco Interim Athletic Director (Nelson served as Director of Golf prior to this fall)
---
"I do not want a recruiting calendar for college golf as it is a sport played year round. I don't quite understand why this has even been brought up. I can understand dead periods and quiet periods but I would like to have the freedom to evaluate student/athletes whenever they happen to be playing in an event." – Vic Lipscomb, Wofford College head coach
Golfweek.com readers: We value your input and welcome your comments, but please be respectful in this forum.
---
---
---
---
---
---
---
---
---
---
---
---
---
---
---
---
---
---
---
---
---