Yang builds 3-shot LPGA lead in Orlando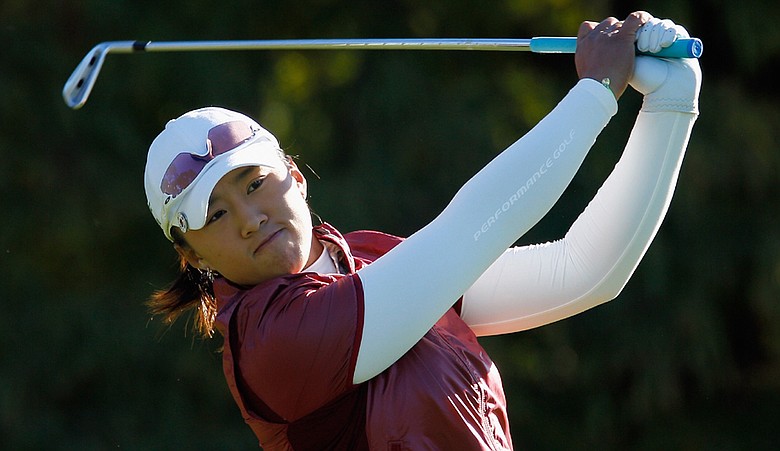 Wednesday, February 16, 2011
ORLANDO, Fla. – About the only thing going low at the LPGA Tour Championship is the temperature.
Well, that and Amy Yang's scorecard.
Yang shot a 3-under 69 in a safe and solid second round Friday, good enough to hold a three-shot lead when play was called for darkness. Only 10 of the 120 players in the field were under par.
"It is very surprising," said Yang, who is going for her first LPGA victory and has never led a round until this week.
Not that she's complaining.
The lack of low scores in a bloated field that features the top players on tour made her score stick all day. Maria Hjorth (68) and Seon Hwa Lee (73) were three shots back, and world No. 1 Jiyai Shin (75) is projected to make the cut on the number to keep her chances of holding the ranking at season's end alive.
The near-freezing conditions and a competitive course has tested players more than they could've imagined. And Yang has handled the challenge better them anyone.
The South Korean overcame a slow second-round start to finish with four birdies on the back nine, including a sizzling putt from about 20 feet on the 18th hole. She also did it with a tougher morning tee time, around 8:30 a.m., before things warmed up.
The temperature dipped into the upper 30s at dawn at Grand Cypress Golf Club to make firm and fluctuating greens even faster. The breeze ticked down a touch for the second round, but the topsy-turvy greens – which Laura Davies called "mental" a day earlier – were causing the most challenges.
"You really have to be patient out here, because you're going to have some bad breaks," Hjorth said.
The course has wreaked havoc even on the top players.
The LPGA's player of the year award is wide open at the season-ending event for the first time in a decade, now that Lorena Ochoa and Annika Sorenstam are retired. Five in the field have a chance to grab the honor, and the top ranking is also in play.
Shin and Na Yeon Choi would be the first Korean to win the LPGA's top honor. Cristie Kerr could become the first American since Beth Daniel in 1994 to claim the award, Yani Tseng would be the first from Taiwan, and Ai Miyazato of Japan is also in contention.
Kerr (71) is five shots back, Choi (71) is seven off the lead, Tseng (73) is 11 back and Miyazato (71) is 14 off the pace. In other words, parody rules again at the top.
"I think it's more interesting having more people up there," Kerr said. "I would like to be the dominant Alpha female, but you have to work really hard for that."
They don't have much time left to make up ground.
The LPGA Tour Championship will cut to the lowest 70 scores and ties when the second round officially finishes early Saturday morning. And there will be an additional cut after 54 holes to the lowest 30 players and ties, making the margin for error even slimmer.
It also makes Yang's grip on the lead feel even tighter.
Her last victory of any kind came in 2006, when she won the Ladies Masters in Australia at only 16 years old. That made her the youngest amateur ever to win on the Ladies European Tour, and it seemed there would be more victories in her future.
Only they haven't come.
"I was too young to know what winning a tournament meant," she said. "After that, I had to finish high school. So there was a gap of time between that."
Maybe not much longer.
Golfweek.com readers: We value your input and welcome your comments, but please be respectful in this forum.
---
---
---
---
---
---
---
---
---
---
---
---
---
---
---
---
---
---
---
---
---