2011 preview: Top 10 rising stars on the LPGA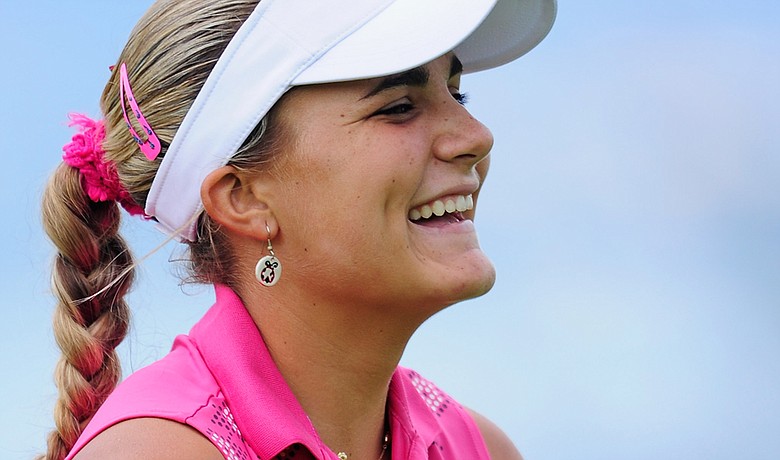 Wednesday, January 5, 2011
There was plenty to talk about after the 2010 season, so it gave us the idea to look ahead to the 2011 campaign. Here are some predictions for what we will see in the upcoming year:
10. Kimberly Kim
The youngest to ever win a U.S. Women's Amateur at 14, Kim has oodles of raw talent (barely practiced for Q-School). The question remains, how hard is she willing to work?
---
Photo Gallery
LPGA 2011: 10 predictions
Our Beth Ann Baldry has her hand on the pulse of the LPGA Tour and she took a few moments to make 10 predictions on players that will be the talk of the tour in 2011.
---
•••
9. Caroline Hedwall
Shy Swede carries a serious face on the golf course. NCAA champ likely to plod along quietly next year, and may even contend.
•••
8. Belen Mozo
This Spanish charmer will try to follow in the footsteps of best friend Azahara Munoz, who won 2010 Rookie of the Year. She's finally healthy.
•••
7. Jessica Korda
Sailed through Q-School even without her "A" game. Korda is a power player who will add much-needed American spunk to tour.
•••
6. Hee Kyung Seo
The KLPGA's "Supermodel of the Fairways" earned her card by winning the 2010 Kia Classic. Will be interesting to see how easily she transitions to the U.S.
•••
5. Jennifer Song
Might be be the most mature rookie on this list, even though she's still quite young at 21. She's my early pick for rookie of the year because she will be consistent.
•••
4. Song-Hee Kim
This quiet Korean is a cash machine. One gets the feeling she's letting the pressure to win get to her. If she wins once, the floodgates could open.
---
Photo Gallery
2010 in review: Top 30 pictures
Golfweek's Tracy Wilcox chooses her Top 30 images of 2010.
---
•••
3. Stacy Lewis
Steady improvement for Lewis in her second year on tour shows she's getting close to her first LPGA victory. She's tough mentally, so it's only a matter of time.
•••
2. Ai Miyazato
Why is a player who won five times last year on this list? Because now she's the best player who hasn't won a major. That's her next mental hurdle.
•••
1. Lexi Thompson
The 15-year-old's impact next year depends largely on two things. 1) How many exemptions Mike Whan allows her to take 2) If she wins. ... Thompson can move the needle more than anyone on this list.
Golfweek.com readers: We value your input and welcome your comments, but please be respectful in this forum.
---
---