Snedeker atop Phoenix Open; Fowler 2 back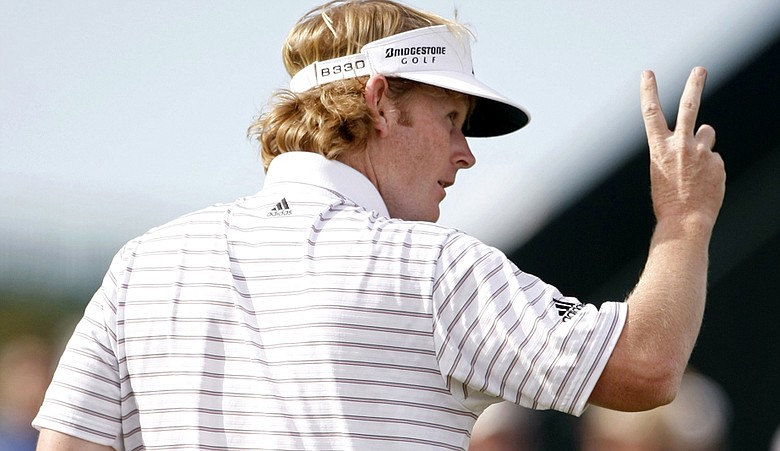 Monday, January 31, 2011
SCOTTSDALE, Ariz. – Brandt Snedeker is back to playing like the rising young PGA Tour star he was supposed to be.
The 29-year-old Tennessean rolled in his sixth birdie of the day on No. 17 and finished at 14-under 199 for a one-shot lead over Scott Piercy in the Phoenix Open.
Snedeker shot a 66, while Piercy had a pair of eagles en route to a 65 in the third round Saturday amid a loud, rowdy crowd estimated at just over 121,000. Many were on hand for the party as much, or more than, for the tournament.
Rickie Fowler (69) and Matt Every (68) were two back at 12 under. Camilo Villegas, who shared the lead with Mark Wilson after two rounds, birdied the last two holes to finish even for the day and minus 11 for the tournament.
Wilson, Mark Calcavecchia and Lee Janzen were among nine at 10-under 203.
The 49-year-old Calcavecchia has won the Phoenix Open three times, in 1989, 1992 and 2001. The last of his 13 PGA tour victories came in 2007.
The sky was overcast with a threat of rain at TPC Scottsdale, and the wind kicked up late in the day. Perhaps that's why the crowd was more than 40,000 shy of the estimated 164,000 who attended on Saturday a year ago. The record is 170,000 in 2008.
But the scene was as wild as usual at the notorious 16th hole, where bleachers surround the par 3 and fans have special chants for virtually every golfer. The good shots draw lusty cheers, the bad ones loud boos.
"It was crazy," Snedeker said. "You've got to take it with a grain of salt and realize golf needs that. We need people out here having fun, being excited about being at a golf tournament. If you can't take it for one hole, good God, get over yourself and have some fun."
The same could be said of Snedeker's young career.
He was the 2007 PGA Tour rookie of the year, but his victory at the Wyndham Championship that season remains his lone win.
He struggled early last year, missing the cut 12 of 26 times and was sidelined eight weeks by a rib injury.
"You just listen to your hype," Snedeker said. "You hear people talking about how good you are and how much you could be the next big thing, you should be winning each week. And the minute you think that you should be winning the golf tournament each week, you're completely out of bounds."
The turnaround, he said, came last July at the AT&T National, where he tied for fifth.
"Literally like a flipped switch," Snedeker said, "and I said, 'I'm sick and tired of this.' I don't care if I have to quit playing golf, I'm not going to keep playing the way I've been playing. And ever since then I've been playing good."
He tied for second Jan. 31 at Torrey Pines, one shot behind winner Ben Crane.
Snedeker's only bogey Saturday, on the par-4 14th, was the most critical hole of the round, he said.
He pulled his second shot into the left bunker. He failed to clear the bunker with his third shot and, with a bad lie, knocked his fourth shot 32 feet past the pin. Then he nailed the putt.
"That says a lot about where my head is right now," Snedeker said. "... It completely changed the way I walked on the 15th tee, feeling excited, confident, everything still going good."
Snedeker has led after three rounds only once before, at the 2007 Buick Open.
Piercy, in search of his first victory on the Tour, will be in the final group at Phoenix for the second year in a row. He was a shot off the lead going into the last round a year ago and finished tied for sixth.
Piercy said he learned watching eventual winner Kenny Perry play that final round.
"He made a ton of pars. He didn't make any bogeys, or very few bogeys, and then when he made a birdie, that birdie was so huge," Piercy said.
He said it showed him "'rather than put on the gas pedal the whole time, maybe drive with a little bit of caution."
Piercy had a two eagles, the second one a tap-in on the par-4, 390-yard 10th hole, when his tee shot came to rest 10 inches from the pin.
The scene around the 16th was madness, with the mostly young crowd packed elbow-to-elbow, beer in hand.
People lined up to get into the bleachers as if it was some trendy Scottsdale night club.
When Snedeker teed off, fans nearest the tee shouted "gentleman, scholar, athlete," the golfer's high school motto.
When Piercy hit, they chanted the name of porn star Jenna Jameson, of all people.
"She went to the same high school as me," he explained.
Golfweek.com readers: We value your input and welcome your comments, but please be respectful in this forum.
---
---
---
---
---
---
---
---
---
---
---
---
---
---
---
---
---
---
---
---
---