Staff picks: U.S. Women's Open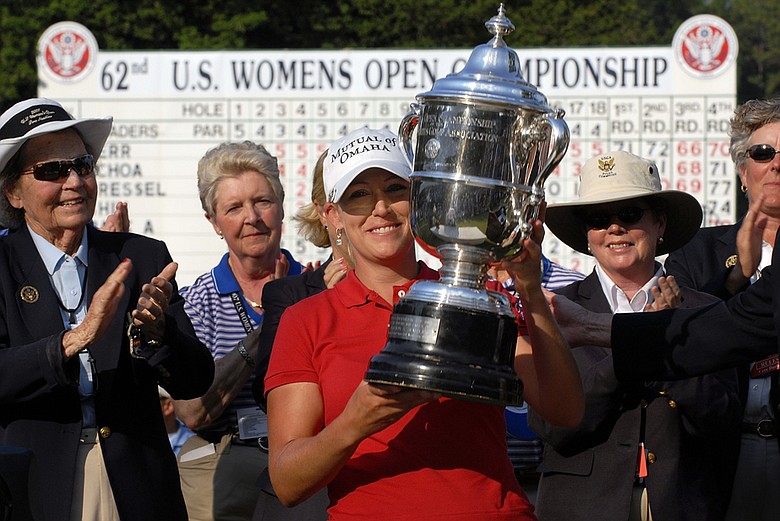 Tuesday, July 6, 2010
---
• U.S. Women's Open coverage | Twitter: @Golfweek_Baldry, @GolfweekSMartin
---
U.S. Women's Open
When: June 8-11
Where: Oakmont (Pa.) Country Club
Par: 71
Yardage: 6,598
Defending champion: Eun-Hee Ji (even-par 284 at Saucon Valley Country Club, Bethlehem, Pa.)
Purse: $3.25 million
Winner's share: 585,000 (2009)
Television: ESPN2, Thursday-Friday (3-7 p.m.), NBC, Saturday-Sunday (3-6 p.m.)
Winner: Cristie Kerr. Have you seen her putt lately? Kerr's confidence right now is through the roof, and understandably so. Kerr, who nearly won last year's Open, said Oakmont is one of the "best courses she's ever seen" and is "exactly the way I would've designed it." She was an Oakmont favorite before the LPGA Championship.
Sleeper: Stacy Lewis. Darling of the Open in 2008, Lewis has matured since that final-round 78. Showed moxie on Sunday in Morelia last April, nearly winning. Thrives on tough conditions and knows how to maneuver around tough bunkers (St. Andrews) and difficult greens.
Low amateur: Jessica Korda. 17-year-old Curtis Cupper loves Sundays at the Open, carding a 69 in the final round the last two years. Often in the shadow of good friend Alexis Thompson, but definitely worth watching.
• • • 
Winner: Suzann Pettersen. Pettersen hasn't won yet this year, but is third on the money list because of some incredibly consistent play. She's finished 11th or better in seven of nine starts this year, and has finished in the top five in more than half her starts. Pettersen's Open record isn't the best, but she finished sixth last year.
Sleeper: Jennifer Song. Song has had no trouble transitioning to the pro game after her standout amateur career. She finished first and fifth in her first two Futures Tour starts as a pro. Song finished 13th at last year's Open, and 21st at this year's Kraft Nabisco.
Low amateur: Ariya Jutanugarn. It's hard to pick against the likes of Jessica Korda and Jennifer Johnson, but Jutanugarn's is a name you need to learn. The 14-year-old from Thailand was medalist at this year's U.S. Women's Amateur Public Links. She finished 30th in the Honda PTT LPGA Thailand earlier this year.
The U.S. Women's Open field based on the Golfweek/Sagarin Performance Index:
1. Cristie Kerr
2. Jiyai Shin
3. Song-Hee Kim
4. Suzann Pettersen
5. Na Yeon Choi
6. Ai Miyazato
8. Yani Tseng
9. Karrie Webb
10. Michelle Wie
11. Anna Nordqvist
12. Morgan Pressel
13. Paula Creamer
14. Angela Stanford
15. Catriona Matthew
17. Sakura Yokomine
18. Mi-Jeong Jeon
19. Momoko Ueda
20. In-Kyung Kim
21. Inbee Park
22. Chie Arimura
23. Amy Yang
24. Kristy McPherson
25. Sun Young Yoo
26. Maria Hjorth
27. Shinobu Moromizato
28. Azahara Munoz
31. Brittany Lincicome
32. Sophie Gustafson
33. Seon Hwa Lee
34. Brittany Lang
35. Juli Inkster
37. Stacy Lewis
38. Katherine Hull
39. Jee Young Lee
40. M.J. Hur
42. Hee Young Park
44. Hee-Won Han
45. Yuko Mitsuka
46. Meena Lee
47. Amanda Blumenherst
49. Stacy Prammanasudh
50. Michele Redman
52. Karen Stupples
55. Candie Kung
56. Jeong Jang
57. Shi Hyun Ahn
58. Shanshan Feng
59. Lindsey Wright
60. Chella Choi
61. Karine Icher
62. Paige Mackenzie
67. Christina Kim
68. Natalie Gulbis
69. Heather Young
70. Pat Hurst
72. Eun-Hee Ji
73. Kyeong Bae
75. Se Ri Pak
76. Jennifer Rosales
79. Sandra Gal
80. Alena Sharp
82. Vicky Hurst
83. Giulia Sergas
85. Helen Alfredsson
89. Mina Harigae
90. Tamie Durdin
95. Hye Jung Choi
96. Mika Miyazato
107. Becky Brewerton
107. Mhairi McKay
109. Janice Moodie
117. Ji Young Oh
121. Eunjung Yi
123. Wendy Ward
125. Meaghan Francella
130. Jill McGill
137. Marianne Skarpnord
138. Allison Fouch
140. Irene Cho
142. Becky Morgan
144. Pornanong Phatlum
147. Tania Elosegui
149. Maria Hernandez
152. Gwladys Nocera
155. Julieta Granada
156. Samantha Richdale
159. Taylor Leon
174. Sarah Kemp
188. Anna Rawson
207. Esther Choe
208. Elizabeth Janangelo
213. Louise Friberg
218. Joo Mi Kim
229. Alison Walshe
252. Laura Diaz
254. Sakurako Mori
281. Ashli Bunch
290. Nicole Jeray
292. Meredith Duncan
300. Libby Smith
303. Jennifer Gleason
306. Christi Cano
310. Tiffany Joh
314. Veronica Felibert
323. Meg Mallon
395. Sofie Andersson
402. Lucy Nunn
Players not ranked
N/R. a-Brittany Altomare
N/R. Shasta Averyhardt
N/R. a-Sandra Changkija
N/R. a-Kaitlin Drolson
N/R. a-Janine Fellows
N/R. a-Yueer "Cindy" Feng
N/R. a-Jaye Marie Green
N/R. a-Junthima Gulyanamitta
N/R. a-Jennifer Johnson
N/R. a-Ariya Jutanugarn
N/R. a-Danielle Kang
N/R. a-Kimberly Kim
N/R. a-Jennifer Kirby
N/R. a-Stephanie Kono
N/R. a-Jessica Korda
N/R. a-Laura Kueny
N/R. a-Alison Lee
N/R. Bo-Mee Lee
N/R. Jeong-Eun Lee
N/R. Jung Yeon Lee
N/R. a-Tiffany Lim
N/R. Hsiao-Ching Lu
N/R. Charlotte Mayorkas
N/R. a-Lisa McCloskey
N/R. Na On Min
N/R. Belen Mozo
N/R. Martha Nause
N/R. a-Juliana Murcia Ortiz
N/R. a-Sun Gyoung Park
N/R. So-Yeon Ryu
N/R. a-Lizette Salas
N/R. Sarah Lynn Sargent
N/R. Hee-Kyung Seo
N/R. a-Kelli Shean
N/R. Jenny Shin
N/R. Bo Bae Song
N/R. a-Jennifer Song
N/R. Sherri Steinhauer
N/R. a-Victoria Tanco
N/R. a-Alexis Thompson
N/R. a-Gabriella Then
N/R. Aiko Ueno
N/R. a-Sally Watson
N/R. a-Christine Wong
N/R. a-Nicole Zhang
Golfweek.com readers: We value your input and welcome your comments, but please be respectful in this forum.
---
---
---
---
---
---
---
---
---
---
---
---
---
---
---
---
---
---
---
---
---