Caddie blog: Rain wipes out second round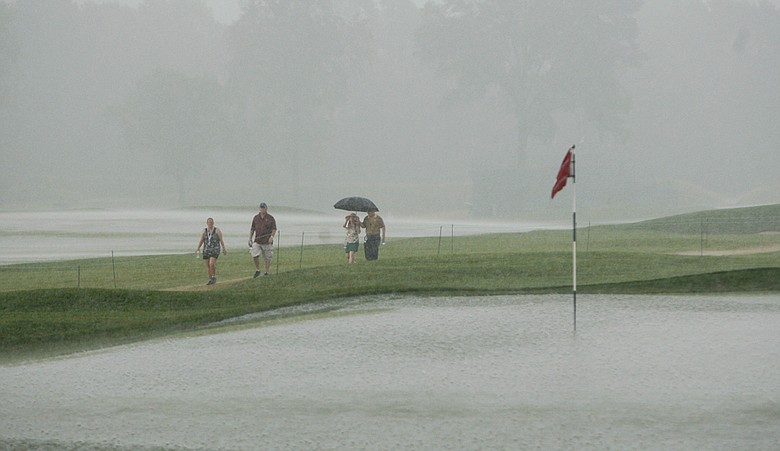 Saturday, July 10, 2010
---
• U.S. Women's Open coverage | Twitter: @Golfweek_Baldry, @GolfweekSMartin
---
Greg Robertson is the associate head coach at Purdue and is caddying for Maria Hernandez at the U.S. Women's Open. He played college golf at Oklahoma State.
• • •
OAKMONT, Pa. – It appeared to be a normal tournament day like any other. After touring the golf course in the morning and taking notes on the hole locations, I met Maria around 1 p.m. to get started with the warm-up session. Everything was right on schedule for her 2:20 tee time as we walked over to the 10th tee, her first hole of the day.  
The players and caddies shook hands and scorecards were exchanged. Then the starter announced Maria's name, and she was first to tee off in the group. She stepped up to the ball, made a good swing and pounded it right down the middle. Less than 60 seconds later, the horn blew to suspend play due to weather conditions. It wasn't more than a minute or two later that a lightning bolt flashed that was a little too close for comfort. From there, it was pretty chaotic as everyone scattered to seek shelter and the rain started coming down in buckets. Pittsburgh is known for its three rivers, but the 18th green and fairway looked like it could have made for the fourth.
There were quite a few players, caddies and family members crammed into the clubhouse as we waited to get the updates on what was happening. Most were eating, some were watching coverage of the tournament on TV and I even saw a few players playing cards to kill time. It got to the point, with so many people inside, that it was actually cooler to sit outside on the patio. As the players started to get restless after sitting around for about an hour and a half, the USGA officials informed us that play would be cancelled for the rest of the day.  
For us, it was one shot into the round!    
It's going to be an early day for me tomorrow as I'll be getting up at around 4:30 in the morning. I'm meeting Maria in the lobby at 5:15 a.m. so we can beat the rush to the driving range, which opens at 6:00 a.m.
Maria and I both prefer the late-early times for the first two days of a tournament. However, I would have to say that we were pretty fortunate to go early-late this week since the rain soaked the course for the second round. When I was walking around in the morning, I could tell it was playing extremely difficult as everything continued to dry out. So, a softer course is certainly going to make it play quite differently. It will probably play a bit longer, but the greens should be a little more receptive and perhaps a little slower. And that's an exchange that I'm sure any player in the field would welcome!
Golfweek.com readers: We value your input and welcome your comments, but please be respectful in this forum.
---
---
---
---
---
---
---
---
---
---
---
---
---
---
---
---
---
---
---
---
---