Showing tour pros how it is done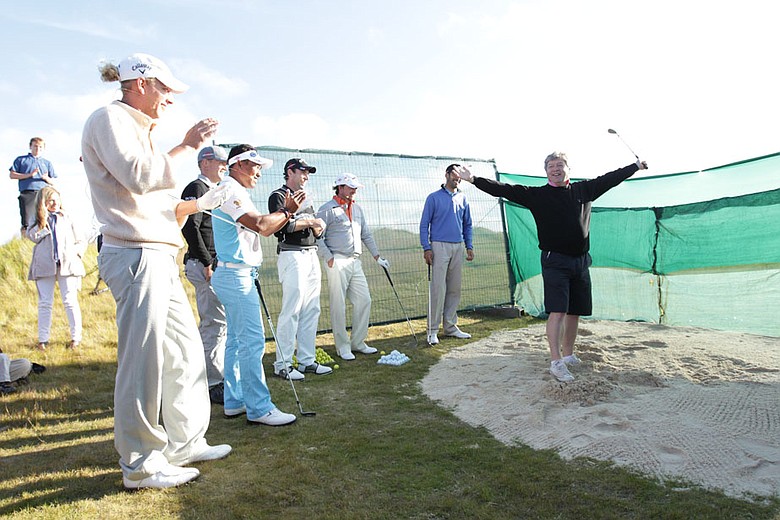 Tuesday, July 13, 2010
---
• Complete coverage | British Open blog | Follow via Twitter: @4caddie, @GolfweekMag
---
ST. ANDREWS, Scotland – I took on the U.S. Open champion – and won!
It's not often an 8-handicapper goes head-to-head with a major champion and wins, but that's the story I'll be telling my grandchildren. I'll also be telling them about how I also upstaged another six European Tour pros in the process.
Callaway's annual Monday night Open shindig at the Castle Course featured eight of their staff players. New U.S. Open champion Graeme McDowell headed the bill, along with Alex Noren, Marcel Siem, Thomas Bjorn, Ross McGowan, Oliver Wilson, Alvaro Quiros and Thongchai Jaidee.
The professionals conducted a clinic of shots needed at St. Andrews this week. Everything from low wedge shots, punched mid irons into the wind, low running 2-iron and 3-wood shots and low driver shots.
For the record, Noren excelled at the low wedge, while McDowell was majestic at punching iron shots. Well, what do you expect from a man who grew up playing links golf at Royal Portrush? Jaidee slaughtered the rest of the boys at his ability to hit the ball low with a 5-iron, and long bomber Quiros blew everyone away with the way he hit his 2-iron into the wind. As for the low driver, I think some of the balls Quiros hit are still running!
---
Photo Gallery
British Open (Tuesday practice round)
Images from Tuesday's practice round at the Old Course in St. Andrews, Scotland.
---
Of course, bunker play is going to be an integral part of playing St. Andrews well this week. That's why Callaway had constructed a replica of the Road Hole Bunker on the 17th. Actually it was just a pit of sand with a six-foot green tarpaulin around it.
I'll gloss over that fact in the retelling. By the time I embellish the story it'll sound as if I was in Hell Bunker!
Anyway, the pros were asked to show the 200 or so in attendance how to get out of the sand. Most failed. Siem was the only player who managed to get the ball over the tarp first time. Some had several goes and never managed to get the ball out.
The pros were soon put out of their misery. Volunteers were sought to see if anyone could do better.
Bjorn pointed at me.
What could I do? I had been challenged, and in my homeland – and that's something you don't do to a Scot.
I grabbed the wedge, dug my feet into the sand, opened the face wide, made sure I took the club outside the line on the back swing, made a long swing and focussed on cutting underneath the ball with an out-to-in swing, and the ball popped up and over the green tarp.
Cue cheers. Cue Bjorn high-fiving me. Cue a 5-foot-8 inch Scot sticking his chest out so far with pride it's amazing I didn't fall over.
Best of all was what happened next. Bjorn turned to fellow journalist Graham Otway and challenged him to do the same. Poor Graham. He had three swings and didn't manage to get the ball above three feet in the air.
"You can't write crap about us anymore," Bjorn said to Otway. Then he turned to me. "But you can!"
The seal of approval.
McDowell made several more attempts and was still struggling. I couldn't resist a dig at the man who conquered Pebble Beach. "Would you like a lesson, G-Mac?" I asked.
"I think I need one," he said as another ball smashed into the tarp.
Kids, did I ever tell you the story about how I beat the U.S. Open champion?
Golfweek.com readers: We value your input and welcome your comments, but please be respectful in this forum.
---
---
---
---
---
---
---
---
---
---
---
---
---
---
---
---
---
---
---
---
---