Junior Girls
Long day ends in quarterfinal berth for Tanco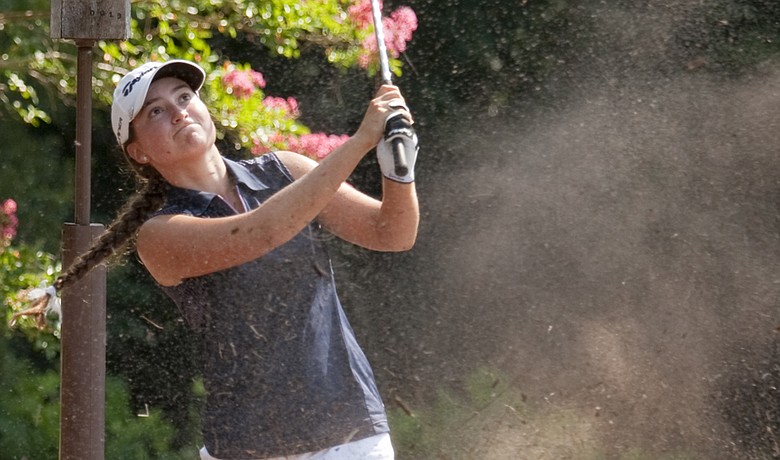 Thursday, July 22, 2010
---
• Complete Coverage | Blog Jr. | Follow via Twitter: @GolfweekMag, @Golfweek_Lavner
---
PINEHURST, N.C. – After battling tooth and nail for 18 holes at the Country Club of North Carolina Thursday morning, Victoria Tanco finally got a tiny bit of help from her opponent in the form of a missed 3-footer. It was all the iron woman needed to channel a second wind, and cruise through 22 more grueling holes to secure a spot in the quarterfinals at the U.S. Girls' Junior. 
As an intense heat enveloped the course early in the afternoon, causing spectators to hit the shade spots and caddies to shuffle down the fairways with big white towels draped over their heads, Tanco had only a few minutes to regroup after a 25-hole morning match against Ariya Jutanugarn. The seven extra holes, brought on by the short miss from Jutanugarn after she entered the final hole dormie, did little to faze Golfweek's top-ranked junior, however.
Careful not to repeat the events of the Round of 32, Tanco took the lead with a birdie on the first hole in her afternoon match against Kristen Park, the 2007 U.S. Girls' Junior champion. She never let Park win a hole, much less take the lead. By the seventh hole, Tanco was up 3, and she won Nos. 14 and 15 to take the match, 5 and 3.
---
Video
U.S. Girls' Junior: Rounds of 32/16 recap
---
"I'm a little bit tired but luckily I played good in the afteronoon," Tanco said. "I didn't have to play extra holes so I'm happy."
Park was just one of three veterans to fall on a day where temperatures climbed into the high 90s, and hydration was not only important but absolutely necessary for players and caddies to stay on their feet.
Ally McDonald, a Mississippi State commit, single-handedly took down two of the other more seasoned Girls' Junior players – Kyle Roig and Ginger Howard.
Roig, who lost to McDonald in the Round of 32, 1 up, was making her fifth U.S. Girls' Junior appearance, the most of any player in the field. Add to that a very experienced caddie, Mike Bolger (father of Megan Bolger Stasi, who won the U.S. Women's Mid-Amateur in both 2006 and 2007), and McDonald's win is all the more impressive.
The best stretch of holes logged by McDonald on Thursday, however, occurred in the afternoon. With two holes to play in the Round of 16, she was 2 down to Ginger Howard, who won the 2008 Trusted Choice Big "I" National Championship at the Country Club of North Carolina. That's when McDonald started her birdie run.
She dropped a 15-footer for birdie at the 17th as Howard barely missed her birdie try, then dropped a six-footer for birdie at the 18th. The putts were especially surprising to McDonald since she said it was Howard who had owned the hot putter for the majority of the round.
Heading into the first extra hole, McDonald was able to hang on to her hot streak, and dropped one more birdie, this time from 20 feet, for the win.
"I was coming up the stretch and I knew what I had to do and the last thing I needed to do on 18 was think, 'If you miss this putt you lose,' " McDonald said. "You have to think, 'You make this putt, you go on.' I just tried to keep a positive attitude, had a good momentum going into the playoff hole so I kept it going."
McDonald is making just her second Girls' Junior appearance – she missed the cut by one last year – and she wasn't even sure it was going to happen until the day after she played in the qualifier at Old Waverly in West Point, Miss. McDonald originally was told she would be an alternate, but got an e-mail the next day informing her she had made the field after all.
Of the top four players on the match play bracket, three are still alive as only 12-year-old Megan Khang, the No. 3 seed, fell in the Round of 64. Khang lost to Cali Hipp after 21 holes.
"(Megan) fought back at the end, made some really good putts, made some good par putts," said Hipp, an Oregon commit. "Then we just got up to the last three holes and we both went par, par, par, and I finally stuck it close at the par 3, No. 3. It was about 3 inches."
Fifth-seeded Mariko Tumangan, who advanced through the Round of 64 with an 8-and-6 win over Marissa Dodd, strolled through two more matches Wednesday. She beat Casey Danielson, 4 and 3, in the morning before taking a 3-and-1 victory over Nicole Morales in the afternoon.
The win over Morales wasn't as easy as earlier in the week, but Tumangan still managed to advance.
"I was in a position that I wasn't in, I think I was 3 down after four," Tumangan explained. "I was trailing for the first time. It was good overall, I kind of like being in that position because it pushed me to work harder."
Gyeol Park, the 14-year-old from Korea, downed Grace Na in the Round of 16 with a birdie on the 18th hole, but nearly let her afternoon match against Lindsey Weaver slip away. Park was 3 up entering 15, but lost the hole with a bogey. She lost No. 16 to Weaver's birdie, and nearly lost the 17th when Weaver's approach shot struck the flagstick and bounced backward to the front fringe. Weaver would miss the birdie putt, then bogey the final hole to lose, 2 up.
As for medalist Danielle Kang, the second day of match play went much more smoothly than the first, and neither of her matches went past the 15th hole.
---
Results from the Round of 16 at the U.S. Girls' Junior Amateur Championship, played July 23 at the Country Club of North Carolina in Pinehurst, N.C.:
ROUND OF 16
Danielle Kang def. Haley Andreas, 5 and 3
Doris Chen def. Elisabeth Bernabe, 3 and 1
Gyeol Park def. Lindsey Weaver, 2 up
Mariko Tumangan def. Nicole Morales, 3 and 1
Ginger Howard def. Ally McDonald, 19 holes
Victoria Tanco def. Kristen Park, 5 and 3
Stephanie Liu def. Cali Hipp, 7 and 6
Katelyn Dambaugh def. Christina Foster, 4 and 3
• • •
ROUND OF 32
Danielle Kang def. Kelli Oride, 5 and 4
Haley Andreas def. Summar Roachell, 7 and 6
Doris Chen def. Nicole Quinn, 4 and 3
Elisabeth Bernabe def. Mikayla Harmon, 3 and 2
Gyeol Park def. Grace Na, 1 up
Lindsey Weaver def. Brenna Nelsen, 4 and 3
Mariko Tumangan def. Casey Danielson, 4 and 3
Nicole Morales def. Erica Herr, 19 holes
Ginger Howard def. Kendall Martindale, 22 holes
Ally McDonald def. Kyle Roig, 1 up
Victoria Tanco def. Ariya Jutanugarn, 25 holes
Kristen Park def. Mariah Stackhouse, 1 up
Cali Hipp def. Megan Khang, 21 holes
Stephanie Liu def. Soobin Kim, 3 and 2
Christina Foster def. Yueer Feng, 2 up
Katelyn Dambaugh def. Giovana Maymon, 2 and 1
• • •
ROUND OF 64
Danielle Kang def. Alejandra Cangrejo, 1 up
Kelli Oride, Collins Bradshaw, 19 holes
Summar Roachell def. Karen Chung, 19 holes
Haley Andreas def. Jaye Marie Green, 2 and 1
Doris Chen def. Jisoo Keel, 2 and 1
Nicole Quinn def. Jordan Lippetz, 1 up
Elisabeth Bernabe def. Veronica Valerio, 3 and 2
Mikayla Harmon def. Shelby Phillips, 1 up
Gyeol Park def. Mariana Sims, 2 and 1
Grace Na def. Katie Lee,1 up
Lindsey Weaver def. Beverly Vatananugulkit, 1up
Breanna Nelsen def. Lindo Luo, 6 and 4
Mariko Tumangan def. Marissa Dodd, 8 and 6
Casey Danielson def. Brooke Henderson, 1 up
Erica Herr def. Lindsay McGetrick, 1 up
Nicole Morales def. Shawnee Martinez, 4 and 3
Ginger Howard def. Hannah Sodersten, 1 up
Kendall Martindale def. Sierra Sims, 5 and 3
Ally McDonald def. Kaitlin Park, 2 and 1
Kyle Roig def. Paveenuch Sritragul, 4 and 3
Ariya Jutanugarn def. Cinday Ha, 1 up
Victoria Tanco def. Gabriella Then, 20 holes
Kristen Park def. Alexandra Newell, 4 and 3
Mariah Stackhouse def. Tiffany Lim, 1 up
Megan Khang def. Emily Wright, 2up
Cali Hipp def. Erynne Lee, 4 and 3
Stephanie Liu def Maddie Szeryk, 4 and 3
Soobin Kim def. Lili Cammisa, 3 and 2
Yueer Feng def. Kailey Walsh, 4 and 3
Christina Foster def. Maia Schechter, 6 and 5
Giova Maymon def. Emma Talley, 2 and 1
Katelyn Dambaugh def. Daniela Ordonez, 4 and 3
---
---
---
---
---
---
---
---
---
---
---
---
---
---
---
---
---
---
---
---
---