Junior Girls
Chen tops Dambaugh for U.S. Girls' title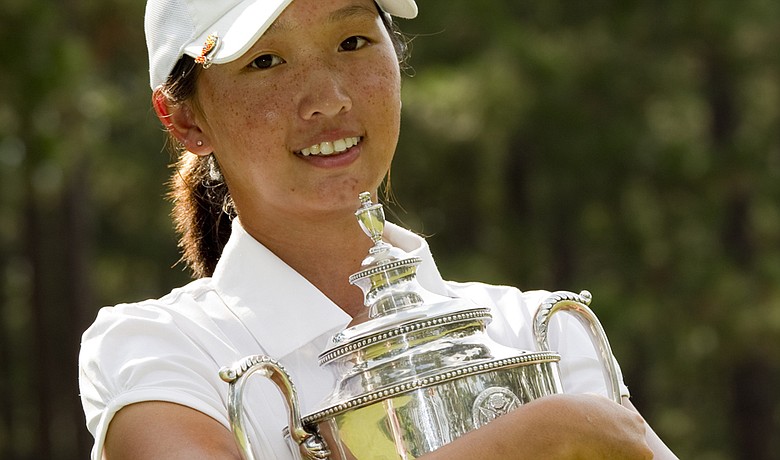 Saturday, July 24, 2010
---
Podcast
Jim Liu and Doris Chen describe what it feels like to be U.S. Junior champions.
---
PINEHURST, N.C. – When everyone else had cleared the practice facilities, the course, the scoreboard area and the patio late Friday evening at the Country Club of North Carolina, Doris Chen remained. She hit putt after putt as the heat broke from another humid day in Pinehurst, preparing for what she had come to North Carolina to do: Claim the U.S. Girls' Junior Championship.
It's fitting, then, that Chen's final stroke in this junior championship of championships came in the form of a 20-foot birdie putt that found the bottom of the hole with authority, and not a moment too soon.
When the putt fell at the 16th hole, Chen's 34th of the day, she very slowly, and with just a hint of disbelief, high-fived her caddie and walked to the hole to retrieve her ball. That's when arguably the biggest smile of the tournament broke on the 17-year-old's face.
By the end of the week, Chen had become known for her flawless play and her even keel on the golf course. The key to Chen's 3-and-2 win over 15-year-old Katelyn Dambaugh was a change in demeanor in the 36-hole final. After losing in the semifinals of the 2009 U.S. Girls' Junior, Chen was determined to get a win, and had plowed through the match-play bracket with few words and even fewer mistakes. Her expression barely changed with each win before she was on to the next victim.
That style of play continued Saturday morning, but as she entered the final 18 holes 1 down to Dambaugh and with fatigue setting in from a long, hot week of golf, Chen let up the tiniest bit.
"Second round, I was just like, I don't care anymore. I'm just going to enjoy and just play," Chen said. "I don't really care about win or lose. I think I pushed myself too hard this morning."
Chen's caddie, Charlie MacInnes, noticed the difference as well. MacInnes, who has spent the past six years caddieing in the Pinehurst area during the summers, said little conversation was made between him and his player at the beginning of the championship, but that she came around Saturday afternoon.
"Very stoic and just kind of (business-like)," MacInnes said of Chen's demeanor. "And then after the first round, she's just like, 'You know what? I'm tired. I'm just going to enjoy playing golf for the rest of the afternoon,' and that was what turned it around for her. She just started getting dialed in."
Chen, of Bradenton, Fla., might not make many mistakes during her rounds, but it's a characteristic of her game that's absolutely necessary for her to be able to keep pace with longer hitters such as Dambaugh. That became clear in the morning when Dambaugh began to chip away at Chen's 2-up lead by hitting the par-5 fifth in two, then draining the birdie putt. Dambaugh averages about 260 yards off the tee, while Chen comes in at roughly 220 yards.
What Chen lacks in distance she makes up for in accuracy and putting prowess. Though early in the match, one of the biggest momentum shifts of the day occurred in the morning at No. 7 when Chen drained a 45-foot putt for birdie. 
"It was very lucky," Chen said with a laugh. 
The putt took Chen to 2 up – and gave her visions of ending the morning round as much as 4 up on Dambaugh – but Dambaugh clawed back to get to 1 up entering the afternoon.
After lunch, Dambaugh immediately won the first hole with a par to Chen's bogey to go 2 up. The crowd following the match peaked at that point as more and more Dambaugh followers arrived from Goose Creek, S.C., Dambaugh's home about four hours away. The beginning of the second round, however, also marked the point when the wheels began to very slowly detach.
"I was feeling great, and then I don't know what happened," Dambaugh said of the second round. "I hit a couple bad shots, and I was just for some reason getting down on myself and started getting really tired."
Dambaugh missed her drive the second time around at No. 5 and didn't have the opportunity to pull off another miracle attempt at hitting the green in two. It was only the third fairway she had missed all day, but that soon became a trend. She would miss the next five fairways in a row – as her arms got tired and she began swinging harder – and let Chen back into the match. Dambaugh took the lead back for the final time with a tap-in birdie at No. 10, but it was the last time she would hold the advantage.
At the 11th, Dambaugh nearly missed her tee shot altogether as her hand slipped off the club.
"I thought the club was about to go flying, but luckily it stopped and I don't know," she said. "It just kind of went downhill from there."
Chen parred the hole, as well as the 12th when Dambaugh flew her approach shot over the back of the green and failed to get up and down. 
Walking to the 13th hole 1 down, Dambaugh's caddie for the week, good friend and former high school golf teammate Derek Mills, shucked the caddie bib and passed the bag to Koll Farman, Dambaugh's swing coach back home in Goose Creek. Farman, who sprinted to the tee, provided an eleventh-hour spark of energy for Dambaugh, but it proved to be too little too late.
---
Video
Saying goodbye to USGA's 'Nez Muhleman
---
Chen birdied the 14th as Dambaugh missed the green and parred. A Dambaugh bogey at the 15th put Chen dormie entering the par-3 16th. Even though Dambaugh's drive at that hole was closer, Chen showed the tiniest hint of the rare on-course smile after landing safely aboard the putting surface. Moments later the championship was hers.
"She's an amazing player, she's awesome," Dambaugh said. "She really deserved this. It was her last year, and this was everything she wanted."
The U.S. Girls' Junior is the biggest championship of Chen's young career, which she'll continue at USC in the fall of 2011. This week in Pinehurst will be her last playing of this event, as she will already have passed the age limit of 18 by the time next year's tournament rolls around.
For now, it's back to Taiwan for Chen before she returns to the U.S. Women's Amateur at nearby Charlotte (N.C.) Country Club next month. Both Chen and Dambaugh earned a berth in the tournament by making it to Saturday's final match. Chen shows zero hesitation in assuring she'll be there, while Dambaugh is almost sure as it's a position she didn't expect to be in. She entered her first USGA championship just hoping to make the cut.
It was a much different attitude than veteran Chin, who was more than ready to avenge her near-miss at last year's U.S. Girls' Junior. And after doing the deed, the words to describe it didn't come easily for Chen, still maybe a little shocked at making good on her goal to win. 
"Today I feel different, today I feel, did I just win?" she said.
A glance at the nearby trophy – easily the biggest she's ever won – should be all it takes to make the memories come flooding back.
---
Final results from the U.S. Girls' Junior Amateur Championship, played July 19-24 at the Country Club of North Carolina in Pinehurst, N.C.:
FINAL
Doris Chen def. Katelyn Dambaugh, 3 and 2
SEMIFINALS
Doris Chen def. Gyeol Park, 4 and 3
Katelyn Dambaugh def. Ally McDowell, 7 and 6
• • •
QUARTERFINALS
Doris Chen def. Danielle Kang, 1 up
Gyeol Park def. Mariko Tumangan
Ally McDonald def. Victoria Tanco, 1 up
Katelyn Dambaugh def. Stephanie Liu, 2 and 1
• • •
ROUND OF 16
Danielle Kang def. Haley Andreas, 5 and 3
Doris Chen def. Elisabeth Bernabe, 3 and 1
Gyeol Park def. Lindsey Weaver, 2 up
Mariko Tumangan def. Nicole Morales, 3 and 1
Ally McDonald def. Ginger Howard, 19 holes
Victoria Tanco def. Kristen Park, 5 and 3
Stephanie Liu def. Cali Hipp, 7 and 6
Katelyn Dambaugh def. Christina Foster, 4 and 3
• • •
ROUND OF 32
Danielle Kang def. Kelli Oride, 5 and 4
Haley Andreas def. Summar Roachell, 7 and 6
Doris Chen def. Nicole Quinn, 4 and 3
Elisabeth Bernabe def. Mikayla Harmon, 3 and 2
Gyeol Park def. Grace Na, 1 up
Lindsey Weaver def. Brenna Nelsen, 4 and 3
Mariko Tumangan def. Casey Danielson, 4 and 3
Nicole Morales def. Erica Herr, 19 holes
Ginger Howard def. Kendall Martindale, 22 holes
Ally McDonald def. Kyle Roig, 1 up
Victoria Tanco def. Ariya Jutanugarn, 25 holes
Kristen Park def. Mariah Stackhouse, 1 up
Cali Hipp def. Megan Khang, 21 holes
Stephanie Liu def. Soobin Kim, 3 and 2
Christina Foster def. Yueer Feng, 2 up
Katelyn Dambaugh def. Giovana Maymon, 2 and 1
• • •
ROUND OF 64
Danielle Kang def. Alejandra Cangrejo, 1 up
Kelli Oride, Collins Bradshaw, 19 holes
Summar Roachell def. Karen Chung, 19 holes
Haley Andreas def. Jaye Marie Green, 2 and 1
Doris Chen def. Jisoo Keel, 2 and 1
Nicole Quinn def. Jordan Lippetz, 1 up
Elisabeth Bernabe def. Veronica Valerio, 3 and 2
Mikayla Harmon def. Shelby Phillips, 1 up
Gyeol Park def. Mariana Sims, 2 and 1
Grace Na def. Katie Lee,1 up
Lindsey Weaver def. Beverly Vatananugulkit, 1up
Breanna Nelsen def. Lindo Luo, 6 and 4
Mariko Tumangan def. Marissa Dodd, 8 and 6
Casey Danielson def. Brooke Henderson, 1 up
Erica Herr def. Lindsay McGetrick, 1 up
Nicole Morales def. Shawnee Martinez, 4 and 3
Ginger Howard def. Hannah Sodersten, 1 up
Kendall Martindale def. Sierra Sims, 5 and 3
Ally McDonald def. Kaitlin Park, 2 and 1
Kyle Roig def. Paveenuch Sritragul, 4 and 3
Ariya Jutanugarn def. Cinday Ha, 1 up
Victoria Tanco def. Gabriella Then, 20 holes
Kristen Park def. Alexandra Newell, 4 and 3
Mariah Stackhouse def. Tiffany Lim, 1 up
Megan Khang def. Emily Wright, 2up
Cali Hipp def. Erynne Lee, 4 and 3
Stephanie Liu def Maddie Szeryk, 4 and 3
Soobin Kim def. Lili Cammisa, 3 and 2
Yueer Feng def. Kailey Walsh, 4 and 3
Christina Foster def. Maia Schechter, 6 and 5
Giova Maymon def. Emma Talley, 2 and 1
Katelyn Dambaugh def. Daniela Ordonez, 4 and 3
Golfweek.com readers: We value your input and welcome your comments, but please be respectful in this forum.
---
---
---
---
---
---
---
---
---
---
---
---
---
---
---
---
---
---
---
---
---