Junior Boys
Liu, 14, becomes youngest U.S. Junior champ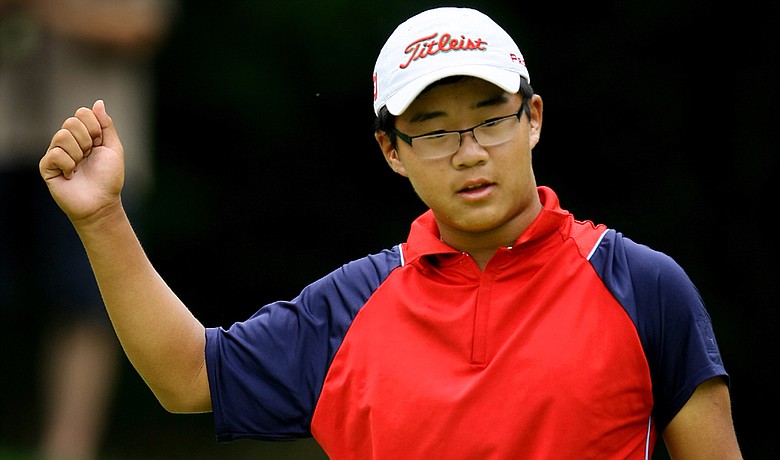 Saturday, July 24, 2010
---
• Complete Coverage | Blog Jr. | Follow via Twitter: @GolfweekMag, @Golfweek_Lavner
---
---
Podcast
Jim Liu and Doris Chen describe what it feels like to be U.S. Junior champions.
---
ADA, Mich. – One of the first calls Yiming Liu placed was to John Anselmo, the aging golf pro in southern California made famous – in golf circles, at least – for his early work with Tiger Woods. 
That brief message, moments after his son's breakthrough victory: "Jim just broke your student's record."
Fourteen-year-old Jim Liu became the youngest U.S. Junior Amateur champion in history Saturday, beating Justin Thomas, 4 and 2, in a near-flawless 36-hole performance at Egypt Valley Country Club. That he beat Thomas, one of the most promising up-and-coming juniors, was reason enough to rejoice. That he supplanted Tiger Woods as the youngest player to win the Junior Amateur proved even more satisfying.
"I never thought I'd be able to do this," said Liu, of Smithtown, N.Y. "Things started to click for me when I got here, and it just happened to be my year."
Nineteen years ago, when he won his first of three consecutive U.S. Junior titles, Woods was working closely with Anselmo, the club pro at Meadowlark Golf Club in Huntington Beach, Calif. Anselmo, now 89, is the man tabbed to monitor and improve Liu's game.
When he has a weeklong break from school, or when the snow on Long Island piles up too high to practice, Liu takes a cross-country flight to visit Anselmo. They work together, on the same range, only three or four times a year, then chat occasionally by phone.
Surely, the lessons learned have been put to good use. And now the kid they call Slim Jim has hoisted the most significant trophy in junior golf.
"I think he's going to be real proud of me," said Liu, who at 14 years, 11 months, 15 days, beat Tiger Woods' previous mark by more than seven months. "We've been working real hard and it's finally paid off."
With remarkable precision with his long game and a deft touch around the greens, Liu conquered the most grueling test in junior golf – a six-day, 162-hole battle royale while sloshing around rain-drenched Egypt Valley. 
It was a championship that began so innocuously for Liu, who earned a middling seed of 27th after rounds of 72-72 in stroke-play qualifying. Once match play got under way, and once the top seeds tumbled off the scoring tree, Liu began his quest in earnest, cruising to easy victories, including an 8-and-7 thrashing of Davis Womble in the Round of 32, the most lopsided victory of the week. Sure, his draw proved favorable, having no early matches against the likes of red-hot Anthony Paolucci, defending champion Jordan Spieth or stroke-play medalist Curtis Thompson, all of whom were bounced prematurely.
Instead, his most difficult match came against 15-year-old Gavin Hall, the sweet-swinging lefthander who shot a tournament-record 62 in stroke-play qualifying. After defeating Hall, 1 up, only the second time he needed the 18th to close out a match, Liu used five straight birdies on the back nine Friday to storm past unheralded Robby Shelton, who knocked off both Spieth and Paolucci en route to the semifinals.
It was after that rousing display that Thomas, in a post-round interview, proclaimed, "He's a birdie machine. He can just go nuts."
And Liu piles up birdies with such apparent ease.
Predicting the future
• In 2005, Golfweek named a 9-year-old Jim Liu as one its players to watch. Click here to read why.
Taking dead aim at greens softened by a steady rain, Liu overcame an early deficit and made five birdies in a seven-hole stretch around the turn in the morning session Saturday to establish an advantage he never relinquished. That Liu was able to pour in nine birdies in his opening 18 holes, the stroke-play equivalent of a 64, caused no nerve-jangling moments over a lunch of pulled pork and garden salad. That Thomas cut the lead to 1 down at the 31st hole seemed to make little difference, either.
Only when the match drew near its conclusion, on the 34th hole of the day, did Liu break from his typically placid demeanor, as he soaked in applause from gallery members who witnessed an exhibition in both skill and unwavering nerve.
About 500 spectators – everyone from freckle-faced 5-year-olds to 85-year-old women needing wheelchair assistance – lined the fairways and greens, turning out for the nearly 8-hour match, a dazzling display of golf that was equal parts coronation and rebirth.
For Liu, it was his first large-scale, national triumph in what figures to be a career full of them. It was a crowning achievement for a kid who, in 2005, as a 9-year-old, shot 59 in a Plantation Junior Golf Tour event in Orlando, Fla. For a kid who is a four-time winner of the U.S. Kids World Championship, the only player to accomplish such a feat.
---
Photo Gallery
U.S. Junior Amateur (Final match)
Jim Liu held a 3-up lead over Justin Thomas after the rain-soaked first half of the U.S. Junior finals. Liu went on to win 4 and 2 over Justin Thomas.
---
"Step by step, he breaks through," Yimling Liu said. "This is just another milestone step to break through. And every time he does, it just pushes him that much harder."
For Thomas, it was the first time he had moved back into the conversation at a national tournament since his eye-opening performance last summer at the Wyndham Championship, where he became the third-youngest player to make the cut at a PGA Tour event. Making his Junior Amateur debut, after failing to qualify the past two years, Thomas wowed galleries all week with his fearless attitude from even the most precarious position.
Indeed, he scrapped it around on his opening 18 holes Saturday, carding six birdies, shooting the equivalent of a 65, while hitting only four of 14 fairways.
"I played well enough to win," said Thomas, who bogeyed four of his last six holes. "It was just a couple of putts here and there, but I kept up with him, even though it was kind of hard at times. There's not many times you shoot 5 under over your first 18 and you're 3 down."
Thomas stirred the gallery when the afternoon session commenced, driving the green on the 301-yard, par-4 fourth to pick up his second win in four holes to move 1 down. Alas, he never could quite return the match to all square, and wound up trailing the final 25 holes.
The match inspired no sense of finality until the 34th hole, however, after Thomas airmailed the green with his approach and couldn't get up-and-down to save par. At the watery par-3 16th, and likely needing to birdie out to force extra holes, Thomas flared his approach to right, barely clearing the hazard, to card another bogey. He conceded Liu's short-range par putt to end the match.  
"It was unfortunate to get to the finals and not get it done," said Thomas, "but I didn't lose it; I got beat. I can't be upset about that."
A week that began with tempered expectations – Liu merely wanted to reach the match-play quarterfinals to be exempt from qualifying next year – ended with a smooch of the glimmering U.S. Junior Amateur Championship trophy, as his father's video camera rolled from some 50 yards away.
Whether Liu will be in a similar position next July is the only question now. With four more years of eligibility in this championship, it is Liu, not Spieth, who may be the most likely to write his name alongside Tiger's as the only players to win multiple Junior Amateur titles.
In the afterglow of this national championship, however, that seemed to matter little. Liu had a call to make, to a coach who, approaching 90, still hits a few range balls a day and tees it up once a week.
Twenty years later, his new star pupil has captured the most sought-after trophy in junior golf.
---
Video
U.S. Junior: Championship highlights
---
---
Final results from the U.S. Junior Amateur Championship, played July 19-24 at Egypt Valley Country Club in Ada, Mich:
FINAL
Jim Liu def. Justin Thomas, 4 and 2
• • •
SEMIFINALS
Justin Thomas def. Denny McCarthy, 19 holes
Jim Liu def. Robby Shelton, 3 and 2
• • •
QUARTERFINALS
Denny McCarty def. Richard Jung, 19 holes
Justin Thomas def. Scott Wolfes, 2 and 1
Robby Shelton def. Anthony Paolucci, 2 and 1
Jim Liu def. Gavin Hall, 1 up
• • •
ROUND OF 16
Denny McCarty def. Devon Purser, 1 up
Richard Jung def. Ben Warnquist, 3 and 2
Scott Wolfes def. Zachary Wright, 19 holes
Justin Thomas def. Jorge Fernandez Valdes, 2 up
Robby Shelton def. Andrew Lister, 3 and 1
Anthony Paolucci def. Charles Martin, 2 and 1
Gavin Hall def. Jonathan Garrick, 5 and 3
Jim Liu def. Cody Proveaux, 4 and 3
• • •
ROUND OF 32
Denny McCarthy def. Curtis Thompson, 3 and 2
Devon Purser def. Adam Ball, 4 and 2
Richard Jung def. Sam Straka, 5 and 3
Ben Warnquist def. Bryson Dechambeau, 3 and 2
Scott Wolfes def. Aaron Kunitomo, 2 up
Zachary Wright def. Lee McCoy, 1 up
Justin Thomas def. Khaled Attieh, 5 and 3
Jorge Fernandez Valdes def. Cameron Wilson, 2 and 1
Robby Shelton def. Jordan Spieth, 1 up
Andrew Lister def. Stephen Behr, 21 holes
Anthony Paolucci def. Andrew Fogg, 4 and 3
Charles Martin def. Emilliano Grillo, 1 up
Gavin Hall def. Alexander Schauffele, 1 up
Jonathan Garrick def. Charlie Saxon, 3 and 1
Jim Liu def. Davis Womble, 8 and 7
Cody Proveaux def. Oliver Schniederjans, 3 and 2
• • •
ROUND OF 64
Curtis Thompson def. Scottie Scheffler, 3 and 1
Denny McCarthy def. Grayson Murray, 1 up
Devon Purser def. Shugo Imahira, 1 up
Adam Ball def. Marcel Puyat, 4 and 3
Richard Jung def. Max Carter, 3 and 2
Sam Straka def. Brian Jung, 1 up
Ben Warnquist def. Peter Mathison, 5 and 4
Bryson Dechambeau def. William Zalatoris, 4 and 2
Aaron Kuitomo def. Wilson Bateman, 20 holes
Scott Wolfes def. Alberto Sanchez, 1 up
Lee McCoy def. J. D. Tomlinson, 1 up
Zachary Wright def. Matthew Mabrey, 1 up
Justin Thomas def. Andrew Ariens, 5 and 3
Khaled Attieh def. Branson Davis, 1 up
Jorge Fernandez Valdes def. Bobby Wyatt, 3 and 2
Cameron Wilson def. Kevin Lee, 6 and 5
Jordan Spieth def. Chelso Barrett, 7 and 5
Robby Shelton def. Ben Crancer, 3 and 2
Andrew Lister def. David Flynn, 7 and 5
Stephen Behr def. Justin Keiley, 2 and 1
Andrew Fogg def. Wyndham Clark, 1 up
Anthony Paolucci def. Dan Slavin, 3 and 1
Emiliano Grillo def. Nicholas Scott, 5 and 3
Charles Martin def. Anton Arboldea, 2 and 1
Gavin Hall def. Brandon Ng, 3 and 2
Alexander Schauffele def. David Lee, 19 holes
Jonathan Garrick def. Michael Bernard, 3 and 2
Charlie Saxon def. Kyle Kochevar, 4 and 3
Davis Womble def. Joey Petronio, 1 up
Jim Liu def. Peter Kim, 2 up
Cody Proveaux def. Austin Smotherman, 7 and 6
Oliver Schniederjans def. McCabe Buege, 1 up
Golfweek.com readers: We value your input and welcome your comments, but please be respectful in this forum.
---
---
---
---
---
---
---
---
---
---
---
---
---
---
---
---
---
---
---
---
---