Staff picks: Women's British Open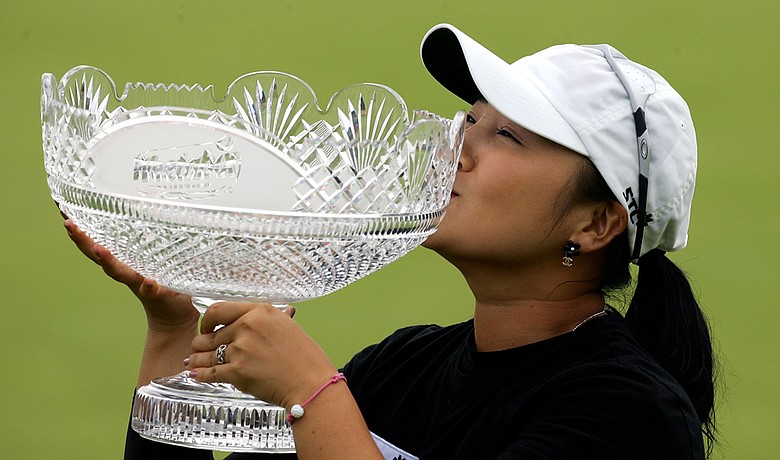 Wednesday, July 28, 2010
Ricoh Women's British Open
Site: Southport, England
Courses: Royal Birkdale Golf Club (6,465 yards, par 72)
Purse: $2.5 million
Winner's share: $398,254
Winner: Na Yeon Choi. After missing the cut in her first LPGA event at the Wegmans LPGA Championship last month, Choi has gone 1-2-2 in her last three events. Those who follow the tour closely have watched Choi's progress with great interest, noting her incredible consistency. She tied for second at Oakmont, one of the toughest tracks the tour has seen, and seems due for a major.
Sleeper: Azahara Munoz. Spanish rookie has impressed thus far, finishing T-11 and T-19 in her two major starts. She's tied for fourth on the tour in greens hit and first in rookie points. The 2009 British Amateur champ won her first start as a pro on the LET, so don't expect her to get unnerved.
• • •
Winner: Jeong Jang. She won around this course five years ago and hasn't won since. She's due. Royal Birkdale can rekindle that winning feeling. An eighth-place finish at Evian last week shows she has some form coming into the championship.
Sleeper: Melissa Reid. The 22-year-old English player is Britain's next big hope. She has won once this season, the Turkish Airlines Ladies Open, and also has a second. She was the leading amateur in this championship three years ago at St. Andrews, and has a good chance to win her first major this week.
The Women's British Open field based on the Golfweek/Sagarin Performance Index:
1. Suzann Pettersen
2. Jiyai Shin
3. Song-Hee Kim
4. Cristie Kerr
5. Na Yeon Choi
6. Yani Tseng
8. Ai Miyazato
9. Angela Stanford
10. Karrie Webb
11. Morgan Pressel
12. Paula Creamer
13. Sakura Yokomine
14. Michelle Wie
15. Anna Nordqvist
16. Sun-Ju Ahn
17. Inbee Park
18. Catriona Matthew
19. Amy Yang
20. Maria Hjorth
21. In-Kyung Kim
22. Chie Arimura
23. Azahara Munoz
24. Kristy McPherson
25. Momoko Ueda
29. Sophie Gustafson
30. Sun Young Yoo
31. M.J. Hur
33. Brittany Lincicome
34. Jeong Jang
35. Na On Min
36. Katherine Hull
38. Brittany Lang
39. Seon-Hwa Lee
40. Stacy Lewis
42. Jee Young Lee
43. Hee-Won Han
44. Stacy Prammanasudh
45. Juli Inkster
47. Hee Young Park
48. Karen Stupples
50. Meena Lee
52. Amanda Blumenherst
53. Shanshan Feng
54. Candie Kung
56. Paige Mackenzie
57. Christina Kim
59. Chella Choi
60. Lindsey Wright
61. Natalie Gulbis
62. Sherri Steinhauer
64. Heather Bowie Young
67. Laura Davies
68. Alena Sharp
69. Rui Kitada
70. Jennifer Rosales
72. Karine Icher
74. Vicky Hurst
76. Jimin Kang
79. Eun-Hee Ji
80. Katie Futcher
81. Sandra Gal
82. Pat Hurst
83. Soo-Yun Kang
85. Kyeong Bae
89. Akane Iijima
90. Jane Park
91. Sarah-Jane Smith
92. Teresa Lu
94. Mika Miyazato
95. Kris Tamulis
97. Giulia Sergas
99. Haeji Kang
100. Melissa Reid
102. Amy Hung
103. Helen Alfredsson
106. Wendy Ward
111. Iben Tinning
116. Allison Hanna
117. Janice Moodie
118. Eunjung Yi
119. Meaghan Francella
120. Moira Dunn
123. Mindy Kim
124. Kristie Smith
126. Pernilla Lindberg
127. Karin Sjodin
129. Becky Brewerton
132. Ji-Young Oh
134. Gwladys Nocera
137. Sarah Lee
142. Irene Cho
144. Beatriz Recari
145. Carin Koch
147. Maria Hernandez
153. Jade Schaeffer
156. Marianne Skarpnord
160. Julieta Granada
166. Lisa Meldrum
168. Trish Johnson
170. Lee-Anne Pace
174. Anja Monke
179. Ashleigh Simon
186. Rebecca Coakley
187. Virginia Lagoutte- Clement
195. Veronica Zorzi
212. Florentyna Parker
214. Linda Wessberg
216. Christel Boeljon
217. Caroline Afonso
221. Louise Friberg
222. Jean Reynolds
225. Mollie Fankhauser
229. Misun Cho
235. Karen Lunn
258. Libby Smith
264. Krystle Caithness
268. Silvia Cavalleri
269. Frances Bondad
273. Malene Jorgensen
279. Nina Reis
283. Anne-Lise Caudal
285. Stacy Bregman
307. Vikki Laing
315. Sophie Giquel
341. Lynnette Brooky
355. Georgina Simpson
366. Lynn Kenny
383. Karen Margrethe Juul
412. Martina Gillen
478. Melodie Bourdy
N/R. a-Amy Boulden
N/R. a-Caroline Hedwall
N/R. Mi Hyun Kim
N/R. Diana Luna
N/R. Matia Maffuletti
N/R. Caroline Masson
N/R. a-Danielle McVeigh
N/R. Stephanie Michi
N/R. Sophie Sandolo
N/R. Hee-Kyeong Seo
N/R. a-Kelly Tidy
N/R. Mariajo Uribe
N/R. a-Julie Yang
N/R. Henrietta Zuel
Golfweek.com readers: We value your input and welcome your comments, but please be respectful in this forum.
---
---
---
---
---
---
---
---
---
---
---
---
---
---
---
---
---
---
---
---
---