Notes: Inkster, 50, impressive in poor weather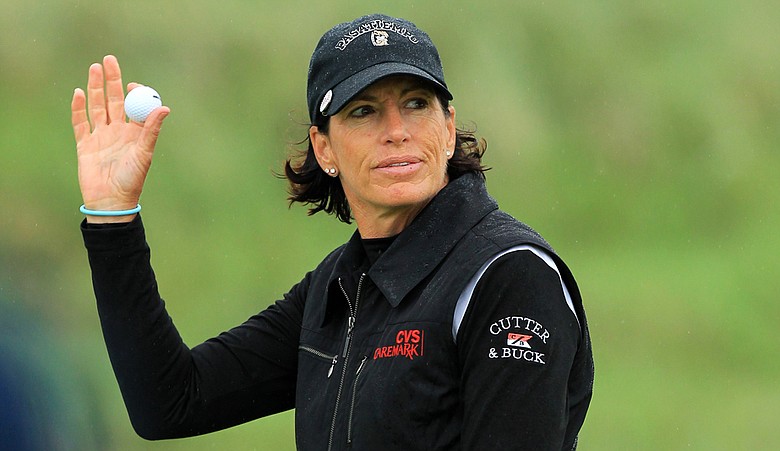 Friday, July 30, 2010
SOUTHPORT, England – Yani Tseng may hold the 36-hole lead, but I think the best effort of the two days belongs to Juli Inkster. She is 3-under par, five shots off the lead, but she's been unlucky with the draw. Inkster played in the worst conditions on Thursday, and got equally bad weather on Friday. Yet she fashioned rounds of 71-70. She is my leader in the clubhouse on the seasonally adjusted figures.
• • •
OUT OF THE ELEMENTS: There is one way to escape the rain that seems to plague the Women's British Open every other year – hold the tournament somewhere warm!
• • • 
GIVING US ALL HOPE: Catriona Matthew might want to forget her second-round 81, but it gave hope to hackers everywhere, especially the double-figure score she made on the 13th hole. The defending champion made a 10 on the par-4 13th, after several swipes to try to get her ball out of deep rough. No doubt she went through what all of us have gone through in the past, indulging in mental math to try to add up the score.
• • •
MISSING IN ACTION: Christina Kim played in the final group last year when Matthew won, but she hasn't been playing in final pairings since then. The reason? "I've been in hiding," Kim said in her own inimitable fashion. "I've been struggling with the flat stick. When you're hitting 15, 16 greens and you look like a 5-year-old on the putting green, you're not going to see yourself on top."
• • • 
COULD YOU ELABORATE, PLEASE? From quote machine Kim, we turn to Anne-Lise Caudal, maybe the dullest interview I've ever heard. The French player isn't exactly effusive. Just the opposite. After a 69 in Round 1, Caudal was asked into the interview room. That's when she proved she doesn't have a big future as a talk-show host. Of the 21 questions, Caudal gave a one-word answer to seven of the them. Even when she said more, she didn't give much away. I could have sworn I was listening to Lee Westwood.
• • •
BIRKDALE OR HILLSIDE? That's a question that comes up a lot in these parts, as in, which is better? Many think nearby Hillside is better. I think Royal Birkdale just shades it since both nines on the Open venue are pretty good. However, it's hard to find a better back nine than Hillside, which Greg Norman called "the best back nine in Britain." One thing's for sure – the views from Hillside are better, especially from the 17th tee.
• • •
THE 'WHAT' OPEN? They might want to drop the "British" from the Women's British Open and call it something else. Only 15 Brits made the field, and as I sit here late in the second round, it looks as though only six might get through to the weekend. There are lots of Koreans, though. Maybe the Women's Korean Open is going a bit too far. How about the Women's International Open?
Golfweek.com readers: We value your input and welcome your comments, but please be respectful in this forum.
---
---
---
---
---
---
---
---
---
---
---
---
---
---
---
---
---
---
---
---
---