College Women
Hedwall, Brouse earn Golfweek honors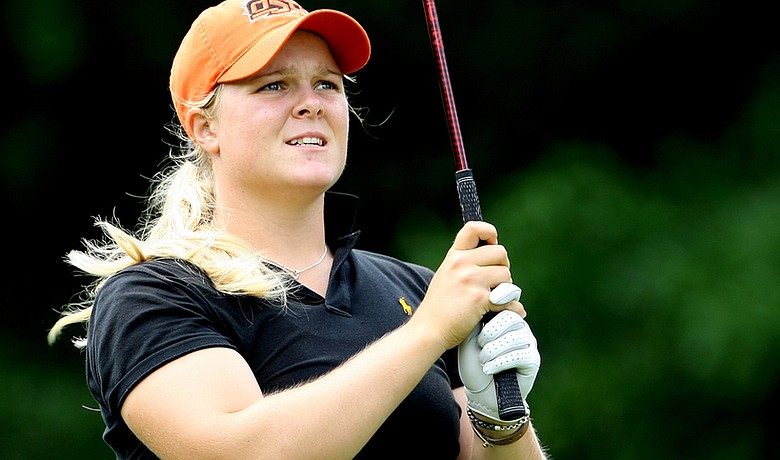 Wednesday, June 2, 2010
Caroline Hedwall and Devon Brouse are doing more than their share in putting the Midwest on the college golf map.
Hedwall rose to national stardom May 21, becoming the first Oklahoma State women's player to win the NCAA individual title. Meanwhile, Brouse solidified his reputation by bringing a national championship to Purdue.
For their efforts this season, Hedwall is 2009-10 Golfweek's Player of the Year, and Brouse is Golfweek's Coach of the Year.
Hedwall, the Big 12 Player of the Year in each of the past two seasons, has six victories in her two-year career. This spring, she won four of eight events, including an eight-shot victory at the Big 12 Championship.
Hedwall was 25 under par in her 12 starts, and her 12-under 276 at the national championship tied the NCAA scoring record set in 1983 by Miami's Penny Hammel.
"It just feels like a great way to finish my college career," said Hedwall, a Swede who plans to turn pro later this year. "That was my goal coming into the tournament."
Brouse has led the Boilermakers to the NCAA finals every year since 2000. The team picked up two victories in the fall, then won its third consecutive Big Ten Conference title. Brouse (who completed his 12th season at Purdue, also was Golfweek's top coach in 2006. He coached at North Carolina for 20 years. Brouse also coached last year's NCAA individual champion, Maria Hernandez.
Brouse takes a hands-on approach to coaching, particularly in giving his players feedback.
"Just being able to call it like it is, and be straight up with the players and be frank and open and honest is what you have to (do) to be a good coach and be effective," he said.
Golfweek's All-Americans
First team
Caroline Hedwall (So.), Oklahoma State
Cydney Clanton (Jr.), Auburn
Jennifer Song (So.), USC
Jodi Ewart (Sr.), New Mexico
Marina Alex (So.), Vanderbilt
Jennifer Johnson (Fr.), Arizona State *
Stephanie Kono (So.), UCLA
Juliana Murcia (Sr.), Arizona State
Maude-Aimee LeBlanc (Jr.), Purdue
Carlota Ciganda (So.), Arizona State
Second team
Lizette Salas (Jr.), USC
Camilla Lennarth (Jr.), Alabama
Marta Silva Zamora (So.), Georgia
Lindy Duncan (Fr.), Duke *
Sydnee Michaels (Sr.), UCLA
Nathalie Mansson (So.), Tennessee
Margarita Ramos (So.), Arizona
Megan McChrystal (Jr.), LSU
Danielle Kang (Fr.), Pepperdine *
Laura Kueny (Sr.), Michigan State
Third team
Kelli Shean (Jr.), Arkansas
Jennifer Kirby (Fr.), Alabama *
Jaclyn Sweeney (Jr.), Arizona State
Cheyenne Woods (So.), Wake Forest
Tiffany Lua (Fr.), UCLA *
Joanne Lee (So.), California
Brittany Altomare (Fr.), Virginia
Numa Gulyanamitta (Jr.), Purdue
Julia Boland (Sr.), Texas A&M
Emilie Burger (Fr.), Georgia
Honorable mention
Sally Watson (Fr.), Stanford
Victoria Park (Fr.), Oklahoma State
Belen Mozo (Sr.), USC
Brooke Pancake (So.), Alabama
Kimberly Kim (Fr.), Denver
Sara-Maude Juneau (Jr.), Louisville
Candace Schepperle (Sr.), Auburn
Calle Nielson (Jr.), Virginia
Lisa McCloskey (So.), Pepperdine
Tessa Teachman (So.), LSU
Katie Burnett (So.), South Carolina
Isabelle Boineau (So.), Arizona
Sherlyn Popelka (Fr.), Arizona
Kayla Mortellaro (So.), Idaho
Michelle Shin (Fr.), Wake Forest
Laura Gonzalez-Escallon (Fr.), Purdue
Stefanie Kenoyer (Jr.), Furman
Kendra Little (Jr.), Oregon
Brianna Do (So.), UCLA
Laura Anderson (Jr.), Louisville
* – All-freshman team
Note: Teams determined by players' order in Golfweek/Sagarin College Rankings
Golfweek.com readers: We value your input and welcome your comments, but please be respectful in this forum.
---
---
---
---
---
---
---
---
---
---
---
---
---
---
---
---
---
---
---
---
---