Hole to watch: No. 6 at Pebble Beach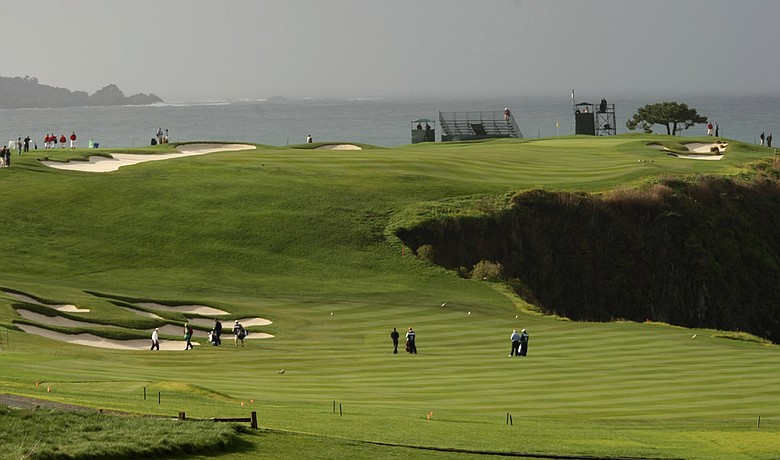 Sunday, June 13, 2010
What's distinctive: Pebble Beach is one of those rare, iconic sports fields that has become more magical and alluring over the years through media exposure. Even with cart paths everywhere, slow play and a $500 green fee, it's lovelier than imagined – and nowhere as much as at the sixth tee, where the course shifts its rhythm from languid to overdrive. From an elevated tee, the hole races downhill to a fairway that recently has been moved to the right to bring the ocean bluff more into play. From there, it's a steeply uphill, daunting blind shot to a green that sits well back of the rise. There's something about a camera lens that can't capture the visual drama of the upslope here. However sheltered the fairway might feel, there often is a solid wind waiting above to fend off an approach – or to blow it right into the ocean.
What to look for: Hit the fairway from the tee and there's a good chance of having a go at the green. The hole usually plays into a crosswind or a headwind, which effectively shrinks the landing area and forces golfers to try to steer the ball – understandably, since the left side bunkering off the tee is extremely punitive and the right side is fatal. In his 2000 U.S. Open victory, Tiger Woods hit one of his epic shots, the kind that few of his peers would even consider. Seemingly in trouble from the tee on the right, he launched a towering 6-iron out of the rough that drew in over the ocean and landed on the green.
Course ranking: No. 8, Golfweek's Best Classic Course list
Golfweek.com readers: We value your input and welcome your comments, but please be respectful in this forum.
---
---
---
---
---
---
---
---
---
---
---
---
---
---
---
---
---
---
---
---
---