Fifty reasons to love 50-year-old Juli Inkster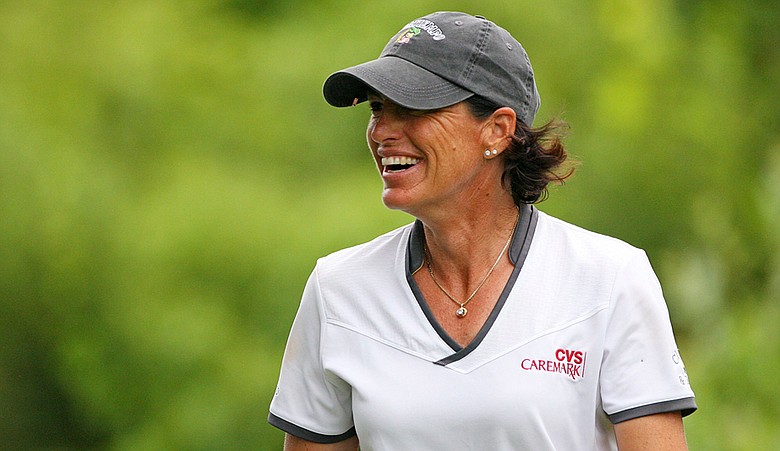 Thursday, June 24, 2010
The incomparable Juli Inkster turned 50 on Day 1 of the LPGA Championship and briefly led the field, finishing at 1-under 71. Earlier in the week, a couple dozen of her closest friends on tour shared an Italian meal with her at the Northside Inn in Rochester, N.Y. They bought her an iPad to keep her hip, not that she needs any help. Then they roasted her.
In honor of her big day, Golfweek gives you 50 reasons why Inkster is widely regarded as one of the most fun and respected players on tour: 
She's notorious for changing the rules if she's not winning – Pat Hurst
She always likes to eat off of your plate – Paula Creamer
Worst dancer you've ever seen, but she thinks she can dance. That's what's so funny about it – Kristy McPherson
Known for her Mick Jagger lips – Rosie Jones
Was serenaded six times by the Wegmans gallery on Thursday.
It was the '08 Ginn Open and I was talking to her about how baggage costs were going up. She asked "What do you fly?" I told her economy. "That's your problem," she said. "Fly first class, play first class." – Katherine Hull
She's inseparable from Pat Hurst. When I think of Juli, I think of Pat – Liz Janangelo
She would never leave her wingman – Hurst
In 1982, became first woman since '34 to win three consecutive U.S. Women's Amateur titles.
Has 31 LPGA victories.
UC-Berkeley won this year's Juli Inkster Spartan Invitational, hosted by her alma mater, San Jose State.
Won back-to-back LPGA Championships in 1999 and '00.
Won 2000 ESPY Award for Outstanding Women's Golf Performer of the Year.
Fantasy football queen. She helped me with (my team): "You got Sidney Rice riding the bench?" – Meaghan Francella
Represented the U.S. eight times in the Solheim Cup, becoming the oldest U.S. player at 49 years, 1 month, 28 days.
Will serve as Rosie Jones' assistant captain at the 2011 Solheim Cup: "I'm not going to play. ... I feel it's time that the younger players get out there and get the experience." – Inkster
One of the first times I saw Juli let loose, she was on a bus leaving the opening ceremony at the Solheim Cup. She grabbed the mic and started singing "You've lost that loving feeling." That's the first time I realized she was crazy – Nicole Castrale
Career-low round of 62 came in the final round of the LPGA Corning Classic.
Last victory came in 2006 at the Safeway International.
She's hitting it as strong as she ever has. She's as strong as a horse. She's never been injured – Jones
Shot final-round 66 to overtake Annika Sorenstam at the 2002 U.S. Women's Open.
Maiden name is Simpson.
Married to Brian, a golf pro, and has two daughters: Hayley (20) and Cori (16).
What she's been able to do being a mom. ... Me and Paula have talked about that a lot – Natalie Gulbis
Even at the Solheim Cup, she's very motherly. She always has the right thing to say – Brittany Lincicome
On Monday, she took her daughter and a friend to the Finger Lakes to go tubing and jet-skiing. She has no problem taking time away – Morgan Pressel
You can't get away with doing anything wrong in front of Juli – Michelle Ellis
Posted lowest scoring average in '99: 70.04
Did you know she's a runner? I hope I can run as much as she does at 50 – Jill McGill
She ordered lobsters from PEI for her husband's birthday. They were supposed to be cooked but they arrived live. She called and asked "How do I kill these?" – Lorie Kane
Notorious for not calling back – Rosie Jones
Won two majors, the Nabisco Dinah Shore and du Maurier Classic, as a rookie in 1984.
Named Rookie of the Year in 1984, when she finished sixth on the money list with $186,501.
Finished seventh on the money list in '06 and earned $1,326,442.
I've always said she's the most competitive person I know. In 2003, she tackled me on a football field. It was a game of touch – Angela Stanford
When you room with Juli, she pretty much takes over the entire room – Wendy Ward
She's extremely messy – Helen Alfredsson
She doesn't act like she is 50 years old. She acts like she is one of us – Stacy Lewis
I really don't even go to a store anymore – my daughters just pick clothes out and bring them home and say put them on – Inkster
Ranks third on the career money list with $12,830,680.
Owns seven major titles.
I'm trying to think of this as a major because when it's not a major, I play like crap here. ... I bet if you guys were to look up all of my missed cuts, I would say this tournament (Wegmans) is the most, bar none – Inkster
When I was a little girl, my dad used to tell me not to think. On the first tee at the Solheim Cup, I told her 'don't think.' She said that's some of the best advice she'd had in a long time – Judy Rankin
Became only the second player to complete the modern-day LPGA Career Grand Slam in 1999, joining Pat Bradley – Annika Sorenstam and Karrie Webb followed her.
I know I'm not going to be Player of the Year, and I know I'm not going to be No. 1. But you know what? I have a lot of good friends out here. I love to play golf. – Inkster
The first time I met her, I was 8 years old and she was playing in a charity event in Fort Wayne, Ind. She let me hit her ball over the water on the sixth hole – Amanda Blumenherst
She probably was one of those people - besides Nancy Lopez - who was one of my idols – Cristie Kerr
Inducted into the World Golf Hall of Fame on Nov. 20, 2000.
If I could be half of Juli, I'd be pretty successful and very well-liked – Lincicome
I remember when my dad was 50. I thought he was old – Inkster
Golfweek.com readers: We value your input and welcome your comments, but please be respectful in this forum.
---
---
---
---
---
---
---
---
---
---
---
---
---
---
---
---
---
---
---
---
---