Holmes spots Tiger on Isleworth range, too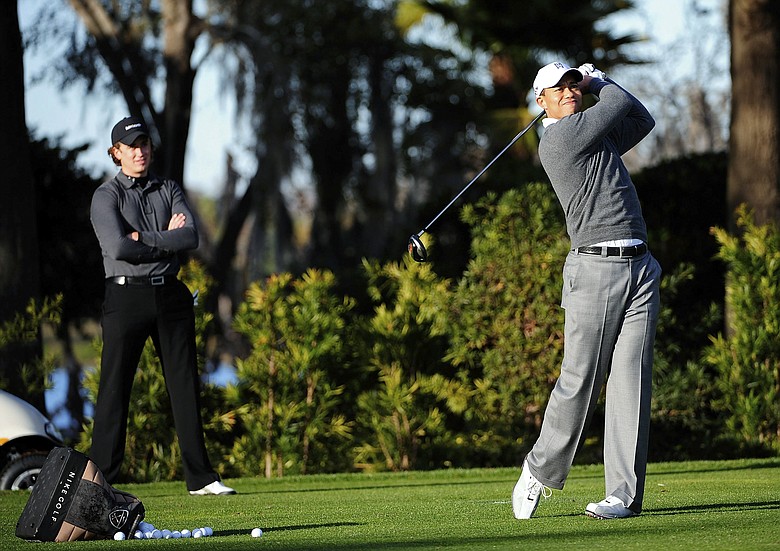 Monday, January 31, 2011
PALM BEACH GARDENS, Fla. – Charles Howell III isn't the only PGA Tour player who has hit balls on the Isleworth Country Club range at the same time as Tiger Woods the last couple of days.
Long-hitting J.B. Holmes stopped to watch, as well.
Reader poll
Tavistock Cup (March 22-23)

26%

Arnold Palmer Invitational (March 25-28)

34%

Masters (April 8-11)

17%

Another event this year

10%

He will not return in 2010

13%
2041 total votes.
"I watched him hit about five or six drivers, and it looked like they all ended up in a 10-yard area," Holmes told Golfweek on Wednesday at the Honda Classic, referring to a Tuesday practice session. "I said to myself, 'It looks like he's hitting it pretty good.' "
Holmes said he was hitting on the far end of the range from Woods and didn't speak with the World No. 1 golfer. "The guy has enough people talking to him," said Holmes, a member of the 2008 U.S. Ryder Cup team.
Woods returned home to Windermere, Fla., on the weekend after a week in Arizona getting more therapy. He has been hitting balls on his home range, leading to speculation that he could return to competition sooner than later. Woods hasn't played since a Thanksgiving accident that spiraled into a revelation of numerous extramarital affairs.
Howell said he hit balls near Woods on Monday and talked with him.
"Honestly, he looked as good as he ever has," Howell told CBSSports.com. "Seriously, he seemed like he was hitting it the same as he ever did."
Howell, though, said he didn't ask Woods when he'd return. "Look, I am as curious as anybody about when he is going to play," Howell said. "But I didn't want to ask him about that. I just couldn't."
Asked to comment further Wednesday, Howell declined, saying, "I'm not talking about him. I'm not going to talk about it anymore."
Golfweek.com readers: We value your input and welcome your comments, but please be respectful in this forum.
---
---
---
---
---
---
---
---
---
---
---
---
---
---
---
---
---
---
---
---
---