A putting aid to help with speed on greens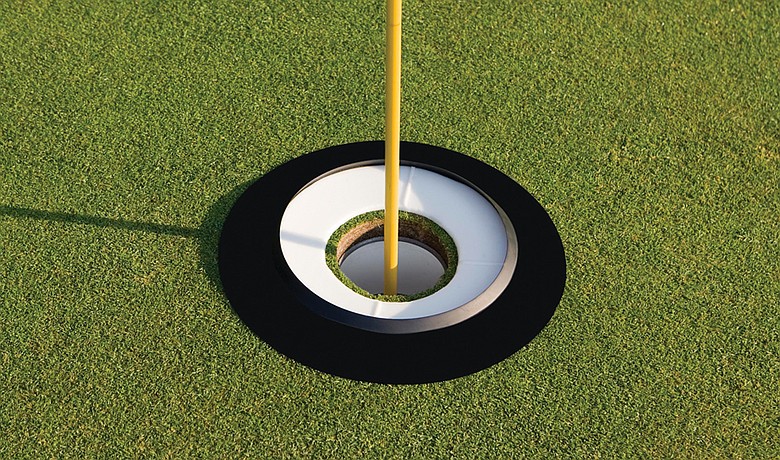 Tuesday, March 16, 2010
INDIO, Calif. – I just played an 18-hole round of golf on a fabulous golf course, but I can't post the score.
Why? Because on every green I aimed at an enlarged cup – a large, eye-catching, rubber target called the Big Cup.
So what's up here? The Big Cup is placed on top of a regulation cup and essentially doubles the size of the hole. It conclusively demonstrates the influence of putting on the final score, and it also serves as a wonderful practice aid for lag putting.
---
Podcast
James Achenbach previews three putting aids, which are fun, affordable and can help your game.
---
I played at The Plantation Golf Club here in Indio with Rob O'Loughlin, inventor of the Big Cup. Also joining us was my good friend Chuck Carroll, who works at PGA Tour events for the Darrell Survey as a golf equipment surveyor.
O'Loughlin flew to the desert after a winter in Madison, Wisc., so he couldn't hit the side of a barn with a 20-foot putt. Meanwhile, Carroll plays right-handed and hits 300-yard drives, but he putts left-handed and can't make a six-foot putt.
So I emerged as the champion putter of the day. Where was the R & A's Peter Dawson with my Claret Jug, anyway?
At the PGA Merchandise Show in late January, O'Loughlin tried to give one of the Big Cups to Dawson, who regards O'Loughlin with the same suspicion he would direct at, say, a venomous snake.
O'Loughlin is the man who almost singlehandedly convinced the USGA and R & A to approve the use of distance measuring devices in amateur golf. In the process, O'Loughlin, the modernist, got to know Dawson, the traditionalist, quite well.
As founder of Laser Link, a rangefinder manufacturer, O'Loughlin is always looking ahead to new technological developments in golf. In the case of the Big Cup, though, he took a step backward.
Enlarged cups have been tried before. They have even been used in professional tournaments. They never caught on.
For O'Loughlin, the Big Cup is a practice device. Yes, it can easily be used on the course, but its greatest value probably comes on the practice putting green.
Lagging a long putt to a regulation cup can be an imprecise exercise. Using the Big Cup, the target looks immense. It provides a much improved sense of distance.
The Big Cup is circular with a pronounced rubber ridge all the way around. It has a hole in the middle and is placed right on top of a standard cup.
A ball must have enough speed to climb over the ridge, but not so much speed that it rolls over the ridge on the opposite side. O'Loughlin says he designed the cup to accept what is known as Dave Pelz optimal speed – the speed at whcih a missed putt would go 15 to 18 inches past the cup.
Pelz, the noted putting instructor, has been spreading this speed message for years. The Big Cup, according to O'Loughlin, helps reinforce the theory.
Playing an 18-hole round with the Big Cup changes the game dramatically. I holed a 16-foot birdie putt on the first green and a 45-foot birdie putt on the third green. Suddenly I was 2-under-par, and in real life I am never 2-under-par.
We found ourselves trying to sink every long putt and every chip shot. It was fun.
The Big Cup is widely available in golf shops and retail outlets. Its suggested retail price is $27.95, although it can be purchased for $19.95.
As a change of pace and as a putting aid, I wholeheartedly recommend it.
Golfweek.com readers: We value your input and welcome your comments, but please be respectful in this forum.
---
---
---
---
---
---
---
---
---
---
---
---
---
---
---
---
---
---
---
---
---