Woods to face golf media Masters Monday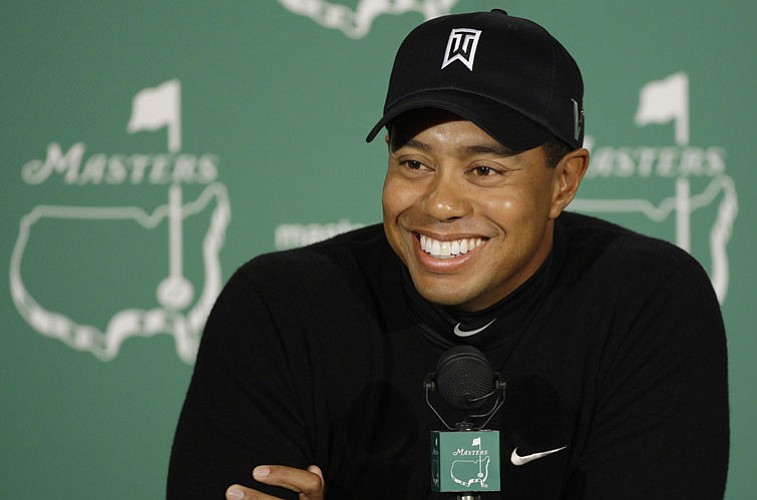 Wednesday, March 24, 2010
Tiger Woods will speak before he plays in the Masters.
Woods is scheduled to hold his first press conference in nearly five months at 2 p.m. on Monday, April 5, according to a tentative interview schedule that Augusta National released Wednesday.
Reader poll
Yes

25%

No

73%

Undecided

2%
975 total votes.
It will be his first news conference in nearly five months, and his first time facing a room full of reporters since he crashed his SUV into a tree on Nov. 27, setting off shocking revelations of rampant infidelity.
The Masters only recently began conducting a press conference on Monday of tournament week, usually a player with only moderate news interest because most of the media isn't there yet.
Woods is the only player scheduled for an interview that day. Given the sensational nature of his downfall, what he says could trump the NCAA basketball championship game held later that night.
"Our focus that Monday will be on crowning the next national champion," NCAA spokesman Erik Christianson said.
Arnold Palmer, one of the most popular players in golf history, suggested that Woods be more open with reporters.
"It's up to him to do and say whatever he feels he needs to do to redeem the situation, put it in the proper place," Palmer said. " ... I suppose the best thing he could do would be open up and just let you guys shoot at him. And that's just my thought."
The last time Woods held a press conference was Nov. 15 after he won the Australian Masters in Melbourne for his 82nd career victory. His middle-of-the-night accident occurred 12 days later.
Woods typically has his press conference at the majors on Tuesday.
Among those scheduled to speak the day after Woods are Phil Mickelson, Geoff Ogilvy and Jack Nicklaus.
The full Masters pre-tournament interview schedule is below:
Monday, April 5
Tuesday, April 6
9 a.m. Raymond Floyd
10 a.m. Padraig Harrington
11 a.m. Stewart Cink
Noon Angel Cabrera
12:30 p.m. Chang-won Han
2 p.m. David Duval
2:30 p.m. Phil Mickelson
3:30 p.m. Steve Stricker
4 p.m. Geoff Ogilvy
4:30 p.m. Matteo Manassero
5:00 p.m. Jack Nicklaus
Wednesday, April 7
12:30 p.m. William Porter Payne, chairman, Augusta National Golf Club and the Masters Tournament
Golfweek.com readers: We value your input and welcome your comments, but please be respectful in this forum.
---
---
---
---
---
---
---
---
---
---
---
---
---
---
---
---
---
---
---
---
---