College Women
NCAA Women's Championship preview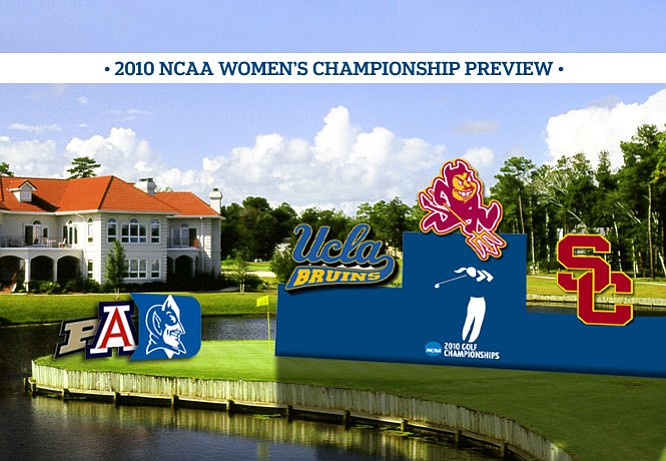 Friday, May 14, 2010
---
• Complete coverage | Twitter: @collegegolf | Facebook: Lance Ringler's College Golf Page
---
Staff picks
When: May 18-21
Where: Country Club of Landfall, Wilmington, N.C.
Who: Nine of the top 10 teams in the Golfweek/Sagarin College Rankings. Only No. 10 Wake Forest is absent.
Scoop: Arizona State will look to defend its title from last year, and should be fired up after losing by eight shots to USC at the Central Regional and having to withdraw from the team competition at Pac-10s when illness hit two team members. UCLA ended the regular season with two wins, and USC is fresh off a win at the Central Regional. East Coast teams may have an advantage. Alabama, the SEC champion, and Auburn, never a team to count out after two wins this year, are much closer to home, and Duke will be playing in its home state. Don't forget the Blue Devils won the NCAA Fall Preview in October, with Auburn finishing runner-up.
Short Shots: Pepperdine proved itself as a contender early in the week at the East Regional, before faltering down the stretch as conditions got tough. The Waves recorded a combined five double bogeys or higher on the front nine – where wind gusts made for a difficult scoring day – and fell to seventh . . . . Under the direction of first-year head coach Ria Quaizon, Oregon will play in its first NCAA Championship in 10 years . . . Nine teams in the 24-team field will make a cross-country trek to Wilmington. Only Duke is playing in its home state.
Who can beat the Big 3?: Arizona enters the NCAA Championship with the most momentum after winning the Pac-10 Championship and the West Regional. After beating the "Big 3" at Pac-10s, it's entirely possible the Wildcats could do it again at the national championship. Duke also enters the picture not just because of its history of postseason success, but also because of its win at the NCAA Fall Preview. The Blue Devils staged an impressive comeback from a mediocre first round at the East Regional with a 10-under 278 in Round 2 – their best 18-hole score of the season.
Purdue, which will be playing in its 11th consecutive national championship, also can contend for the title. The Boilermakers finished third at the Central Regional, rebounding with their lowest score in the final round when temperatures dropped near 40 degrees and the wind picked up. Don't forget Purdue's record-breaking performance at the Big Ten Championship. This team can fight.
Solo act: Arizona State's Carlota Ciganda, the two-time Pac 10 champion, has a shot at NCAA finals glory, as do USC's front-women, Jennifer Song and Lizette Salas. Oklahoma State's Caroline Hedwall, Golfweek's top-ranked player who has collected four victories this year, also has the game. Pepperdine's Danielle Kang is young – she graduated high school a semester early to join the Waves' lineup – but won the first tournament she entered this spring (the Bruin/Wave Invitational) and was sixth at the East Regional.
Fun fact: San Jose State is the lowest-ranked team to advance to the NCAA Women's Championship at No. 39 in the Golfweek/Sagarin College Rankings. It's the first time since 2001 the Spartans have attended the NCAA finals. The lowest-seeded team to advance out of a regional was Kent State at No. 14. The Golden Flashes qualified out of the Central Regional by a shot, and were led by individual medalist Martina Gavier.
• • •
Note: Golfweek/Sagarin College Rankings in parenthesis.
Field:
UCLA (1)
Arizona State (2)
Southern California (3)
Arizona (4)
Auburn (5)
Alabama (6)
Purdue (7)
Duke (8)
Pepperdine (9)
Virginia (11)
Tennessee (12)
Stanford (13)
Vanderbilt (18)
New Mexico (20)
Florida State (22)
Texas A&M (23)
TCU (25)
South Carolina (26)
Tulane (27)
Oklahoma State (28)
Texas (30)
Oregon (32)
Kent State (34)
San Jose State (39)
Marta Silva Zamora, Georgia (11)
Kimberly Kim, Denver (35)
Megan McChrystal, LSU (23)
Ellen Mueller, Oklahoma (61)
Nina Muehl, East Tennessee State (152)
Rosalyn Kim, Texas Tech (182)
Golfweek.com readers: We value your input and welcome your comments, but please be respectful in this forum.
---
---
---
---
---
---
---
---
---
---
---
---
---
---
---
---
---
---
---
---
---