College Women
Hedwall named NGCA Player of the Year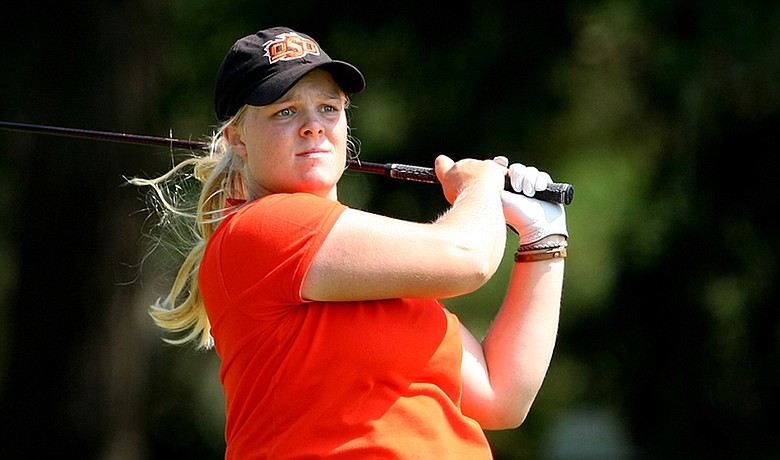 Monday, May 24, 2010
---
• Complete coverage | Twitter: @collegegolf | Facebook: Lance Ringler's College Golf Page
---
---
Podcast
Oklahoma State sophomore Caroline Hedwall and Purdue coach Devon Brouse explain what it feels like to be a national champion.
---
Caroline Hedwall was named Player of the Year by the National Golf Coaches Association. The sophomore from Oklahoma State won the NCAA Women's Championship on May 21 at the Country Club of Landfall. Hedwall posted a 276 total to tie the NCAA scoring record with her 12-under score.
Hedwall won four of her eight starts during the spring season and did not finish outside the top 4 during that stretch. She finished the year with five victories.
Hedwall also won the Golfstat Cup, which is given annually to the player who has the best scoring average. She finished the year with a 71.14 stroke average to shatter the school's single-season scoring mark she set last year. Hedwall finished under par in seven of her 12 starts this year.
Hedwall, twice the Big 12 Player of the Year, is he first Cowgirl to garner national player of the year honors.
Ping NGCA Division I Player of the Year
Caroline Hedwall, Oklahoma State
NGCA Division I Freshman of the Year
Jennifer Johnson, Arizona State
Golfstat Cup
Caroline Hedwall, Oklahoma State
Dinah Shore Trophy Award
Katie Detlefsen, Central Florida
NGCA Division I Kim Moore Spirit Award
Sarah Bradley, Kent State
Edith Cummings Munson Golf Award
Juliana Murcia, Arizona State
Division I SkyCaddie NGCA National Coach of the Year
Division I SkyCaddie NGCA Regional Coaches of the Year
East Region: Mic Potter, Alabama
Central Region: Devon Brouse, Purdue
West Region: Carrie Forsyth, UCLA
NGCA Assistant Golf Coach of the Year
Susan Rosenstiel, Alabama
NGCA Division I All-American Teams
First Team
Marina Alex, Vanderbilt
Carlota Ciganda, Arizona State
Cydney Clanton, Auburn
Lindy Duncan, Duke
Jodi Ewart, New Mexico
Caroline Hedwall, Oklahoma State
Jennifer Johnson, Arizona State
Stephanie Kono, UCLA
Juliana Murcia, Arizona State
Marta Silva, Georgia
Jennifer Song, USC
Second Team
Maude-Aimee LeBlanc, Purdue
Laura Kueny, Michigan State
Camilla Lennarth, Alabama
Tiffany Lua, UCLA
Nathalie Mansson, Tennessee
Megan McChrystal, LSU
Sydnee Michaels, UCLA
Margarita Ramos, Arizona
Lizette Salas, USC
Kelli Shean, Arkansas
Cheyenne Woods, Wake Forest
Honorable Mention
Brittany Altomare, Virginia
Amy Anderson, North Dakota State
Katie Burnett, South Carolina
Numa Gulyanamitta, Purdue
Jennifer Kirby, Alabama
Joanne Lee, California Berkeley
Sara-Maude Juneau, Louisville
Lisa McCloskey, Pepperdine
Kayla Mortellaro, Idaho
Calle Nielson, Virginia
Victoria Park, Oklahoma State
Candace Schepperle, Auburn
Jaclyn Sweeney, Arizona State
Sally Watson, Stanford
Golfweek.com readers: We value your input and welcome your comments, but please be respectful in this forum.
---
---
---
---
---
---
---
---
---
---
---
---
---
---
---
---
---
---
---
---
---