Notes: Lefty to begin season in Abu Dhabi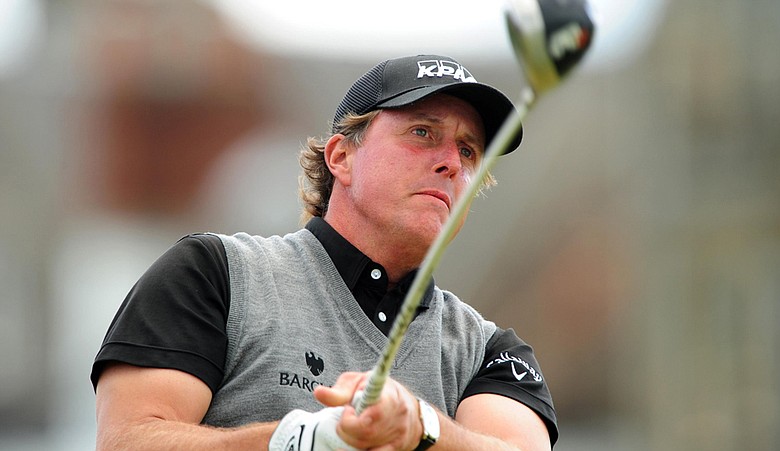 Tuesday, November 9, 2010
MELBOURNE, Australia – Phil Mickelson plans to start the 2011 in the desert, as he has done so often in his career.
Just not the California desert.
Mickelson, who only recently began to expand his global horizons, said he is planning to make the Abu Dhabi Championship his first tournament of the new year. It will be held the same week as the Bob Hope Classic.
"I've wanted to go to the UAE (United Arab Emirates) for a while, and this is the perfect time," Mickelson said, adding his entire family and swing coach Butch Harmon will be going with him. "It should give me great weather to work on my game, and it gives me a chance to get to the UAE. The whole family is going, and they're pretty excited about it."
This figures to be the second straight year that the Bob Hope Classic gets more attention for who's not there.
A year ago, the PGA Tour granted nine conflicting releases to players to compete in Abu Dhabi. Tournament officials at the Hope were not thrilled, although they overlooked the fact that six of those players were European and all nine were European Tour members. What caused such consternation is one release went to Anthony Kim, who went to high school in the Palm Springs area.
Mickelson is a two-time champion at the Bob Hope Classic, although he has lost interest in recent years when the tournament started moving away from its traditional rotation of golf courses.
The four-time major champion is taking an interest in playing overseas, and making the most of it. He is immensely popular in China, where he is building golf courses and teaching academies. There also is appearance money to be made, part of the game for years.
"I feel like there's an obligation as a player to try to bring the game to different parts of the world," Mickelson said. "The UAE, especially Abu Dhabi, and China seem to be our greatest growth opportunities."
Mickelson will go straight from Abu Dhabi to Torrey Pines for the start of his busy West Coast swing. He plans to play Phoenix, Pebble Beach and Riviera, but is undecided on the Match Play Championship. He said that would depend on his kids' spring break.
• • • 
PLAYER OF THE YEAR: The PGA Tour is starting to compile its ballots for player of the year, with Jim Furyk sure to be one of the candidates after his three-win season and capturing the FedEx Cup.
Furyk already has wrapped up one such award.
The PGA of America honor is based on points, which Furyk has clinched with 60. He received 10 points for each of his wins at Innisbrook, Hilton Head and the Tour Championship, and 18 points for being second on the money list and 12 points for being fifth in the adjusting scoring average.
Matt Kuchar won the money list and the Vardon Trophy for lowest scoring average, although he has only one victory. Phil Mickelson was the only PGA Tour member to win a major, but he didn't win anything else.
One thing Furyk and Kuchar share is a perk that often gets overlooked. Any PGA Tour player who wins the money list or the FedEx Cup receives a five-year exemption on tour.
• • • 
KODAK CHALLENGE: Troy Merritt is in decent shape to keep his PGA Tour card as a rookie, at No. 121 on the money list, and some $37,000 clear of No. 125. He's in even better shape to claim the $1 million prize from the Kodak Challenge, which goes to a player's best cumulative score on 18 out of 30 holes from various tour events.
But it won't be without a fight.
Merritt has a one-shot lead over Rickie Fowler and Aaron Baddeley, and both of them are coming to Disney. Baddeley withdrew from the Australian Masters, while Fowler is coming to Florida after tournaments in Malaysia and Shanghai.
"I didn't want to just give it to Troy," Fowler said with a grin. "Got to make Troy work for it."
For the 21-year-old Fowler, it's more than just $1 million.
He already has had a dream rookie season – more than $2.6 million in earnings, well inside the top 50 in the world ranking, a spot on the Ryder Cup team. The one thing missing is a trophy, and that's another reason to go to Disney.
"I'm not in the Hyundai Tournament of Champions," Fowler said, savvy enough to know the winners-only tournament at Kapalua only changed its name a few days earlier. "This is another shot at having a chance to win."
• • • 
CADDIE NIGHT: One of the best nights of the year is in Shanghai when the European Tour loopers gather downstairs at the hotel bar for their "Caddie of the Year" program.
Caddies vote throughout the week for the best caddie and a few other awards.
The main winner was Ken Comboy, voted caddie of the year. He works for Graeme McDowell, who had a decent year – U.S. Open champion at Pebble Beach, two European Tour victories and that massive birdie putt at Celtic Manor to give Europe victory in the Ryder Cup.
John McLaren, now working for Luke Donald, got the award for worst dressed.
And the best switch of the year might have been unanimous – Craig Connelly, who began the year working for Graeme Storm until he got an offer to caddy for a young German named Martin Kaymer. They went on to three wins, including the PGA Championship.
It was standing room only for most of the night, a festive occasion that was attended by most of the caddies at the HSBC Champions no matter what tour they work, along with a host of players that ranged from Lee Westwood, Donald, McDowell, Rory McIlroy, Ryan Palmer and Rickie Fowler.
• • • 
CARD TIME: Disney is the final PGA Tour event of the year, and the last chance for players to finish among the top 125 on the money list to secure their full cards for next year. Troy Matteson, already exempt for 2011 because of a win last season, is at No. 125 and has a lead of nearly $13,000 over Briny Baird.
Two players with a lot riding at Disney spent last week in Shanghai.
Heath Slocum is at No. 30 on the money list by $132 over Ryan Moore. That's significant because the top 30 on the money list get into the Masters next year, and Moore already is eligible for Augusta National.
Richard S. Johnson of Sweden is No. 131 on the money list, and he qualified for the HSBC Champions by winning in Sweden. He was due to arrive in Florida sometime Monday, then try to shake off the jet lag and try to earn the $50,000 that might be necessary to finish among the top 125 on the money list.
• • • 
DIVOTS: Tiger Woods failed to win a World Golf Championship for the first time since the series began in 1999. ... Padraig Harrington made an albatross on the 14th hole of the third round at the HSBC Championship, the seventh one of the year on the PGA Tour. ... With the Presidents Cup in Australia next November, the European Tour is planning to push back its season-ending Dubai World Championship to the first full week in December.
• • • 
STAT OF THE WEEK: Of the four majors and four World Golf Championships, Americans had only two victories this year – Phil Mickelson (Masters) and Hunter Mahan (Bridgestone Invitational).
• • • 
FINAL WORD: "When I'm comfortable and when I'm happy, there's not many people than can play better than me." – Sergio Garcia.
Golfweek.com readers: We value your input and welcome your comments, but please be respectful in this forum.
---
---
---
---
---
---
---
---
---
---
---
---
---
---
---
---
---
---
---
---
---